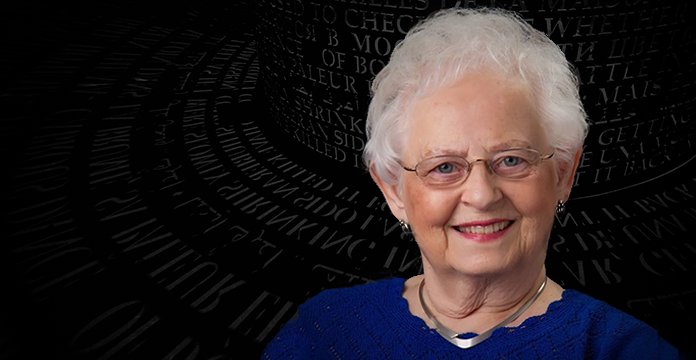 By Sarah F. Hill
Being of service to others was of the utmost importance to Dr. Mary Ruth Lewis, Graduate College of Social Work (GCSW) professor emerita and champion for social work, children and families. Since 1980, when she was hired away from the University of Alabama to develop the Children and Family concentration in the GCSW's Master of Social Work (MSW) curriculum, Dr. Lewis accomplished much in the way of providing legal rights for children.
Oftentimes working within complex political processes, she championed social policy changes that addressed the involvement of youth directly in political mechanisms, recognizing children as citizens of the state, not just recipients of services. In her own words "The concept of family policy that propelled European countries into offering a wide array of benefits and services that support parents in their parenting roles was not taken up in the U.S." This frustrated Dr. Lewis, but spurred her on to action—writing many articles that appeared in peer-reviewed, international journals. She single-handedly developed curriculum for the GCSW's Children and Family concentration. She also organized the first ever trip abroad for the GCSW students, which is today a unique feature of the opportunities afforded MSW students. "Mary recognized the importance of global understanding having studied in the United Kingdom," remembers former Dean Ira Colby. "Through her passion for this form of international engagement, Mary lead the College's first international study abroad course and, because of her vision and commitment to global studies, today the GCSW is recognized as one of the leading international social work education programs."
An undergraduate history major, Lewis received her M.A. in Public Administration from the University of Alabama, in 1952 and went on to receive her M.S.W. in Social Work from the University of Denver in 1961. In 1973, she graduated with her Ph.D. in Social Work and Social Research from Bryn Mawr College. She worked at many different universities before putting down roots at the University of Houston in 1980. "Her voice was loud and clear on issues she felt strongly about," remembers Interim Dean Dr. Paul Raffoul.
A 2009 Inductee to the University of Alabama's School of Social Work Hall of Fame, Lewis intended to leave behind a legacy at the GCSW, where she pursued her career for over twenty years. She even notified the University of a proposed, planned gift in her estate. Her generous intention was to create the Mary R. Lewis College Professorship Endowment in Children and Youth in the Graduate College of Social Work, which would support either a full-time tenured faculty member or a visiting professor in the area to which she dedicated her scholarly and professional life.
Dr. Mary Lewis has contributed broadly to the success of the GCSW, and to its internal governance, as well. In 2002 and 2003, the GCSW created a Faculty Association with a faculty member elected to run the Association's monthly meetings. "Mary was unanimously elected the Association's first chair," says Colby. The very first gavel for this Association was made and named after Mary. He remembers the woman as not just a colleague—but as a friend, as well. "Following her retirement Mary was a constant presence in the College returning for graduations and participating in special events such as holiday parties or scholarship galas. She always had a smile and a warm hug," said Colby.
It is a sad day when one who gave so much of herself is lost, but her legacy at UH will live on through the many students who were influenced by her teaching, through her planned gift and through her many contributions to the field of Social Work. A fellow social worker at the University of Houston, Sandra Lopez, is amazed by the fact that Dr. Lewis worked in so many capacities for justice. When Dr. Lewis was honored with a National Association of Social Workers Lifetime Achievement award, Lopez said: "It is both remarkable and impressive to note that Dr. Lewis has played a multitude of social work roles such as practitioner, grant-writer, program developer, researcher, consultant, educator, author, advocate, collaborator and mentor." She will be greatly remembered by the wide array of people she taught, helped and inspired.