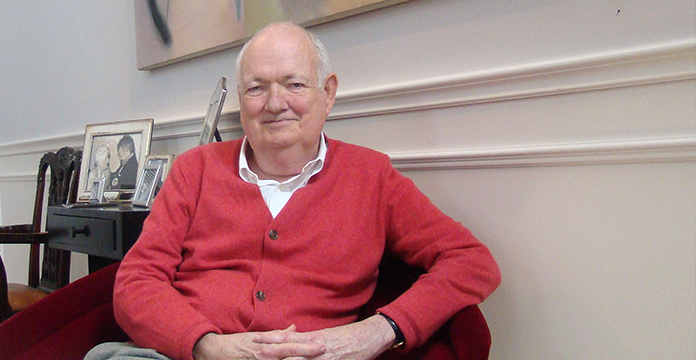 "'Prince of Parties' is fun," Jackson Hicks says of his press-given moniker, "but may be a bit of an overstatement."
By Joelle Jameson
"'Prince of Parties' is fun," Jackson Hicks says of his press-given moniker, "but may be a bit of an overstatement." The title is understandable, however, in light of the some 15,000 events his catering and event-planning outfit, Jackson and Company, has gracefully executed since its formation in 1981 — especially since it isn't uncommon to spot a current or former U.S. president in attendance.
After 35 years, Jackson and Company is still going strong under Mr. Hicks' watchful eye, and is preparing for several events, including"A Celebration of Reading" to benefit The Barbara Bush Literacy Foundation. Past events include lavish galas and receptions such as the opening of the Menil Collection, the Wortham Center and the George Bush Presidential Library, as well as the 1988 Winter Olympics in Calgary, Canada. "When you have the history we have of serving distinguished guests, you learn to take care of people in a more refined way," he explains. "We learn in the present tense."The result? All guests feeling like royalty.
Hicks' own "palace," so to speak, is located in a historic district of Houstonand shared with two English Cocker Spaniels, Montgomery and Winston. Built in 1905 and listed on both the National and Texas Lists of Historic Places, the house embodies an eclectic combination of period antiques and contemporary design elements to achieve a sense of balance and comfort.This appreciation for design and history spreads to the full service event venue Hicks operates in downtown Houston, The Corinthian. Formerly a grand bank, the reimagining of the space has preserved all its neoclassical glory.
One can easily picture these venues as a setting for a Houston Public Media (HPM) TV 8 program. HPM, a community service of the University of Houston, is home to KUHT, which was established in 1953 as the nation's first public television. The PBS network is considered essential "appointment" viewing in the Hicks household. After years of supporting Houston Public Media Foundation with smaller gifts, Jackson Hicks has made a major gift to support the Foundation and HPM's TV 8, as well as a legacy gift, which will support the Foundation's focus areas of arts and culture, education, news and public safety for the Houston community and southeast Texas for many years to come.
Hicks has been serving Houston in many different capacities since he arrived in 1969, founding Jackson and Company as a later response to the gap he witnessed during his years of working in the field. "Most all events were limited to event halls, country clubs, hotels and smaller parties in people's homes," he says, describing hosts' efforts to rally neighborhood household staff to assist with whatever occasion arose. Working in the gourmet food and wine department at the then newly-opened Neiman Marcus in the Galleria granted him the knowledge of what its high-end clientele was seeking: individualized, upscale and flexible entertainment options. "Catering until then was mostly barbecue — good barbecue, but it was much more casual," he recalls. "We envisioned a full-service catering and event planning service to provide a higher standard of service, and I knew it would be well-received because I was talking to people who were giving parties all the time. Even in our first month, we did a residential party for 500 people. "
Houston was only intended to be a brief stop for Hicks on his way to graduate school, but after spending the summer in the city, he decided to stay. "I found Houston's energy and vitality particularly appealing," he says. He also respected and benefited from a Houstonian way of life, which he describes as more of a "meritocracy" than other large cities. "I was only about 21 when I started working at Neiman Marcus, which at the time had a very large wine operation. But I had some knowledge of wine, and our sophisticated clients respected that," he says. "In other cities, I don't think they would have been able to get past my age." He credits that meritocracy as part of the reason Jackson and Company has thrived. "If you've got a good idea and are working hard to put that idea forward, generally I think you receive a very positive response in this community," he says. "The city has been so generous and supportive of us; it's really quite gratifying."
Originally from Oklahoma, Hicks drew inspiration from the hospitality displayed by his mother and both his grandmothers from a very young age. "They focused on making their family and friends comfortable, and paid attention to details," he says. Those are the tenets of his business, and are the backbone of Jackson and Company's commitment to hospitality. "It's not just taking care of people, it's pampering people, and anticipating their needs before they even realize them," he explains. "It's a commitment to making people feel comfortable in their environment." Hicks also remembers lessons in "thoughtfulness" in regard to service learned at Neiman Marcus from Mr. Stanley Marcus himself, as well as his supervisor at the store whom he eventually joined at a new business, Henry Kucharzyk. "I learned the appropriateness of how one entertains."
Music is another of Hicks' passions; throughout earning his bachelor's degree in social sciencesfrom Baylor University, he studied voice and participated in the Baylor A Cappella Choir as a soloist. Although his professional path changed, his appreciation for great performances has not. "We are so lucky in Houston to have a first class opera, symphony and ballet," he remarks, also naming the Menil Collection and the Museum of Fine Arts as some of his favorite Houston arts institutions. "We have such a high quality of leadership in the arts, as well as performers." In addition to Houston Public Media, Hicks also provides support to the Houston Grand Opera Studio and the Young Artists Program at Rice University's Shepherd School of Music, as well as Rice's Graduate Opera Program.
But the study of music has been beneficial in other ways. "You learn in musical training, among other things, to always be prepared — if one walks into the studio unprepared, your teacher might throw you out," he says with a smile. "You learn discipline, and techniques to control your nerves and stay centered, or else it will show in your performance." This demeanor shines through while running what can often be challenging events. "People are always surprised that I stay so calm," he says. "But they have to understand, the preparation happened a long time ago. It's important; if they see that I am relaxed, the guests will be more relaxed."
Hicks sees his passions of entertaining and the arts reflected in HPM's local, national and international television programming, such as "Masterpiece" and "Great Performances." He has a penchant for British culture and history, which is often the subject of "Masterpiece" programs. "I certainly have an interest in the traditions of British etiquette and style of entertaining, especially in the Edwardian era," he says. "I appreciate the ritual of dining, the precision and formality, and its structure. There's very little of that in our society." He also harbors an interest in exploring the historical context of those traditions. In that vein, the locally produced and nationally syndicated "Manor of Speaking," a "Downton Abbey" talk show that often discusses the history and traditions its characters employ, is a new favorite for Hicks. But, that is to be expected of a man who reads etiquette books "as if they were novels."
Hicks decided to increase his giving to Houston Public Media Foundation after "an epiphany" regarding his priorities. "I felt I was now in a place to give more significant support, and I wanted to support something I really care about. I think HPM programming is a great asset to our community, and has been for a long time." Additionally, Hicks appreciates having the opportunity to include the Foundation in his estate planning. "Testamentary gifts are a great way to give to organizations you care about." The present is certainly staying busy for Jackson and Company, with the "organized chaos" of catering and event planning running strong. Hicks' partnership with Houston, no matter what the capacity, is certainly one made to last.