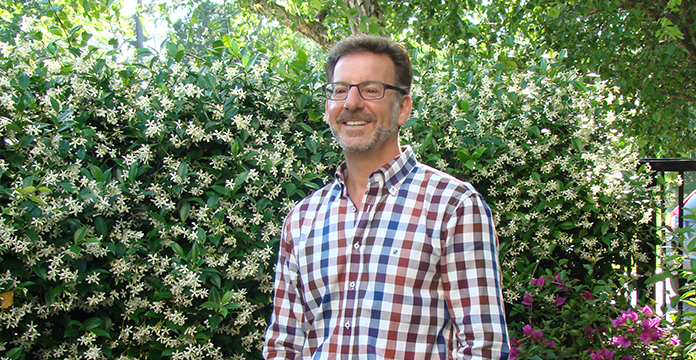 By Joelle Jameson
Houston Public Media Foundation's three main concentrations, or "pillars," are arts and culture, education, and news and information. Talking to Barrett Sides about his priorities and activities, it's easy to see why he's a board member there: each of those areas play a huge part in his life and giving. Education, news and information, and arts and culture? "Those are headstone things," he laughs.
"You can go through life paying as much attention as you want: that's what we say about media these days," he says from his home near Memorial Park in Houston. "You tend to choose what you want to hear and stick with it, because there's so much out there, you can't take it all in." Sides' choice is clear; he advocates for all three Houston Public Media (HPM) platforms — KUHT Channel 8, News 88.7 FM and Classical 91.7 FM — as often as possible. "The information is broad, credible, thorough and unbiased. It's like a coffee table full of great magazines."
Sides has been a consistent supporter throughout the years and a fan of weekend and evening radio and television programming, but increased his involvement after leaving his long finance career in international investments at Invesco in Houston. "My relationship with the news at that point was all about information, whether it was the market, geo-politics or economics," he explains. "It was very academic. But the natural curiosity of wanting to learn persisted, and HPM filled that void." The platform nearest and dearest to his heart is News 88.7. "When I started to take in more of the daytime news radio and realized what was there, I saw how much it enriched my life," he says. "During one of the station's pledge campaigns, I realized that I was the person they were talking to. Giving to HPM, for me, is almost a matter of fairness."
Born in New Orleans, Sides lived in Chicago before moving to Houston during his high school years. He attended college at Bucknell University in Pennsylvania, but soon made his way back to Houston to begin his career at Invesco, and also earned his M.B.A. from the University of St. Thomas. His philanthropic focus is on the city and its residents, whether it's cleaning up litter in Memorial Park, supporting Houston's artistic institutions or helping to found an innovative new middle school. He has also created a scholarship at Bucknell University, and served on their alumni board. His first experience with philanthropy goes back to childhood: "My weekly allowance was 50 cents; in the interest of instilling good values, my parents encouraged us to save ten cents, and give another ten cents to a charity or church," he recalls. "Both saving and giving were imprinted on me at an early age."
Currently, Sides also serves on the board of Healthcare for the Homeless – Houston. "It's a nice bookend, in a sense, to HPM involvement," he says. The organization operates a series of clinics, mostly in downtown Houston, serving homeless men, women and children with basic and advanced healthcare, including mental health and dental. "It serves many purposes, not least that it is a more personal and patient-centric environment than the emergency room, and it also unburdens that system," he explains. Sides is excited about their current expansion to a new building, which they just purchased and will now begin to renovate. "It's a different way of giving back to the Houston community to contribute to the quality of life here."
Caring for residents most in need is only one measure of quality of life in a city, in Sides' view. Besides green public spaces, libraries, parks and other standards, "I think that one of the measures of quality of life in a city is often what kind of public radio and television they offer. HPM is a jewel for Houston." He also names the University of Houston — which is the license holder and home to Houston Public Media — as a point of pride. "The University of Houston is ascendant," he says. "It's a short list of cities that have great city universities, and Houston is on it." Although he earned his degrees elsewhere, Sides has appeared in Dr. Charles Guez's classroom at the C.T. Bauer College of Business to lecture on international finance in evening classes, and also mentored one of their undergraduate business students.
He tries whenever possible to take an active approach to philanthropy and community involvement, and that activeness is reflected in his love of travel. With family in Colorado, California and Costa Rica, great destinations are never too far away, but Sides also recently fulfilled a childhood dream of traveling to Antarctica. "My fascination as a kid reached a point that I wanted to be a scientist, because back then they were the only people who got to go!" he laughs. Their modest boat held about 100 passengers and included scientists and experts who explained the various aspects of the ecosystem, wildlife and history of Antarctica. "I call it my Antarctic Safari," he says. "It was about the wildlife and adventure of it." Adventure was certainly a promise, especially since, the year before, a similar ship had gotten packed into the ice while docking overnight. Thankfully, no such complications arose during Sides' 25-day journey; just pristine wildness to be explored in hiking, penguin and albatross rookeries, and even a polar plunge when they reached the Antarctic Circle. "I purposefully didn't try to imagine too much of what it would be like," he recalls. "I wanted it to unfold as a surprise."
That high level of involvement — and sense of adventure — is something he appreciates in his role as a board member at Houston Public Media Foundation. "We get to hear about some of the station's plans as they're being formed, strategies, and decisions as they're being made," he says. "It's not a huge time commitment, but I consider it a privilege to be mixed into such an interesting group — not only the other board members, but the management and on-air staff." Sides is especially passionate about Houston Public Media's unique local programming, such as Houston Matters. "Life is local," he says. "Life is global, but on a day to day basis, you have to be in touch with your community." He may have literally traveled to the ends of the earth, but Barrett Sides' reality is planted in Houston — and probably has 88.7 playing in the background.