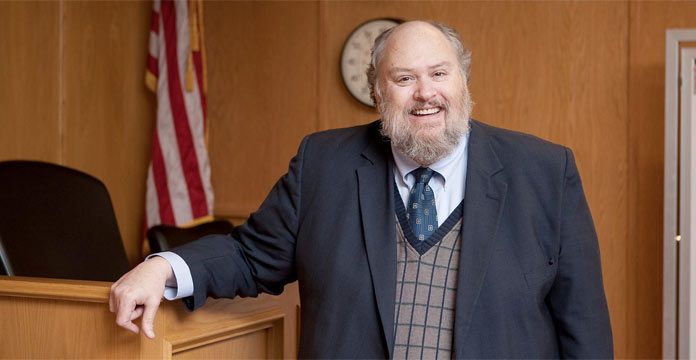 Pioneering Mexican-American Lawyer Inspires Book, Scholarship
May 6, 2013- Alonso. S. Perales, one of the first Mexican-American lawyers in Texas and the founder of the League of United Latin American Citizens (LULAC), spent his life defending the civil rights of Mexican-Americans.
Now, a renowned University of Houston law scholar who edited a collection of essays about Perales' life and work will donate royalties to create a scholarship for a law student whose commitment to the Latino community is reflective of Perales'.
Michael A. Olivas, professor and scholar from the UH Law Center, edited "In Defense of My People: Alonso S. Perales and the Development of Mexican-American Public Intellectuals" (Arte Público Press, 2013). The book features essays from U.S. and Mexican scholars on the trailblazing Perales.
"One of the longstanding canards against Mexican-Americans is that we have passively accepted our fate as victims and not resisted racism directed at our communities, even today," Olivas said. "There is overwhelming evidence that this has never been true, and Alonso Perales is Exhibit A."
Perales was a civil rights activist before there was such a thing. Born in 1898, Perales graduated from George Washington University School of Law, becoming one of the earliest Mexican-American attorneys to practice law in Texas. The essays feature insights and commentary from scholars on such issues as education, religion and race, Texas politics and law.
The essays first were presented at a 2012 UH conference titled "In Defense of My People: Alonso S. Perales and the Development of Mexican-American Public Intellectuals." The UH Special Collection unveiled an exhibit of Perales' personal correspondence, images and archival material donated by Perales' family to the UH Recovering the U.S. Hispanic Literary Heritage Project. Scholars have had access to these materials in their pursuit of scholarly works.
"At long last, a forgotten chapter of American civil rights history is being restored with this important volume that begins to place Perales in his rightful role as visionary and intrepid leader," said Professor Nicolas Kanellos, director of Arte Público Press, which houses the project. "In addition to the assessment by some of the finest scholars from around the country and Mexico, the Perales archives will provide researchers, teachers and students with material that will broaden the curriculum and expand our knowledge of history and democracy."
Olivas and Arte Público Press are donating royalties from book purchases to a scholarship benefitting "a member in good standing of the UH Law Center's Hispanic Law Student Association who has academic merit and a record of involvement in the Houston Latino community." The first recipient will be awarded in 2014 at the annual UH Law Center Dean's Awards Ceremony.
This donation marks the 15th scholarship created by Olivas and his wife, Professor Augustina Reyes of the UH College of Education.
For more information on Olivas, visit http://www.classical917.org/articles/1360232520-Classical-91.7-Arte-Publico-Author-of-the-Month-Michael-A.-Olivas.html