Donor Spotlight: John and Susan Thompson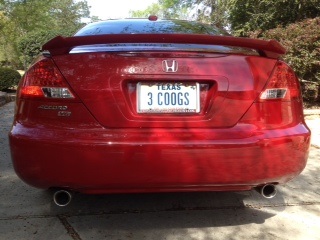 3CoogsA red Honda Accord with the license plate, "3COOGS" drives the Thompson family up University Drive and toward the roundabout in front of Cullen Performance Hall. It's a familiar environment, like a second home, because the University of Houston educated three Thompson daughters and provided them with distinct pathways to success.
From early childhood to college, John and Susan Thompson remained closely involved in their daughters' schooling. When the Thompson girls were young, Susan was the cultural arts chairwoman of their daughters' school and held treasurer and president positions in the PTA. She also served as the council president of the PTAs for the Mansfield district. When their girls "chose Houston" for their continuing studies, the Thompsons couldn't have been more impressed with the caliber of education their children were receiving.
Emily, their eldest daughter and a clarinet player, graduated with a Bachelor of Music degree from the Moores School of Music and is a former member of the Spirit of Houston Marching Band where she marched for four years. Their second daughter, Annie, a percussionist, received her B.B. A. in Accounting in 2006 and her Master's degree in Accountancy and Taxation in 2007 from the C. T. Bauer College of Business. Their third daughter, Ellen, earned a B.S. in Sport Administration in 2009 and a M.Ed. in Allied Health Educational Administration in 2010. Ellen also marched with the Spirit of Houston for one year as a tuba and trombone player.
While two of their children were still in college, the Thompson's began to give generously in many ways and to many areas on campus. They began their philanthropic journey by making gifts to the UH Band as well as fully funding scholarship endowments for the colleges their daughters graduated from. Last year, they funded an endowment at the University of Houston Libraries due to Susan's love of libraries. One of Susan's mantras is: "If you can read, you can do anything." They even took the steps to make legacy gifts through their wills.
Next, the UH Tier One attainment by President Renu Khator, and the subsequent developments on campus because of this new-found status, catapulted the Thompsons to a new way of giving. "The development to me was President Khator challenging the UH community with the Tier One program. The Tier One Scholars program got our initiative going. It's the one that really grabbed us," said John. Whereas some endowments take many years to fully mature and reach a place where they can provide scholarships, UH's pledge to match gifts (including matching company gifts) to this scholarship program from $25,000 to $1 million had a certain, and very gratifying, immediacy. "The program was structured with a generous match, and the benefits of these gifts started flowing to the scholars immediately," he says.
They established the John D. and Susan K. Thompson Family Tier One Endowed Scholarship in the College of Liberal Arts and Social Sciences (CLASS). Although this unique scholarship for incoming freshmen is not college specific, John and Susan elected for a "preference" for a student enrolling in CLASS.
They selected CLASS because Susan had taken a course in the College of Liberal Arts and Social Sciences eight years ago and loved it. She was impressed by the professionalism of her instructor and by the respect she garnered for young people during the course. "It was a junior level humanities course," she recalls, "and I walked out of it thinking, these are good kids. The world is going to be just fine."
Of course, John admits he is motivated partly by self-interest. He's on the management team of a substantial Houston employer who looks at UH as a rich source of young talent. The recruitment pool is likely to hold a much more educated and skilled list of candidates if they have been given the best resources during their University of Houston experience. "Susan and I have met some of these [Tier One] scholars, and they really are impressive. They are making the most of this unique program, and I suspect that when they hit the workforce, they are going to re-invest themselves in UH's future, much like Susan and I are doing now," states John. In other words, UH graduates are the people who will drive our University—and our city—ahead.
The Thompsons believe "Tier One is pulling the University up—it's driving the entire University." They feel all students enrolled at the University of Houston will benefit from the lifting up of the University by the Tier One status and the Tier One Scholars Program.
The Thompsons have other interests besides their passion for the University of Houston. Susan builds office furniture for her home office, and bedroom furniture for her children's homes. John prefers to detail cars—like the one that proudly boasts that his three daughters have had the best start in their careers due to their education at UH.