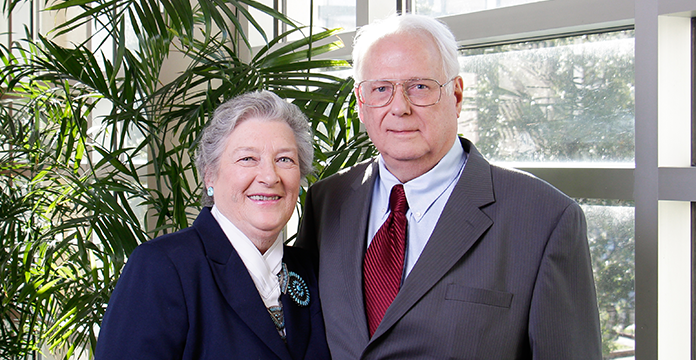 By Joelle Carson
Dean Dana and Dr. Charles "Mickey" Rooks have proven, both through their gifts and as faculty, that dedicated individuals can truly change a University's course. As Dean of Libraries, Dana created a development ecosystem that facilitated the library and Honors renovation. Mickey brought his industry experience into the classroom as a chemical engineering professor, and was a vital part of the new research taking place on campus.
It's hard to believe that they only planned to stay in Houston for three years, and harder to believe that they almost didn't get married.
"I was very career-oriented before you were supposed to be," Dana says, noting the cultural climate of women in the workplace in the 1960's. While they were working at the University of Oklahoma, she as a librarian and he as a Ph.D. student, Dana told Mickey her goal was to be the dean of a library that was a member of the elite Association of Research Libraries (ARL), warning him that there had only been two women ARL deans in the country previously. "I think the reason I decided to marry him is because he looked at me, and very sincerely said: that is so great, you can be number three!"
The Rooks' moved to Houston in 1979 for Mickey's career in research and development at Monsanto on the condition that they would only stay for three years. But, all that changed after Dana started working in the University of Houston libraries. "I just fell in love with this place," she says. "This University is so unique in so many ways. And for all of its excellence, it hasn't even begun to make a dent in its potential."
A Culture of Philanthropy
When she became Dean of Libraries, Dana had a clear vision for how to reach that potential. "My first act as dean was to hire a development director and start fundraising," she recalls. "I recognized that the library was never going to be excellent if we had to totally rely on state funding. That margin that moves you from adequate to excellent is external funding."
Having graduated from land-grant universities, both Dana and Mickey were accustomed to a solid fundraising system within an institution. "They'd had a hundred years to figure out that system," she points out. "We were learning how to do things, which is part of what made it so exciting. It was very entrepreneurial." For Dana, this included spearheading a telefund campaign, a first for the library. With the support of the other deans and colleges, the libraries achieved the highest telefund results of that year.
The library renovation fund was also the impetus for UH's very first faculty-staff campaign, although gift designation was not limited to the libraries. The high participation rate, from deans to staff to regents, was a new and highly effective way to see the fruits of the University's efforts. "During that campaign, I received an envelope with two one-dollar bills in it, and it was from a custodian," Dana recalls. "The note said, 'I think the library is so important.' They'd used it to help their kids with their homework, or something like that."
One aspect of Houston that has evolved since the Rooks' settled here is the city's recognition of UH's importance, and they name President Renu Khator as a major instrument of that change. "This is a major city. It deserves a top-quality Tier One research university," Dana says, "and she is helping everyone realize that a strong UH makes the economy strong; the new knowledge, technologies and disciplines create new jobs and provide invaluable services, from social services to policy reform to countless other educational programming."
And, she reiterates, philanthropy is key to that evolution. "In Houston especially, individuals, businesses and foundations give for the same reason; they do want that margin of excellence, and they see that philanthropy is how we're going to achieve it."
Student and Faculty Success
Sometimes it only takes one person to change someone's path for the better. "One person from my little hometown was a chemical engineer. He worked for the CIA," Mickey explains. After talking to him about his profession during a visit, Mickey's career path was clear. After a long career in research and development at Monsanto — during which he won their international company-wide achievement award three times — he joined UH's chemical engineering faculty in 2001, and began making that same difference in the lives of his students — not just through teaching, but with monetary gifts as well. "By giving, we want to help young people be successful," he says. "Their success was really my goal in teaching."
His career in research brought valuable experience into the classroom, and led to him co-founding the Diesel Center (now Texas Center for Clean Emissions, Engines & Fuels) and bringing the undergraduate laboratory up to speed. "I thoroughly, totally and completely enjoyed teaching," he says, "22-year-olds keep you on your toes! We have an incredibly diverse student body, and a lot of first-generation college students. I'm so proud of them all."
Some first-generation students often never considered graduate school, "even with a 4.0 GPA," he says. He actively encouraged them to apply, sometimes enlisting Dana to mentor them as well so they could realize all their opportunities — particularly the young women in his classes, a number which increased by "500 percent" during his time at UH. In that same vein, Dana saw the need for a support system among women deans and faculty, which led to women deans (or "WDs") lunches every month. That spawned an annual newly hired women tenure-track faculty luncheon, a highly popular event whose guest list always includes President Renu Khator and Provost Paula Short.
While the research that takes place at UH libraries is integral to student and faculty success, the Rooks' giving has gone beyond that mark — and that support plays a strategic role in supporting and recruiting top faculty. "Funding is needed to get the top faculty here, whether through endowed chairs or startup funds to colleges that need resources," Dana explains. The Rooks' Early-Career Librarian Fellowship, for example, attracts innovative younger librarians who may not be eligible for endowed chairs. "Bright, dynamic, innovative young librarians who started their careers here are now taking leadership roles all over the country," Dana reports, mentioning that the recently named Dean of Libraries, Ann Thornton, at Columbia University NY started her career at UH. "I want those top leaders saying they got their start at UH, and that we did a lot to support our future leaders. They will tell people — they do, all the time — that they got such a great start here. That adds to our recruiting efforts, and the University's reputation."
Another important piece of UH's growing reputation is our capacity for research, another of Dana's priorities as dean. "People have long been predicting the demise of libraries, but it's just the opposite," she explains. "A University education gives you foundational knowledge, no matter your discipline — but all disciplines are changing so fast, and the knowledge is evolving and developing ten times faster than when I went to school." One evolution of the library during Dana's time as dean is the Learning Commons, a vast area with computers with access to myriad specialized software and databases, with classes and librarians on hand to provide invaluable instruction. "Supporting the library is such a major part of students' education not only while they're here, but for life-long learning." Throughout their careers, the Rooks' haven't just witnessed this in students and faculty; they've lived it themselves.
Looking to the Future
Now that they're retired as Dean and Professor — although Dana continues to work at UH as Assistant Provost for Strategic Initiatives — the Rooks have had a moment to reflect upon the changes at the University, and what will happen next. "I think the University is headed in the right direction," Mickey says. He adds that an increase in research funds will lead to more Ph.D. students, and create more of a pull toward campus. "That's where the future lies. The more that people are aware of UH, the more philanthropy can do — because they can see that it makes a difference."
Dana continues to encourage donors to gift flexible gifts. "I was in libraries for over 40 years, and I had no way of knowing the kind of things we're doing now," she says. "Two years from now, we're probably going to be checking out holograms." That's not an exaggeration — she's referring to 3-D holographic models that are becoming more prevalent in health care research, architecture, and other tactile fields.
The Rooks have created more than one endowment for UH over the years, which will continue to fuel innovation at the University for years to come. "That's the importance of an endowment; it's still there 40 years later. And who knows what will be happening 40 years from now, using my own career line as a basis," Dana says. "We both believe that you have to give back. You have to make society better. To achieve excellence, you need to be a part of the process to make excellence a continuing endeavor for future generations."