Earl Ray Monk Gives $100,000 to the Moores School of Music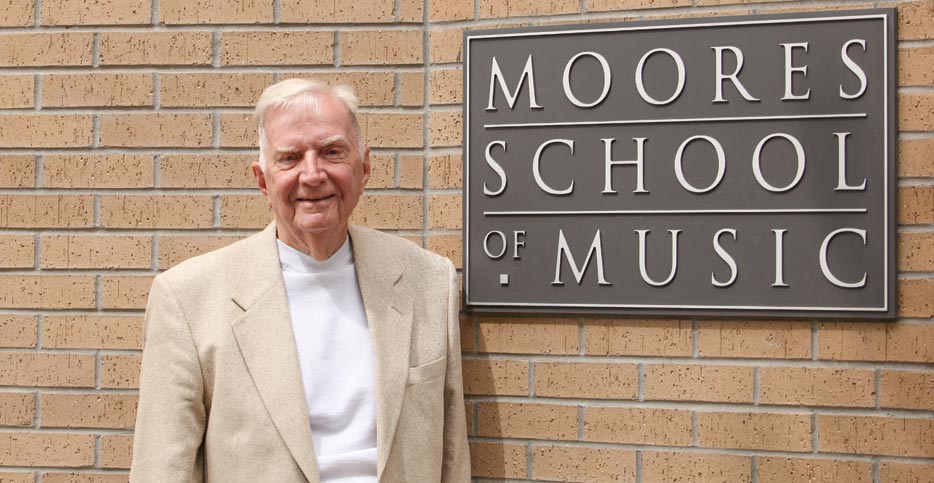 Alumni learn quickly that UH is never far from their hearts. It was Earl Ray Monk's love of marching band music and his admiration for David Bertman, the director of the UH Spirit of Houston marching band, that prompted him to give $100,000 to the Moores School of Music. This gift will be used by the band department and in honor of it, a conference room in the School of Music was recently renamed the Earl Ray Monk Conference Room.
"Fortunately, I'm now able to give," he muses. Born into humble beginnings—his father passed away when he was just two-years-old and his mother raised four children on a textile mill worker's salary—he graduated from Regan High School and joined the military. Monk served during World War II and when his military commitment ended, he enrolled at UH with financial assistance provided by the GI Bill. Monk attended the C. T. Bauer College of Business, where he also contributes generously. While still in college, he started working for the Humble Oil and Refining Company, which is now Exxon Mobil.
Like many of UH's current students, Monk balanced full-time work with his class work and extracurricular activities. He recalls Frontier Fiesta, the student-led spring festival that was established in 1940, as being a fun-filled event that students looked forward to annually.
"Earl Ray Monk is one of the best of the best," said Lynn Mason, Director of Development. "He gives annually, he leverages his 3-to-1 Exxon Mobil match every year, and he has included significant gifts for UH in his estate plans. He has seen so much during his lifetime and those adventures have turned into great stories that we love to hear!"
Monk credits his decades of accounting experience as the reason he has been such an avid supporter of the University: "When Exxon matches my donation three-to-one, I can't afford not to contribute to UH," he says.