Alumni Spotlight: Alan Davis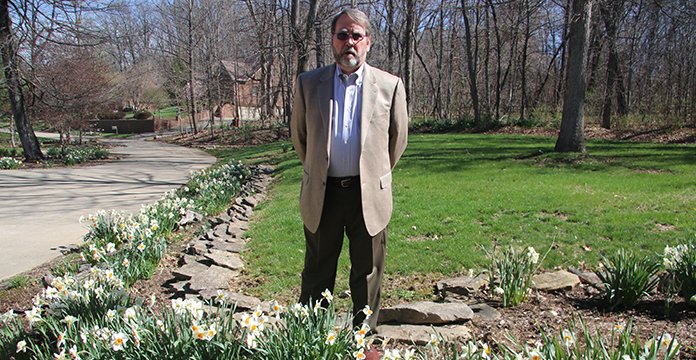 Alan Davis (MSACCY '76), also known as Dad, Uncle Al or Grampa by his own admission, is involved in a lot of activities, which manifests in his motto: "Life is fun if you let it be!" His to-do list is a mile long. "I could clone myself three times and still not get everything I want done," he jokes. "Maybe that's an exaggeration. Maybe I could clone myself twice and not get everything I want done!"
by Sarah F. Hill
For one, he works in his impressive garden and waits for between 30,000 and 40,000 daffodils, jonquils and narcissus to bloom in his yard each year. He practices glass etching, and has been featured in an article in A&E magazine — the magazine for Awards and Engraving Professionals. He is inspired by nature; his featured and most often replicated etching is of a cluster of five maple leaves he picked in his yard. Then there's the book the dean of the C.T. Bauer School of Business is encouraging him to write about pivot tables, a feature of Microsoft Excel. When they met for a dinner in Ohio recently, Dean Latha Ramchand was so impressed with his knowledge of the complicated feature, she suggested he write a book about his extensive and unique use of the element of such tables. He admits it is slow- going, but it has definitely piqued his interest.
He is involved with politics and monetary policy and anxiously awaits the President's unveiling of the United States budget each year, surrounded by piles of papers and file cabinets full of data. He reflects on budget-related matters in his political blog. Add to that the fact he is not entirely retired from his job in operational accounting and that he has children and grandchildren to spend time with, and you can see how Davis keeps himself so busy.
Having just announced a planned gift to the University that has given him such a successful career, he relates, "My wife and I had a plan for what to do with our surplus: a percentage to our children, of course, and then to local charities. We both went to college and graduate school and we feel we owe something back to maintain the legacies of those institutions." His future giving is secured and it allows him to live fully in the present, making the most of every opportunity for artistic and other pursuits that he finds lend flavor to his life.
Davis received his B.A. in anthropology and geography from the University of Kansas. His parents made sure he was serious about college by requiring him to pay for his freshman year by himself. (He wound up paying for all but one semester.) They also were great role models in other ways. His mother got her degree in home economics and in the 1970s received her master's degree in education. "My mother was a dynamic woman," he remembers.
After relocating to Houston, he realized that working in warehouses in the heat of summer was not for him and he remembered what his parents had stressed about the importance of a job with benefits. He liked numbers, word problems and doing statistics, so he took the graduate entrance exam and began UH's Master of Science in Accountancy program, while continuing to work 50 hours a week.
When he graduated in 1976, he made his way to the "placement center," now, Career Services, and noticed a job that required one year of accounting and one year of hospital experience. He didn't think he'd qualify, so he applied for other openings instead. It was then that a UH alum called him up and asked him to interview for the job— the one he felt unqualified for. The interview went amazingly well and he was soon the assistant controller in healthcare finance at Doctors Hospital in Conroe.
He humbly acknowledges that without the help of another UH alumnus, he would not have the career he's had. The leap of faith that man took when he hired Davis was largely based on the fact that an education from UH is well-regarded.
When he moved his family to Ohio, he didn't realize he'd be starting a sibling rivalry. One of his daughters attended and graduated from UH, and his two sons graduated from the University of Cincinnati. So the Coogs versus the Cincinnati Bearcats is a real source of tension in his family. "Plus I'm a Kansas Jayhawk, too!" he laughs. "UH was important to me in my life and career, and now it's important to my daughter," he says, which is a good feeling.
His wife, Jennifer Allen, a pediatrician for 28 years, is also a heart-transplant survivor and together they sit on the board of Hope Clinic in Chillicothe. In addition to writing donor letters and performing quality control checks on all the charts, she succeeded in recruiting Davis, with his excessive knowledge of accounting, to be the CFO of the clinic. "It's been an awesome experience, putting our faith into action," he says of helping the less fortunate with medical treatment. Hope Clinic is just one more example of how Davis puts his accounting background and knowledge of financial workings to good use.
Supporting the C.T. Bauer College of Business regularly for more than 10 years came naturally to Davis, as did the addition of his planned gift. "It's a great way to make an impact even if you're not wealthy!" he says as he encourages others to give to their alma maters. And making an impact is what Davis does every day—just ask the people who will drive by his yard and witness the gorgeous display of brightly colored flowers this Spring.