Trevor Davis (M.B.A. '13)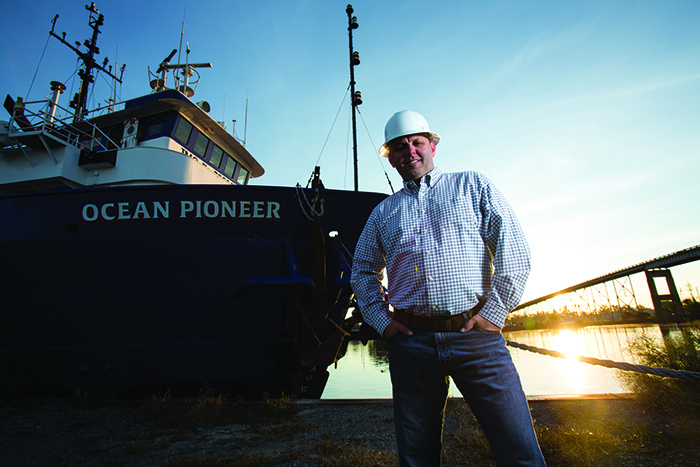 (Photo courtesy of the C.T. Bauer College of Business at the University of Houston)
Growing up near the water on the east coast, Trevor Davis (M.B.A. '13) wasn't yet a teenager when he decided he wanted to be a deep-sea diver. With his advanced diver certification in hand at age 13, he was well on his way. While he's no longer a diver, an entrepreneurial spirit led him the C.T. Bauer College of Business at the University of Houston where he developed the necessary skills to run his own successful offshore construction company.
LUNAR COUGAR: You're the owner of your own business, Hydra Offshore Construction. When did you know you wanted to run your own business?
TREVOR DAVIS: I knew from an early age that I wanted to build my own company. When I was 22 years old, I started my first company. Through the years I have owned five different companies before starting Hydra Offshore Construction.
For someone not in the know, how would you describe the services Hydra provides?
Hydra Offshore Construction is an offshore general contractor. We specialize in heavy lift and subsea construction. Most of our projects involve using marine assets such as crane barges, construction vessels, divers and remotely operated underwater vehicles. In short, we can build or install pretty much anything in the offshore environment. Most of our work is in the oilfield, however, we have worked for the U.S. government and we have also worked in the private sector recovering airplane wrecks in 10,000 feet of water.
You started out as a dive tender on oilrigs in the Gulf of Mexico, what led to your start as an offshore diver?
I grew up on the water in Rhode Island. At the age of 12, I attended a commercial diving seminar at the local scuba shop. After attending that seminar, I always wanted to be a commercial deep-sea diver, so I worked all summer to earn my advanced diver certification by the age of 13. I had been diving most of my life prior to attending commercial dive school at the age of 27 here in Houston, Texas. As it turns out, commercial diving isn't as glorious as it sounds and I ended up enrolling in a business management program at UH-Victoria at the age 30.
Was there a deciding factor that led to you enrolling at UH for your MBA?
When I started researching Bauer, I became intrigued with their Executive MBA Program. I was still in my first year at UHV completing my undergraduate course work when I became determined to earn my MBA at Bauer. I didn't even apply to any other MBA programs. It was Bauer or nothing.
How do you use what you learned at UH in your life now?
I have the confidence to make huge decisions because I understand the data and I can see the big picture.
Did you have a favorite professor or class at UH?
My favorite staff member is Ramona Taylor, The Executive MBA Program Director. My teachers and classes were all great, but those all came and went so fast. Ramona was there for the whole program and she is someone you can lean on for anything. She really gets it done, and by "it," I mean everything!
What advice would you share with current or prospective UH students?
When someone tells you something is impossible, remember that it's impossible for him or her, not you.
Know a Cougar we should profile? Contact us at lunarcougar@uh.edu! To read more great alumni and donor profiles, or to make a gift to UH, visit the University Advancement home page.