Jennifer Zuber-Garrison ('92, J.D. '96)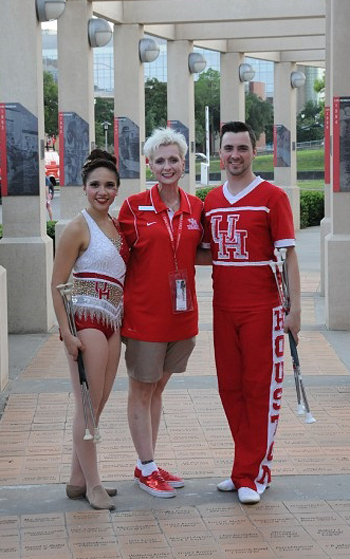 A former Feature Twirler at UH, Zuber-Garrison spends three evenings a week working with the Twirlers in practice for the Spirit of Houston's pregame and halftime shows, then helps them to coordinate on game days. An obscure talent for baton twirling isn't all this mom-of-a-kindergartner is busy with — about a year ago, she and her husband, Trey, opened a small shop in the Heights, The Thread & Laser Company. "We can pretty much customize anything!' laughs Zuber-Garrison. And they're close to obtaining their UH licensing so they will soon be able to provide collegiate personalized products to their fellow Coogs. Learn more about her UH career and her days as "Cotton Bowl Royalty"!
LUNAR COUGAR: How did you like studying Political Science and Law at the University of Houston? What was your favorite class?
I loved studying Political Science at UH. I tended to prefer the comparative politics type classes where study involved other countries' systems of government and the evolution of those systems. I'm also a bit of a Revolutionary history buff, so I always loved any study of the American Constitution. Those interests followed me right into the Law Center, where my favorite classes covered topics like Jurisprudence, Constitutional Law and the Federal Courts.
LC: Do you have a favorite memory of UH?
As a Junior, I earned the honor of being named the UH Homecoming Queen — which was an extraordinary recognition for someone like me, who was generally socially awkward. Those were still the days of the old Southwest Conference, so each of the SWC schools sent their Homecoming Queens to Dallas in December to serve as the "Cotton Bowl Royalty." We basically spent a week attending receptions and parties and eating at very nice restaurants. On the day of the Cotton Bowl, we wore formal dresses, almost froze, and rode on a float in the Cotton Bowl parade. Then, because it was one of Spider Man's milestone birthdays, we were each escorted onto the field at halftime by a character from the Marvel Universe. I remember feeling very fortunate because my escort was, appropriately enough, Dr. Strange. Gratefully, his cape was very warm!
LC: A favorite professor, perhaps?
Dr. Hugh Stephens, who almost convinced me to apply for the graduate program instead of attending law school, was a serious and engaging man from whom I took every course I could manage. He had an amazing analytical mind and showed a clear mastery of every subject he taught. Also, Dr. George Connor ('85, Ph.D.'89), who is now the Department Head for the Political Science Department at Missouri State University, was my first Political Science professor. He had just earned his Ph.D. from UH and was serving as a Lecturer in the department. He exuded a contagious enthusiasm for the subject that I had not encountered before or since. I began UH as a Political Science major, but Dr. Connor made me WANT to study the subject.
LC: How did what you learned at UH prepare you for the workforce?
It is so odd, I know almost no one who will say their classes, in terms of actual content, ever directly apply to the job they currently perform, and I am no exception. I left UH a far better reader, writer, and critical thinker than I could have ever imagined possible. The diverse people I met and environments I experienced while attending UH prepared me for the peaks and valleys of both a career and my personal life.
LC: Do you keep in contact with any friends from your time at UH?
Definitely! Being a part of several different alumni communities, especially the Spirit of Houston Alumni, as well as a football season ticket holder assures it. My "little sister" from Alpha Chi Omega and her husband are my son's Godparents. Through my involvement with the Spirit of Houston, and Greek Life connections, I have established very dear and cherished relationships with alumni from other eras as well.
LC: As we near the three-fourths mark of our $1 billion "Here, We Go" Campaign, what do you hope to see for UH in 2020?
Continued growth, not only in size, but also in prestige. I have always been a "true believer" in the Cougar cause, but never imagined I would see the level of excitement associated with UH that I see now. It has been exciting to see what all President Khator has accomplished during her tenure with the University, and I look forward to seeing what she plans for us next.
LC: Why do you believe it's important to give back to UH?
Throughout my time at UH, I was involved in many diverse organizations, and was so greatly influenced by those alumni who generously donated their time and talents to advise and contribute to both my growth and development, as well as that of the University. As a student, I could see that impact, and I made a personal promise that someday I would try to remain a part to continue that legacy. The better UH gets, the better we all become.
LC: What are some of the benefits of being a Life member of the UH Alumni Association?
While the discount on UH gear is nice, for me, it's the knowledge that I get the opportunity to help lighten the financial load a little for a fellow Coog and to help send the next generation of students to the University of Houston.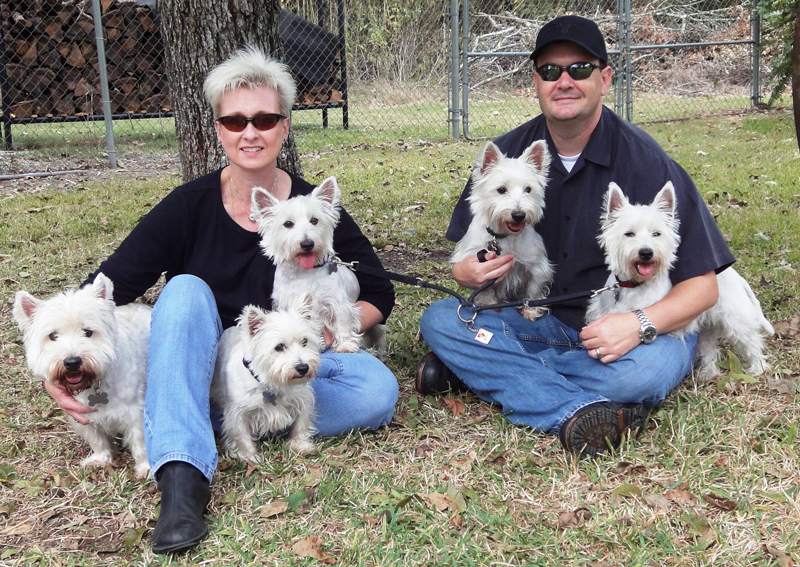 LC: What are your hobbies?
Our son began school this year, so I am adapting to having a school-aged child. I am also a dog person, and a Westie enthusiast specifically. I've served for many years on the Board of Directors of the West Highland White Terrier Club of Southeast Texas. I am a past President of the organization, manage their internet and social media presence, and coordinate their rescue efforts. I could not imagine myself without at least a few of those indomitable little fluff balls of enthusiasm and unconditional love running around in circles, tripping me up as I try to navigate through my house and my life. Add a small boy to some terriers and you get one very active household. When I do get a rare moment of still or quiet, I enjoy reading and making chainmaille jewelry.