Students, Alumni and Donors Rally after Hurricane Harvey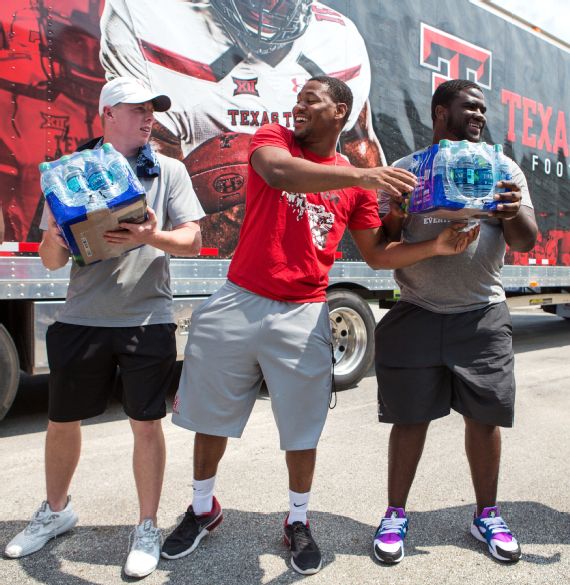 Houston's university is standing #HoustonStrong and #CougarStrong after Hurricane Harvey, and students, alumni and community members are stepping up in a major way to support their fellow Houstonians in the aftermath. In fact, two anonymous donors have given $500,000 to the Cougar Emergency Fund, and are challenging the Cougar community to raise $500,000 more. Read our round-up to learn more about how you can help, and how Coogs are making a difference in these difficult times:
Thousands of connections have already been made through the electronic message board, CoogsCare. Faculty, staff and students are using this message board to offer their extra bedrooms, cars, carpools, ride share, child care, pet care and house clean-up to other students, faculty and staff.
UH Cares: Using this portal, thousands of students and staff are reaching out to help the community, by cleaning up homes and volunteering in the neighborhood.
Our football teams collected supplies and organized a caravan of eight large equipment trucks. In a show of solidarity, these trucks drove together and brought donations to a central distribution location in order that community members could receive donations.
The Cougar Emergency Fund is an important way to give back to students who urgently need support in order continue their education in this time of crisis. Two anonymous donors have given $500,000 to the Cougar Emergency Fund, and have challenged the UH community to raise $500,000 more. To read a message from President Renu Khator and learn how to donate, click here.
For a continuously-updated comprehensive list of resources for students, faculty and employees, visit uh.edu/2017-harvey.
While students had to evacuate from the Bayou Oaks residence halls on August 26 when first-floor flooding occurred, the UH campus sustained relatively little damage overall. Go on a video tour of campus with Steven Shadow, UH rideout team mechanical supervisor, as he assesses the status of the campus following the storm.  9/1/17
President Khator maintained communication with the UH community throughout Hurricane Harvey, and visited with students who stayed in the residence halls. She also spoke with MSNBC about the repercussions, and how we will move forward together.  9/1/17
Students, faculty and employees from all walks of life are coming together to aid Harvey victims. Read more about the Student Center's "Impact Room," and learn how to share your Harvey volunteer experience.  9/6/17
Classes resumed on September 5, and Houston Public Media reported on students and employees trying their best to return to normalcy in the aftermath. One gesture from UH? Providing free childcare for employees and students. Click here to read the full story.  9/6/17
In the face of disaster, Coogs who specialize in health care are there for patients. This article featuring alumnus and donor Alex C. Varkey (Pharm.D. '05), Director of Pharmacy Services at Houston Methodist Hospital at the Texas Medical Center, is a great example of Houstonians and Cougar alumni hunkering down to help those who need medical care.  9/2/2017
Anna Babin, United Way of Greater Houston CEO and UH Board of Visitors member, is another example of a UH volunteer who is making a difference for Houston's most vulnerable populations. She spoke to the Houston Business Journal about how the United Way is thinking about long-term recovery for Houstonians.
#HtownTakeover turned out in a big way, with Cougar football players trucking supplies from Austin, and head basketball coach Kelvin Sampson calling for shirt and shoe donations from coaches around the country.  Kelvin Sampson's call for donations has resulted in more than 6,000 school shirts and 2,000 pairs of shoes already collected. There are even more on the way!
Ezemenari Obasi, associate dean of research at the UH College of Education and an expert on stress physiology, shared strategies to cope with traumatic stress which, unchecked, can effect mental and physical health. Tips include talking with others about the event, exercise, journaling, and volunteering to help others in need.  8/31/17
Please contact harvey2017@uh.edu with any questions specifically pertaining to the storm and its aftermath at UH. Our thoughts are with all who were affected by this catastrophic event.