Thom Guthrie: A Theater/Design Legend & an Evolving UH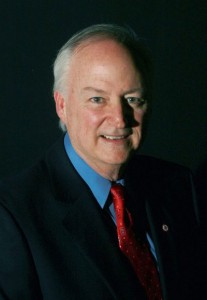 Thom Guthrie attended Houston Baptist College and the University of Houston before receiving his formal design training at the Banff School of Fine Arts in Canada. His design and production credits include more than 80 musicals, 150 plays and 80 operas. Guthrie worked in Los Angeles with legends such as Ginger Rodgers, Betty Grable, and Tommy Tune for some time. Upon his return to Houston, he became Manager of the Moores Opera House and Principal Set and Lighting Designer for the Moores Opera Center. Guthrie is also a valued donor, and has made a generous planned gift to the University. He speaks to the Lunar Cougar about his memories of UH, as well as his hopes for 2020 — and how he has seen the University of Houston evolve.
Lunar Cougar: During your 19 ½ years of working with the opera program at the Moores School of Music and the University of Houston, what would you say is the best thing you saw evolve and change?
I saw the relationship between the students and campus life after the arrival of President Khator evolve. The campus came to life as I had never seen it. Involvement in campus activities continues to be at an all-time high. This increased involvement by students campuswide was the reason for my gift in support of the Opera House and the Moores School of Music.
LC: Do you have a favorite memory of UH?
I have so many wonderful memories over the years — from meeting notable composers and performers to premiering new works. But my favorite moments have been seeing break-through performances by the students. It has been such a thrill to witness the students realize, often for the first time, the thrill of accomplishment and the roar of the crowd's approval. This is what we work for.
LC: What is your favorite show to either watch or design, as far as plays/musicals go?
That would be like asking a parent to name their favorite child: I have loved having the opportunity to bring to life some of the greatest plays and musical shows ever written. I have loved each of them the same.
LC: On June 10, 1997, Mayor Bob Lanier declared Thom Guthrie Day in recognition of your 30+ years in professional theatre. You have a day dedicated to you! How does that feel?
Thom Guthrie Day! It has a great ring to it. I try to remember it each year with cocktails and dinner. The certificate is one of my greatest treasures.
LC: As we near the three-fourths mark of our $1 billion "Here, We Go" Campaign, what do you hope to see for UH in 2020?
I hope the current campaign will bring greater financial security and help elevate the public perception of the University. It is a very public display of support for the goals of the University and the faculty, staff and administration charged with bringing those goals to life.
LC: Why is it important to give back to the University where you spent nearly two decades of your career — like you did with a planned gift? What would you say to encourage others to support UH?
For 20 years the University has been my home and the faculty, staff and students have been my family. I am so honored by their friendship and support and I want to return the love and affection I have felt these two decades. This is my way of ensuring that the quality of instruction and the professional facilities will be available to future generations. Knowing my estate will go to good use brings me great comfort.
LC: What are your retirement hobbies?
Travel, travel, travel! I look forward to seeing the world I have only been able to read about all of my life. Bon Voyage!
Know a Cougar we should profile? Contact us at lunarcougar@uh.edu! To read more great alumni and donor profiles, or to make a gift to UH, visit the University Giving home page.