Teresa Messer ('09)
Teresa Messer ('09) earn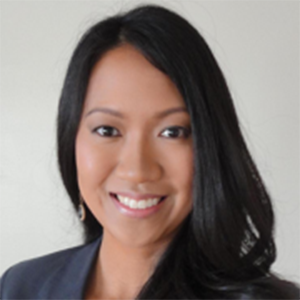 ed undergraduate degrees in philosophy and English while at UH. Her upbringing as the child of Vietnamese immigrants as well as her community service involvement with refugees while she was a student at the University of Houston ultimately led her to her calling — to help immigrants navigate through the complexities of U.S. Immigration and Nationality Law. Her immigration legal experience, commitment to her clients, and dedication to the legal profession has been recognized and awarded by the State Bar of Texas, Avvo, and Lead Counsel, and she also received a "Woman of the World" award from the UH Council of Ethnic Organizations during her time at UH.
How did being the child of Vietnamese immigrants shape your life and career?
It touches on every aspect of my life and career. Being raised by parents who fled war and hardship helped me appreciate the opportunities that America provides. My father fought against the communists during the Vietnam War and his courage has inspired me to fight for the rights of others.
Why did you choose to attend UH? What was the defining factor in your decision to enroll?
I knew I wanted to be in Houston, and a friend of mine was already enrolled at the University of Houston and spoke very highly of it. Based on her recommendation and my research into the school, I realized it was the best fit for me. I'm certain I made the right decision.
How did your UH education prepare you for your life and career as an immigration lawyer and human rights advocate?
My professors in the English and philosophy departments at UH emphasized intensive writing and critical thinking. These skills have been crucial to me as an attorney and I use them on a daily basis. I was also involved in extracurricular activities at UH that allowed me to take on leadership positions, improve my communication, and participate in community service work.
Can you tell me more about the organization you founded at UH that provided services to refugees? What was the name of it, and does it still exist?
While I was a student at UH, I met some Sudanese refugees whose story was chronicled in the documentary "The Lost Boys of Sudan," who had recently moved to Houston after fleeing their war torn country. The refugees told me about their difficulties in learning English and accessing career development resources. Being the daughter of Vietnamese refugees, I sympathized with their situation, so I decided to form an organization at UH called Refugee Assistance Program of Houston. This student organization recruited UH students to teach English to the refugees, as well as provide college counseling and GED preparation. The organization I founded no longer exists, however, the Darfurian community in Houston has since formed an organization called the Darfurian Association of Greater Houston that serves a similar function.
Can you briefly describe how you help your clients, and what are some of the common situations that they are in as immigrants and refugees?
Because of the complex nature of immigration in the United States, I provide legal assistance to a diverse range of clients, including individuals seeking to bring family members to the US, individuals who are fleeing persecution, human trafficking victims, and children who have been abused, abandoned, or neglected.
The number of refugees around the world is growing at an alarming rate in the face of global conflict. What role does Houston play in our current scenario?
America has a long and proud tradition of taking in individuals and families who are fleeing violence and persecution, including my parents. Houston has always played a significant role in resettling refugees. When a city takes in victims of tragedy, it demonstrates to the world its compassion and humanity. Houston should continue to set an example for the country and the world.
Did you have a favorite professor or class at UH, or any other favorite UH memories?
That's a hard question. I have so many favorites. If I had to choose one, my favorite professor would be Professor Curtis Haaga. He taught a course called "Logic," which teaches how to distinguish good reasoning from bad reasoning using math. He was a really nice and positive professor, and he had a way of simplifying a complex subject, even for those who are averse to math.
What do you like best about living in Houston?

My favorite thing about living in Houston is the delicious and diverse food. There are so many great restaurants in Houston it would take me all day to list them all. No other city compares.
What advice would you share with UH students, or those aspiring to make a difference in the world?
Never stop learning. Education is a lifelong process. It doesn't end at graduation.
Know a Cougar we should profile? Contact us at lunarcougar@uh.edu! To read more great alumni and donor profiles, or to make a gift to UH, visit the University Advancement home page.