Steven Shannon ('12)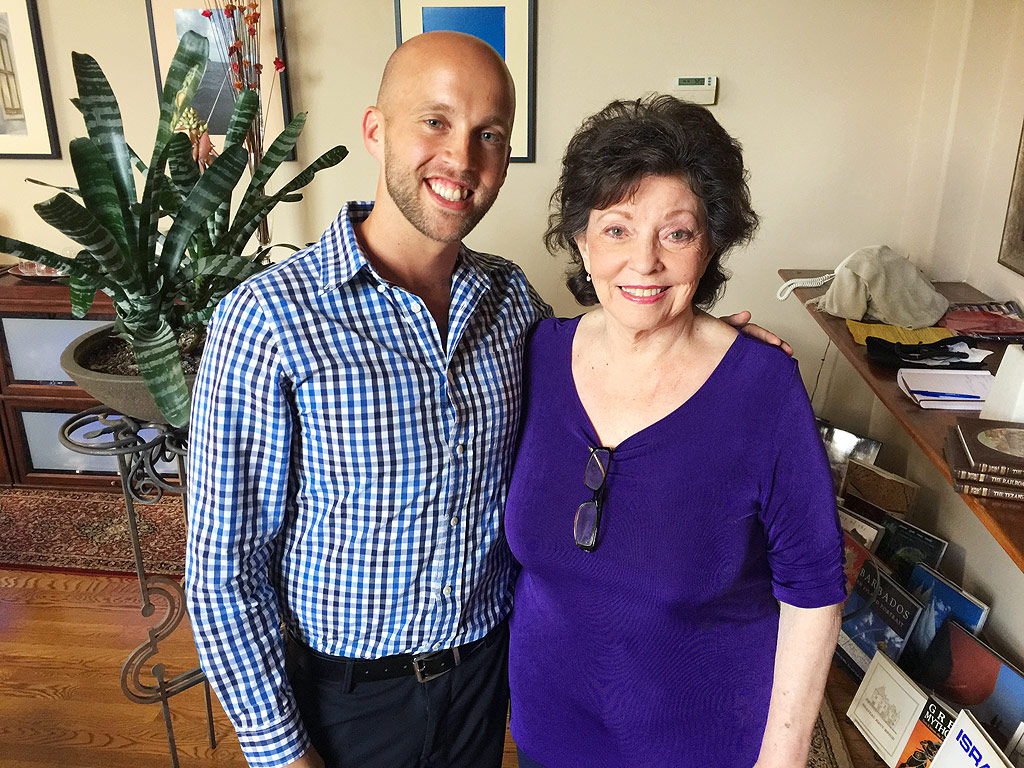 Since the 2015 Memorial Day weekend flooding in Houston, news outlets nationwide have reported on the role Steven Shannon ('12) played in rescuing a woman and her dog only moments before her car was completely submerged in an underpass (see details here). Shannon moved to Houston from Kansas after receiving his bachelor's degree in business from Wichita State University, then enrolled in UH's Moores School of Music to receive his bachelor's degree in music and teacher's certification. He teaches music at Lyons Elementary School and is the choir director for Resurrection Metropolitan Community Church.
LUNAR COUGAR: You've been receiving national coverage from the role you played in rescuing a woman from the recent Houston floods. What was going through your head as it happened, and what has the aftermath been like?
STEVEN SHANNON: When you see someone who is in need and their life is at risk, you really don't think — you just do what you need to do to make sure they're okay. I was out with a few friends, walking the dog, and the next thing we knew, she had driven right into the water. As far as afterward, it was kind of crazy. I didn't expect to get this much attention. The next thing I knew, people were tagging me all over the internet and saying they saw me here, they saw me there. It just kind of exploded.
What brought you to Houston, and what led you to apply to UH?
I moved to Houston to work as a manager at Starbucks; there were not very many stores in Kansas, and I wanted to move up in the company. I also wanted to live in a bigger city, but Houston was kind of a random choice. Similarly, I didn't know a lot about UH before I applied. What I knew was that I regretted not getting my degree in music.
Once I started the program at Moores School of Music studying voice, I discovered how much of a gem it really is to Houston. The program is really one of the best in the nation. I got lucky, I guess! I was able to compete in international choral competitions with one of the best choirs in the world, the Moores Concert Chorale, which was an awesome opportunity. Competing with other countries at an international level really speaks to UH's level of musicianship.
Did you have a favorite professor or class at UH?
Dr. Betsy Cooke Weber is one of the most amazing people I have ever met. Her level of professionalism and knowledge of the material is amazing. It's meaningful to be able to say that I studied under her; everywhere that I go professionally, when I mention that I was a student under Dr. Weber, they automatically know who I'm talking about.
I didn't have any other core musical training besides the Moores School of Music, but as far as Moores goes, I never had a professor who wasn't the best in their field, whether that was my voice teacher, Dr. Weber, or my elementary education teacher. Every one of them had years of experience doing what they taught, as well as years of experience teaching at the college level.
How long have you been teaching music at Lyons Elementary School, and what do you like about teaching music to that age group?
I've been teaching at Lyons for two years. I like working in this area of Houston; it's a lower-income neighborhood, so it's great to bring everything I've learned from UH — the students have never experienced that kind of stuff before. I had originally wanted to teach high school choral, but at UH, they highly suggest student teaching at both elementary and secondary schools. I ended up being mentored by an elementary school music teacher who was a fellow Moores grad, and it changed my whole outlook about elementary education. Also, elementary education is less time consuming than high school, which has more competitions and after-school practices, so it has allowed me to do other professional things. I'm a choir director at a church, and book random singing gigs here and there.
What I like about teaching this age group is that I can develop a passion for music in students at an early onset. And seeing the same student for six years, you build strong relationships within the classroom. You see them grow from not being able to keep a steady beat or sing in tune to be able to read music without a piano. In high school, they've already developed that interest, and that's why they choose choir, but my job is to get students excited about music, and to expose them to symphonies and different styles of music. They've never experienced anything like it.
Can you pinpoint the most important lesson you learned at UH?
I realized the amount of effort it takes to get things perfect. I did some music classes during my first degree, but the level of professionalism and musicianship at UH is far beyond what I had come from. In Kansas, I was a big fish in a small pond, but when I got to UH, I realized how many others had my same skill set. It made me work a lot harder to swim with the other fish in the pond, so to speak.
Have you visited campus since you graduated, and what are your impressions of the new initiatives at UH?
Even within the short amount of time since I graduated, the Moores School of Music has developed within the school alone. The fact that they're an all-Steinway school now is pretty amazing. I've also been back to a football game at the new stadium. Coincidentally, it was the game when the red Steinway piano was featured during the half time show! I already thought UH was an awesome school, but when I go back, I can already see how it's developing into a better one.
Know a Cougar we should profile? Contact us at lunarcougar@uh.edu! To read more great alumni and donor profiles, or to make a gift to UH, visit the University Advancement home page.