Shasta's Story Round-Up: September 2016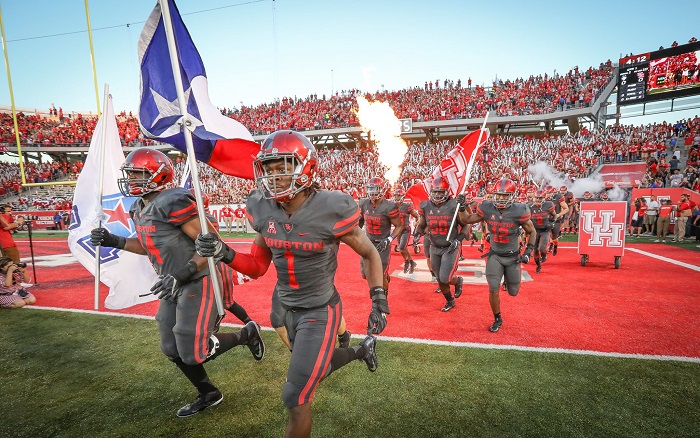 C-O-U-G-A-R-S! Last night, Coogs as faced the University of Connecticut — the only team to defeat them last season. It truly was REDemption, with Coogs claiming victory 42 to 14! For more amazing photos, visit the Houston Cougar Football facebook page. But first, check out these other stories of Cougar excellence:
UH now has 13 National Academy of Engineering (NAE) faculty! Learn more about what that means and how philanthropy brings these brilliant minds to UH;
Marvin (M.B.A. '95) and Mariloli Odum have made a transformative $1 million gift to fund undergraduate scholarships! Part of the endowment will fund scholarships for Houston area high school students;
Eugenia "Ginger" Blomstrom (FS '86), longtime UH supporter and professor and researcher at the School of Nursing since 2006, is the School of Nursing's first retiree;
If you are visiting the Smithsonian's new African American History Museum in Washington D.C., make sure to check out UH anthropology professor Ken Brown's research featured there;
There's a lot of great alumni news in the Hilton College September newsletter, including UH memories from new UH Alumni Association President Patty Godfrey ('89, UHCL M.B.A. '97);
Monika Salam, a senior studying digital media at the College of Technology, just landed her dream job at NASA after completing an internship there;
Gary Goodheart ('74), who was recently named the American Society of Civil Engineers Illinois Section's Civil Engineer of the Year, spoke with the Cullen College of Engineering about how his UH education prepared him for his career;
UH students set sail from France to Norway this summer, learning all the while. "This experience was offered as a senior seminar in Liberal Studies," says Dr. Thomas Behr. "Students had to make time to read and write. However, I also believe that Liberal Studies is more than learning through books – it involves exploring the world";
Earth and Atmospheric Science students recently returned from spending six weeks in China performing land slide field work, observing a landslide through a specially-constructed tunnel and researching in real-time;
UH's annual Summer Undergraduate Research Fellowship (SURF) program helped students develop skills that they will carry with them into their careers;
Bauer College of Business celebrated American Business Women's Day with profiles of a few amazing Bauer alumnae;
College of Education alumna Senel Poyrazli (Ph.D. '01) has traced her "mentorship lineage" back to 1856, and now passes that knowledge on to her own students;
Last but certainly not least, have you seen UH's new national commercial, "This is Innovation"? Make sure to check it out, and be ready to be filled with UH pride!
Have a student or alumni story you'd like to see linked on the round-up, or know a Cougar we should profile in one of our weekly interviews? Contact us at lunarcougar@uh.edu. To read more great alumni and donor profiles, or to make a gift to UH, visit the University Advancement home page.