Shasta's Story Round-Up: March 2017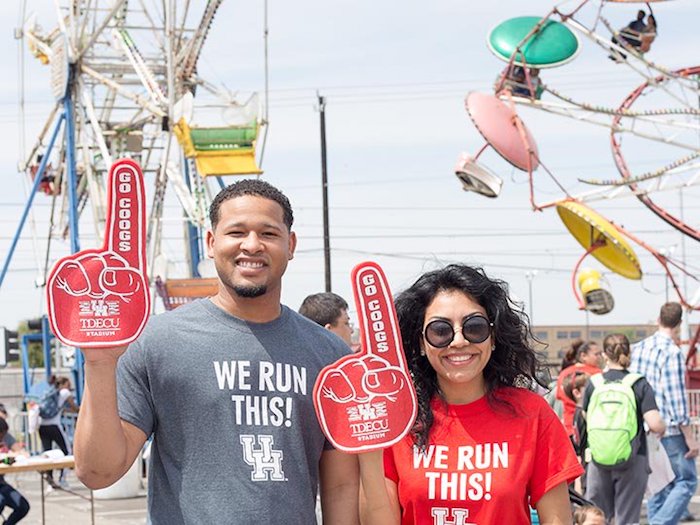 Photo: University of Houston Twitter Page
Students celebrated with friends and family at UH's oldest and proudest tradition, Frontier Fiesta. The event featured artist D.R.A.M, cook-offs, competitions, variety shows, carnival rides, and performances by students. Before you go, check out what else your fellow Coogs are up to:
It's showtime! Arnold Schwarzenegger has been named the UH spring commencement speaker. What's more, he has waived the $40,000 speaking fee.
Have you checked out the alumni profiles on the new HoustonAlumni.com? Dennis Quaid ('74) was featured this week, and the full list of notable alumni continues to grow!
All the world's a stage for scholarship recipients! Actor Shunté Lofton ('15) talks about how the Cecil J. Pickett Endowed Scholarship made a difference in her life.
Endowments create legacies for women in pharmacy: two recent gifts in particular are in memory of beloved UH College of Pharmacy professors who were at the top of their fields.
Strong community partnerships make philanthropy succeed! Read more about how the Kathrine G. McGovern College of the Arts and the Project Row Houses Fellows are effecting real change.
A project led by a UH student was one of 12 selected for NASA's High Altitude Student Platform (HASP) project.
UH Honor students are helping 7th grade students at KIPP Intrepid Preparatory School study for the STAAR test through a writing and mentoring program at the UH Honors College.
A UH opera student won the top prize at the national 2017 Kristin Lewis Foundation Vocal Scholarship Competition and will be going on all-expenses-paid trip to Vienna, Austria to pursue her singing education.
A dozen UH students spent their Spring Break at top producing wineries in Texas where they learned about what it takes to run a successful winery and steakhouse.
The UH Health Research Institute, led by the College of Education's associate dean for research Dr. Ezemenari Obasi, received a $2 million grant from United Health Foundation to further the college's efforts in promoting better health care for underserved communities in Third Ward and East End.
Bauer College marketing senior was recognized by one of the nation's largest professional marketing organizations for her leadership efforts within the college and the Houston community.
UH Society of Women Engineers hosted the 5th annual "Launch into Engineering" outreach event to attract high school students to the STEM fields.
UH Cullen College of Engineering announced the honorees that will be celebrated this year at the Engineering Alumni Awards Gala for their professional achievements and contributions.
Bauer management professor has earned one of the university's top honors for teaching, the University of Houston Distinguished Leadership in Teaching Excellence Award.
UH College of Pharmacy professor was awarded the 2017 Distinguished Associate Award by the American College of Cardiology in honor of her contributions to the cardiovascular profession.
Three UH Law Center specialty programs maintained their Top 10 rankings in the annual U.S. News & World Report survey among 81 schools in the nation. The Health Law program tied for 3rd place, the part-time program tied for 6th place, and the Intellectual Property was in 8th place.
UH College of Optometry professor was named the 2017 Contact Lens Educator of the Year.
Students from Bauer College's American Marketing Association (AMA) were recently recognized among the best student chapters in the world at the AMA 39th Annual International Collegiate Conference. The conference hosted 370 AMA chapters from universities all around the world.
UH Law Center's L.L.M programs in Energy and Health Law were ranked in Top 10 lists by the LLM Guide.
Three UH College of Pharmacy faculty members each received a $6,000 grant from the UH New Faculty Grant Program to embark on innovative research projects.
The photographs of two Digital Media students were named finalists in an international contest with more than 13,000 entries. Their photos were recognized in the 37th Annual College & High School Photography Contest.
Have a student or alumni story you'd like to see linked on the round-up, or know a Cougar we should profile in one of our weekly interviews? Contact us at lunarcougar@uh.edu. To read more great alumni and donor profiles, or to make a gift to UH, visit the University Advancement home page.