Shasta's Story Round-Up: June 2017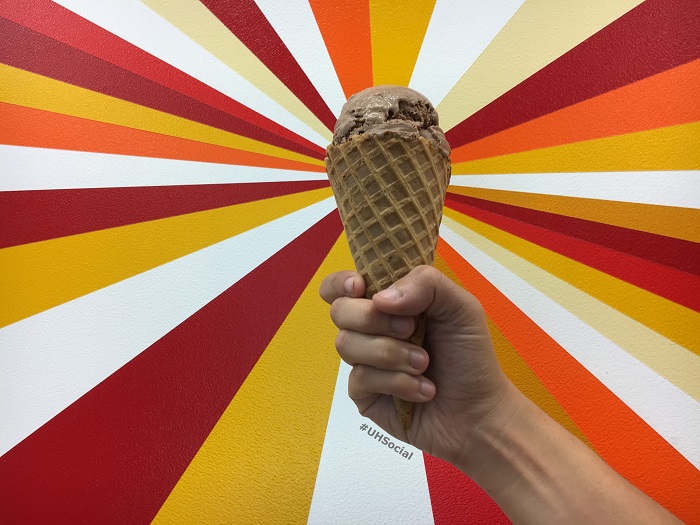 How are you keeping cool this summer? Coogs on campus for summer session know to head to Shasta's Cones & More in the Student Center. But we're sharing stories of cool Coogs from all over the world this week, from students studying in the Netherlands to competition winners in Chicago. Check it out!
Did you attend the In Tempore Legacy Society spring luncheon at TDECU Stadium? There wasn't a game going on at the stadium during the event, but the exemplary support of its members is always something to cheer about. Member Howard "Howie" Lorch ('66, M.Ed. '68) was one of the speakers: you can find out more about why he loves UH and a recap of the event on the giving website.
When Lanny Sachnowitz (M.B.A. '91) arrived at the "Here, We Go" Roadshow event in Los Angeles, 2017, he didn't just reconnect with his Cougar family: he actually met a distant cousin! Read more about Lanny's UH experience and why he continues to stay involved on the "Here, We Go" Campaign website.
Two new sports Coogs have profiles on the Alumni Association website! Read more about NFL Coach Wade Phillips ('70) and Emmy-winning sportscaster Jim Nantz ('81), and how their time at UH shaped their lives and careers.
Three University of Houston Law Center students brought home first-place hardware after recently winning the seventh annual L. Edward Bryant, Jr. National Health Law Transactional Competition in Chicago. Congratulations!
Coogs help their neighbors find their voice: the College of Liberal Arts and Social Sciences' department of Communications Sciences and Disorders (COMD) saw the need for accessible speech therapy for the citizens of Houston's Third Ward community. So, CLASS partnered with the City of Houston and the Houston Aphasia Recovery Center (HARC) to provide services right in the community so that individuals in need can regain their ability to speak.
Congratulations to Bauer College of Business accounting students Jesus Juarez and Lydia Mammen! They have each earned $10,000 for the upcoming academic year from the RSM US LLP "Power Your Education" Scholarship.
Did you know that the nation's oldest optometry study group was founded by a UH alumnus? The group was founded in 1976 by Craig Hughes (O.D. '70) with ten members who focused on contact lenses. After about a year, Jerry Jacobs (O.D. '65) was asked to lead the group and has been in that position for 40 years.
Saurabh Sogi, a computer science major in the University of Houston's College of Natural Sciences and Mathematics, is part of a team that qualified for the finals of the NASA Space Robotics Challenge. For their efforts as finalists, they were awarded $15,000 from NASA, and are currently competing in the finals, with a total prize pool of $1 million.
Volunteer tutors (both students and faculty members) from the College of Education use a digital platform to connect to first-grade students in their classroom — and teachers are seeing the results.
The annual Helen and Immanuel Olshan Texas Music Festival is made possible by generous donors, and 12 UH students performers received fellowships to participate this year! Catch this year's final performances this weekend, through July 1.
Kenny Broberg ('16) won silver at the prestigious Van Cliburn Piano Competition: a spectacular feat for a young pianist! Read more about how philanthropy helped to prepare him for the competition on the Kathrine G. McGovern College of the Arts website.
This summer, two recent University of Houston School of Art alumnae will travel halfway around the world for DeProgram, an intensive three-week design program hosted in Den Haag, the Netherlands.
If you are traveling to Berlin this summer, make sure to check out the work of Hines College of Architecture and Design students detailing how industry drives growth in Houston. It's on display through July 19.
A new study from the University of Houston Department of Health and Human Performance found that frequent participation in wheelchair rugby was associated with lower levels of depression and stress among men with tetraplegia.
Writing your dissertation can be nerve-wracking — but financial support during the process is a huge help. A new cohort of College of Liberal Arts and Social Sciences students were recently awarded dissertation completion fellowships, established to reward excellence, persistence and hard work by doctoral students so they can concentrate on the work necessary to finish their dissertations. Find out more about their research!
Michael Lyn, a junior majoring in Biology and minoring in French, was one of only two students in the humanities to win a Provost's Undergraduate Research Scholarship in 2017. Awarding 20 laureates per year the sum of $1,000, the scholarship makes it possible for undergraduates to pursue independent research under the guidance of a professor.
Three students from the Chinese Studies Program in Modern and Classical Languages, Tyler Hayward, Joshua Roorda and Daniel Scott, have been awarded the prestigious Chinese Government Scholarship (Full Scholarship) from the Chinese Ministry of Education via the Consulate General of PRC in Houston. Furthermore, these three students have all been admitted to Peking University, the most prestigious university in China!
Have a student or alumni story you'd like to see linked on the round-up, or know a Cougar we should profile in one of our weekly interviews? Contact us at lunarcougar@uh.edu. To read more great alumni and donor profiles, or to make a gift to UH, visit the University Advancement home page.