Shasta's Story Round-Up: January 2017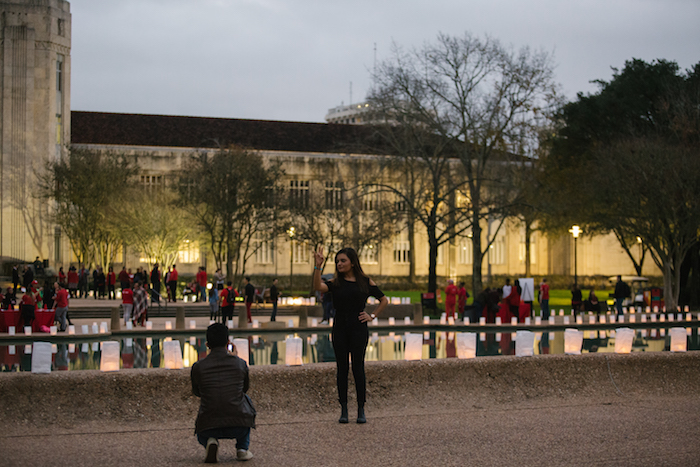 As part of the "Here, We Go" campaign, an event called Make A Wish for UH was held at the Cullen Family Plaza Fountains on Jaunaruy 19, featuring 1,000 luminarias. Students got to write down a wish for UH and place it in a time capsule to be opened in 2020. The event made for incredible photos and even more incredible memories.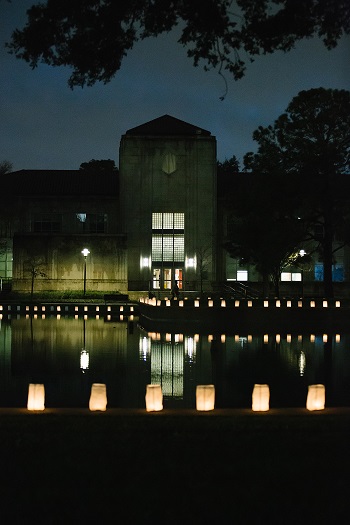 Speaking of incredible, check out these stories about your fellow Coogs:
Can you say art-mazing? UH College of the Arts received a $20 million gift from the John P. McGovern Foundation. In honor of this gift, the college will be renamed to Kathrine G. McGovern College of the Arts.
A star turn! Moores School of Music alumnus Jonathan Kirkland (MM '12) is currently starring as George Washington in the Chicago production of the Pulitzer-prize winning and runaway Broadway hit, "Hamilton"!
In his continued spirit of generosity, UH Engineering alumnus William A. Brookshire has donated $1 million to the Cullen College of Engineering to create the William A. Brookshire Teaching Excellence Award Endowment.
Research professor at the UH Law Center was awarded with the 2016 APHA Early Career Award for Excellence in Public Health Law by the American Public Health Association.
The online graduate degree program at the UH College of Education has been ranked as No. 2 in the nation.
UH Law Center will be hosting the Moot Court National Championship, which will feature 16 of the nation's top law school moot court teams.
Professor and former dean of the UH Law Center Raymond T. Nimmer has joined the editorial board of an international research journal.
Dr. Anny Castilla-Earls at UH's College of Liberal Arts and Social Sciences has earned a prestigious NIH grant to examine language loss in bilingual children.
College of the Arts graduate student Nancy Agin Dunnahoe was a little overwhelmed when she found herself in possession of a decades-old collection of Houston punk music memorabilia; now, she's working to preserve Houston's ephemeral underground music history.
A new workforce program that focuses on helping the energy industry cut costs by using data streaming will be launching in Fall 2017 at the UH College of Engineering. The certificate program will be available for those with an undergraduate degree in the engineering field.
UH Law Center for U.S. and Mexican Law partnered with Rice's Baker Institute Mexico Center to publish a book that examines recent reform of the energy sector in Mexico.
Dr. Badri Roysam, professor and chair of the UH Electrical & Computer Engineering Department, served as a judge for the nation's top science research competition for high school students.
Have a student or alumni story you'd like to see linked on the round-up, or know a Cougar we should profile in one of our weekly interviews? Contact us at lunarcougar@uh.edu. To read more great alumni and donor profiles, or to make a gift to UH, visit the University Advancement home page.