Shasta's Story Round-Up: February 2016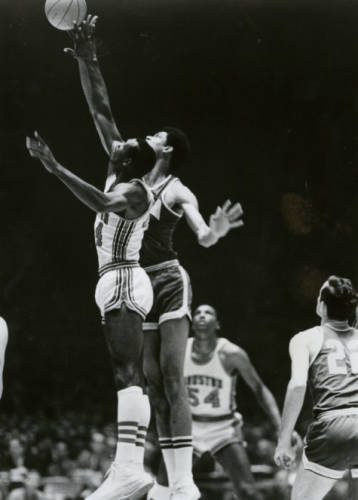 We're celebrating February (and the Coogs' 20th basketball victory of the season) with a throwback to the 1968 Game of the Century at the Astrodome. And, of course, settling down from the buzz of last night's Republican Presidential Debate at Moores Opera House! Here's a few Coogs who definitely have our vote:
Speaking of the Presidential Debates — the Honors College is offering a unique course focused on the political debate in recent American elections, with students recording their research and observations on a dedicated blog;
Dedicated Coogs Andy (BBA '68) and Barbara Gessner have made a transformative gift that will support two student initiatives in the Bauer College of Business's Program for Excellence in Selling;
Here are some real Lunar Cougars: a year's worth of hard work paid off for a team of electrical and computer engineering students in the UH Cullen College of Engineering when their small satellite technology was launched into space this month;
After earning twin diplomas from the UH College of Education, these twin sisters are making a big difference in Houston education;
An electrical power engineering technology scholar, John McClure works full-time as an electronics design engineer, and in his "spare time" designed and built an arithmetic logic unit (ALU) that holds promise as a teaching aid for engineering technology design courses;
A recent that nearly 10 percent of U.S. bridges were considered structurally deficient last year — Yi-Lung Mo, professor of civil and environmental engineering at UH, is principal investigator for more than $1.2 million in grants to consider new solutions to two structural problems;
College of Optometry student Christopher Lopez has been named student liaison to the American Optometric Student Association (AOSA)  for the 2016-2017 academic year. This role is a prestigious honor and responsibility for an optometry student, as they are charged with serving as a pipeline between the AOSA and AAO and optometry students across the United States, Puerto Rico and Canada;
What is the most efficient, safe way to transfer vital scientific data from various research labs to and from collaborating labs and cloud computing resources? A team of UH College of Technology researchers will confront universal collaboration challenges faced by university researchers and scientists with funding support from the National Science Foundation award;
On a sad note, Barbara McGinity ('74, M.S.W. '00) passed away on February 7. An officer for the Graduate College of Social Work Alumni Association Board of Directors for 11 years, she was also a UHAA Life Member and instrumental in rallying her fellow alumni. She remains an inspiration to all Coogs!
Know a Cougar we should profile? Contact us at lunarcougar@uh.edu! To read more great alumni and donor profiles, or to make a gift to UH, visit the University Advancement home page.