Shasta's Story Round-Up: Fall 2015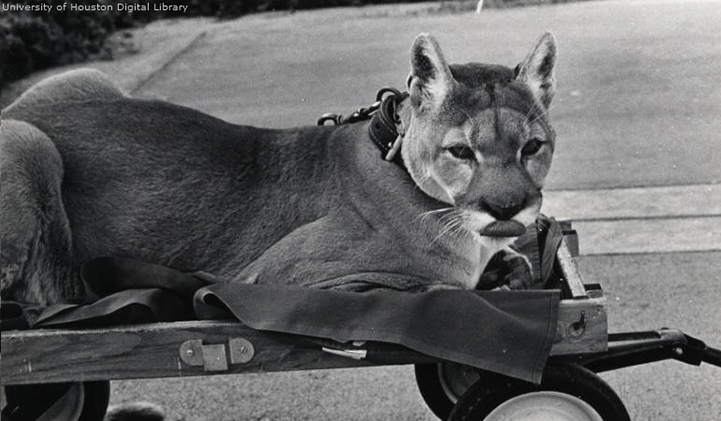 Welcome to the Lunar Cougar's first post! We'll be updating the blog every Friday starting November 6, usually with a Q&A alumni profile, with a story round-up once per month. Why post a round-up? Because the accomplishments UH alumni and current students cannot be confined to one blog alone. In the future, the round-up will contain links from the past month only, but we stretched the time restriction for our first post to send you as many stories as possible. Check out these links from our 13 colleges to read about more Cougars who are making an impact:
President Renu Khator's annual Fall Address took place on October 14. Check out the full message here, which includes UH's induction to prestigious honor society Phi Beta Kappa, Coach Herman's victory streak for football, and the final Republican Presidential Debate that will be held at UH in 2016.
UH students have established a campus kitchen to provide meals to community members in need, and have so far used over 700 pounds of food that would have otherwise gone to waste;
Seeking to strengthen national security, the Department of Homeland Security named the University of Houston to lead a Center of Excellence focused on borders, trade and immigration research;
The College of Education posted three stories about alumni who are making a difference teaching in their communities: Jerrel Wade (Ph.Ed '14) in San Jacinto, Rachael Conegie ('07) in Houston, and Grace Lin (M.Ed '97, Ph.Ed '97) in Hawaii;
Doctoral students at the UH Cullen College of Engineering won 2nd place for their poster abstract at the 5th Annual Neuroengineering Symposium, which featured a smartphone microscope;
College of Technology alumna Vicki Blocker Risinger ('05) has been named one of the best young professionals in the oil and gas industry by the Oil and Gas Investor Thirty under Forty Program;
The Hilton College's newsletter includes stories on their brand new Ph.D program, and students who will have an unforgettable experience working with local businesses to plan for major sporting events in Houston, including the 2017 Super Bowl;
The UH Law Center has been named one of the Best Value law schools in the nation based on rankings compiled by the National Jurist magazine;
Professor Leanne Atwater at Bauer College of Business has published a book, "Applied Leadership Development: Nine Elements of Leadership Mastery";
A Ph.D. student in the College of Natural Science and Mathematics was awarded a graduate fellowship through NASA's Earth and Space Science Fellowship program to study early solar system material;
College of Pharmacy students provided over 1,300 free flu vaccinations in the Humble-Kingwood area for adults over age 55;
Graduate College of Social Work Associate Professor Luis Torres discusses an innovative program called SMART Cougars, which takes aim at HIV/AIDS transmissions in minority young people;
Check out numerous alumni stories at our giving website, including Kirk Chargois ('03), Dr. Nathan Fowler ('96) and Natalie Powell (M.S.W. '14).
Know a Cougar we should profile? Contact the editors at lunarcougar@uh.edu. To read more great alumni and donor profiles, or to make a gift to UH, visit the University Advancement home page.