Ruth S. McCleskey ('00)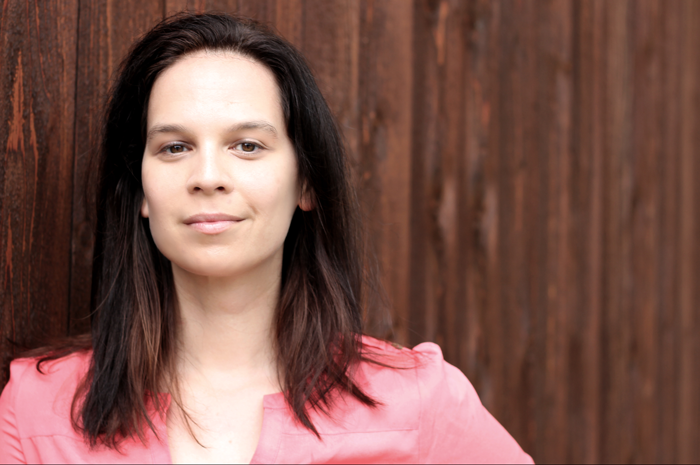 Ruth S. McCleskey ('00) is a co-founder of Boiling Point Players, a Houston theater company dedicated to producing female-driven work, and is one half of the improv troupe Ophelia's Rope. She also works as a web developer at the University of Houston Law Center. Boiling Point Players' next production will be an all-female rendition of William Shakespeare's "A Midsummer Night's Dream" — details can be found at boilingpointplayers.com.
LUNAR COUGAR: What sparked your interest in studying theater and becoming a director?
RUTH S. MCCLESKEY: I always loved books and playing make believe as other people. During high school, I tried a bunch of different art choices and found I loved breaking down scripts and performing in front of people. By my senior year, I was hooked.
When did you co-found Boiling Point Players, and what was the inspiration for the company?
The Spring of 2014. My improv partner, Autumn Clack, and I had been producing our own improv shows for about a year. We are both actresses and were lamenting the fact that we never got cast in the same shows in town. We were always competing for that lone female part in our age range. Then the thought struck, why can't we make our own opportunities and pick plays (or seek new works) that feature women? We had another actress (Melanie Martin) join us and we pooled our resources to produce two shows to run in rep: "In Juliet's Garden" and "Secrets of a Soccer Mom." We enjoyed the experience so much that we decided to continue into a second season adding cabarets where we could put a call out for new works that were female-driven.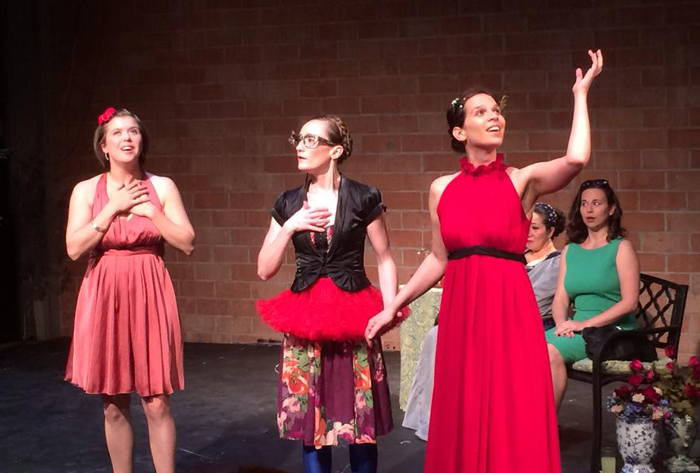 Boiling Point Players' production of "In Juliet's Garden." Front L-R: Autumn Clack, Katy Burns, Ruth S McCleskey. Back: Regina Ohashi, Renata Smith. Photo by Philip Weimer.
Do you have a favorite play that you have been a part of producing? Why is it your favorite?
"In Juliet's Garden" by Judith Elliot McDonald is my favorite for acting, because I played Desdemona's spirit. Juliet Capulet invites four other heroines of Shakespeare's classics (Katharina, Portia, Ophelia and Desdemona) to lunch in her favorite garden in Verona to discuss issues' they all have with their plots. I loved the idea of exploring what Desdemona means as a female icon. She is bucket list character for so many actresses due to her complex nature and iconic status. In this play, we discover how she feels about her relationship with Othello and her part defining female history.
For directing, "True Story" by Allison Williams, because it is a collection of beautiful intertwined monologues that incorporated all the wonderful artistic nuances. Initially the play was performed as a one-woman show but when we contacted the playwright, she reworked some of the transitions so that it would work for an ensemble. It was very exciting for us to have the playwright support and help with our artistic endeavor.
How did you get interested in web development/programming, and how does the skillset intersect with your theater training?
I was taking some MIS classes to appease my father's fears of having skills outside of theater. I took a C + programming class and got an A. At the time, I was working at the Law Library as a work study and the lady over the Law Web Department heard about it and offered me a job as a student worker in her department. I took it. Web development was in its infant stages so I learned it as it developed.
Logic, understanding a path to an end goal — and delivering something that everyone can understand — happens in both web development and theater. Nowadays, having an understanding of web development is really handy when it comes to getting the word out about your art.
What brought you to UH? What was the defining factor in your decision to enroll?
When I came to visit, the Honor's College made me feel like this place would be a good fit — the staff and professors went out of their way to show me the classes and help I would get if I came to UH. I love school and learning from people. They helped me get a scholarship that covered the majority of my expenses, which in turn, made me feel safe in following my dream of being a theater major. I figured if I can pay for college myself, then I can make my own choices about what to study.
Can you identify the most important thing you learned while studying at UH?
You can't let other people determine your worth as an artist. You won't always be able to impress the people you want to impress when you want to impress them. If you keep working and creating, it will pay off so you have to feed your own worth so that the rejection doesn't get you down. Learn from your auditions, the backstage work, your fellow artists, and life.
How did your education at UH shape your life?

UH faculty members helped me get my first backstage jobs. They gave me skills and connections to local artists that have only grown. When I meet a UH grad, we instantly have a connection and common ground that helps us quickly establish a repertoire. UH also instilled the fact that my learning never has to stop, and that I can always find opportunities to expand my horizons.
Did you have a favorite professor or class at UH, or any other favorite UH memories?
So many memories, it is hard to choose one! In Classical Text with Deborah Kinghorn (it was my first class that you had to have approval from the professor) I learned about the importance of working in your costume, breaking down the text, and committing to your actions. Directing I and II with Carolyn Boone (whom I am especially fond of since she was my thesis advisor) — she helped me in learning how to understand the bigger picture and compiling what actors bring to the table to shape something more than what just you alone bring. The UH Student Video Network (SVN) — this was one of the groups outside theater that stretched my creativity, I even created a "Death of Teddy Bear" promo with some fellow members that aired during the news show that I co-hosted.
What advice would you share with current or prospective UH students, or aspiring theater artists?
Don't be afraid to make your own opportunities. Find teachers who speak your learning language and take every class you can from them. They will help you develop your skills so you can learn from anyone.
Know a Cougar we should profile? Contact us at lunarcougar@uh.edu! To read more great alumni and donor profiles, or to make a gift to UH, visit the University Advancement home page.