Robert Grilli ('16)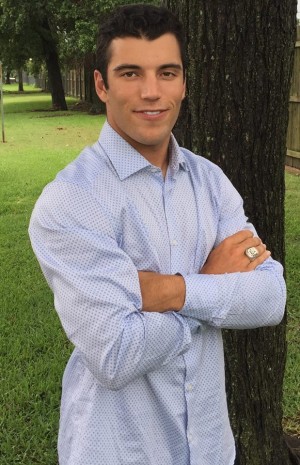 For Robert Grilli ('16), his long trip from Toronto, Ontario, Canada to the University of Houston came with a two-year stop in Salt Lake City, Utah. Once on the UH campus and as a two-year member of the Cougar baseball team, he began keeping track of lessons and tips on how to achieve success in the classroom and on the field. Grilli graduated this past May and less than a month later, on June 1, 2016, his book, "The Playbook: A Student-Athlete's Guide to Success," was published.
LUNAR COUGAR: You grew up in Toronto. How did you find yourself enrolled at the University of Houston?
ROBERT GRILLI: Growing up in Toronto and coming out high school I only had one offer to play baseball at the collegiate level. I am what most scouts and talent evaluators would deem "undersized," but what about 99.9% of people can't quantify is my heart and determination. I knew that if I wanted to play at a top 25 Division 1 program, get a tier one education and play in a warm weather state, I would have to take the road less traveled. Therefore, I chose to attend Salt Lake Community College for two years as a student-athlete and subsequently earned a scholarship to attend UH for my junior year. I was fortunate to have a great support system of teammates, coaches, and professors at both SLCC and UH. These relationships are the ones that helped shape me into the person that I have become and that I will cherish for the rest of my life.
When did you get the idea to start writing your new book, "The Playbook"?
The idea to write a book stemmed from three events: first, a professor asked me to do a video for class regarding what lessons, tools and tips enabled me to achieve success in the class given my rigorous student-athlete schedule. I received great feedback from many students, and not just student-athletes; second, my younger brother started to go through the college recruiting process and was on the verge of attending university, so over the past year and a half I've been jotting down notes in my iPhone on lessons, tips and experiences I thought he would benefit from hearing; and third, our athletic department had freshman/senior success groups whereby the seniors would address questions and inform freshmen on what to expect going forward throughout their time as student-athletes. These events spurred me on to figuring out a way to get my lessons, tips and knowledge out to a wider audience. I felt a book would be the best way to do so.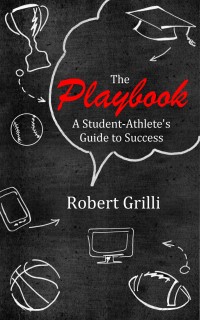 Were there any specific people or experiences at UH that impacted how you approached writing this resource for collegiate student-athletes? If so, who/what were those?
I didn't know the first thing about the process of writing a book other than to start writing. Then you start to think about a publisher, formatting and building a brand. I reached out to a lot of faculty members at UH and I am grateful that they were open to meeting with me, hearing me out and imparting some knowledge on this wide-eyed kid who said he was thinking about writing a book. I'm especially thankful for Dr. Emese Felvegi and Dr. Richard Scamell for their selfless guidance and mentorship throughout this process.
What sort of reactions have you gotten about the book so far?
The feedback that I have received so far has been very gratifying in that, when others share the same passion and excitement that I do about this book, it's quite a fulfilling feeling. A lot of parents are reading the book as well, which is really cool to me. Some of the more notable responses have been from individuals saying that they wished they had this resource before their first year of college, as it would have allayed a lot of the uncertainties that come with transitioning into college as a student-athlete. Furthermore, prospective student-athletes are giving me a ton of great feedback about how they are going to implement the tools and tips outlined in this book for the upcoming school year.
Having just graduated this past May, what are you doing now, post-graduation?
Having been back home for a little over two months now, I've been spending the majority of my time with family. Since it's summer time, and having been away for four years, I've been trying to spend as much time as I can with my brother and family, whether playing golf, ping-pong in the basement or watching his baseball games. Along with spending time with my family I've been doing some reading of my own along with a number of job interviews that have taken place.
What was your favorite thing about your time at UH?
The sense of community, support and open lines of communication truly separates UH. I don't know if it's a written rule somewhere but each coach, professor and employee seems to abide by an open door policy, a smile followed by a "How are y'all doing," or holding the door when they see you're a few feet away. Take a stroll on campus on a Friday and you will see the pride that fellow Coogs take in representing the University of Houston, and it's something special that I will forever be proud and honored to be a part of.
I'm sure school and baseball have taken up a lot of your time to this point in your life, but what are some hobbies you enjoy and what is it that you enjoy about them?
Golf is my favorite, and most expensive, hobby. Now I can play and not worry about it interfering with my baseball swing (lone baseball superstition). I still work out often; it's my escape and allows me to decompress. Other than golfing: ping-pong, reading, and strumming a couple chords on the guitar are my main hobbies.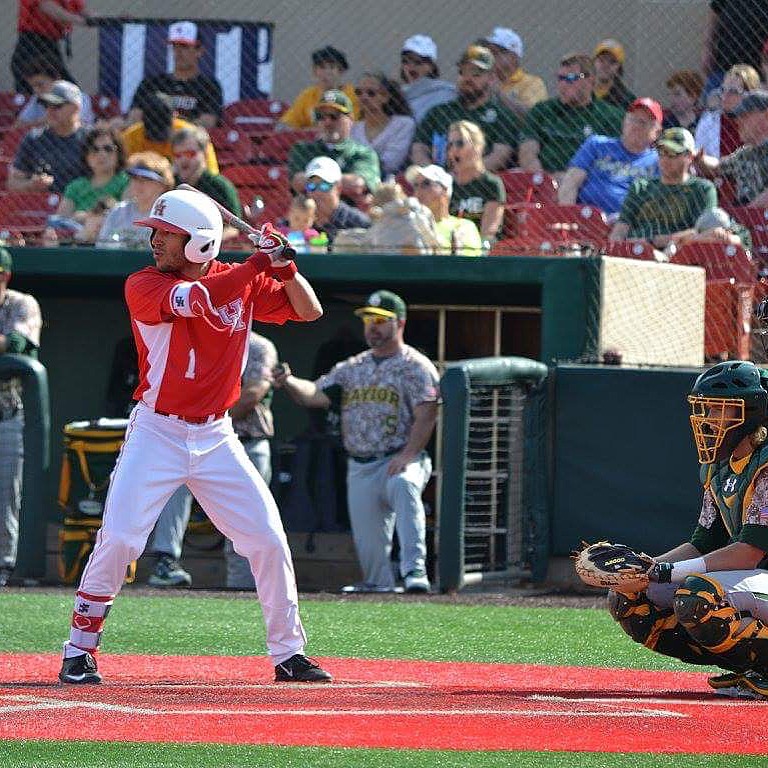 Taking student-athletes out of the equation, since you've already written a book about the subject, what is one piece of advice you would give to a student at UH?
Even though the book is geared toward student-athletes, the majority of the concepts apply to everyone. Having said that, some advice I would give to a student at UH would be to get involved, whether it be with the various clubs on campus or attending sporting events. Getting involved is a great way to meet friends, network, support, and have an enjoyable university experience. Another big piece of advice is to engage and develop relationships with your professors. Especially at UH, the professors want to see you succeed, not only in the classroom but in the real world as well, and I experienced this first hand.
Know a Cougar we should profile? Contact us at lunarcougar@uh.edu! To read more great alumni and donor profiles, or to make a gift to UH, visit the University Advancement home page.