Randal Sitton ('85, M.S.I.E. '88, Ph.D. '92)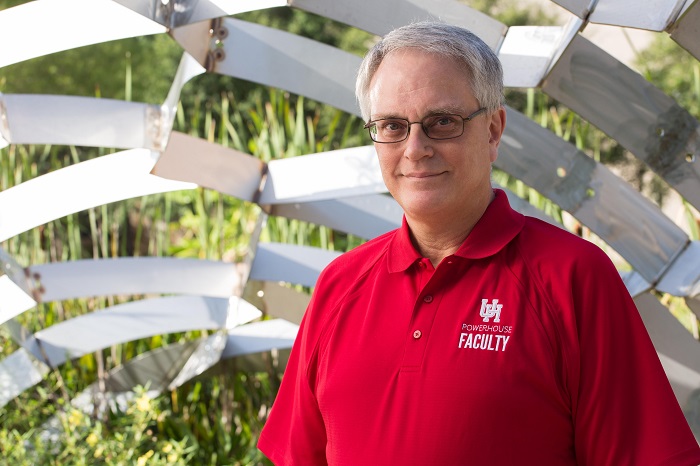 Dr. Randal Sitton, instructional associate professor at the Cullen College of Engineering (CCE), comes from a long line of Cougars. He has been visiting campus since childhood, and has memories of doing his elementary school homework in the reference section of the library while his father attended night classes. He spent more than 20 years working in the field after graduating, but he always knew that he wanted to teach at UH again after retiring. Since 2015, he has been a professor at CCE, where he earned all of his degrees. He acted as faculty ambassador to CCE for the 2017 Faculty & Staff Campaign, and remains active in the Engineering Alumni Association and Spirit of Houston Alumni Association.
LUNAR COUGAR: One of your recent students, Maria Rodriguez ('17), recommended that we interview you for the Lunar Cougar.
DR. RANDAL SITTON: Yes, Maria just graduated and secured a job at Cummins headquarters in Indiana. I'm so proud of her — she's going to do very well. She was one four students in particular who were very helpful to me when I started teaching again, because students have changed a lot over the last 20 years. The whole educational paradigm has changed dramatically.
What, specifically, has changed the most in terms of teaching?
Well, so much has changed naturally over the course of 20 years, when I was teaching while earning my doctorate. For example, more students work now, and my whole undergraduate tuition for one semester was about the same cost as your average textbook today.
But the main difference is that the whole course management system has totally changed. Now students are used to having access to advanced technology, and it affects their approach to how they choose and take their classes. They can be much more selective in how they receive their education. Overall, with the online classes and the associated technology supporting them, I've adapted my pedagogy to it. It's a beneficial and flexible system.
What role do you see the city of Houston itself playing in your students' education, and your own UH experience? Why, specifically, is it beneficial for students to study engineering in Houston?
I'm glad you asked that question. I teach a senior design class, and I consider it to be a bridge between academia and real-world engineering jobs. My whole teaching philosophy has been shaped by my field experience, and in the field, you have to perform tasks that are ill-defined — you have to be creative and think outside of the box. One of the things I stress in my class is not only the theoretical, but how you apply it in the real world.
In Houston, you can get that real-world experience. Because we are in a metropolitan area where there is a large industrial base, all of my senior design projects are sponsored by companies here in the area. Past partners have included Tenaris, M.D. Anderson Cancer Center, and Cintas, to name a few. The students have come back consistently and told me is that they like the class because it's all real-world; they learn by working with actual companies instead of purely hypothetical projects. For example, Maria's project was implemented at Cummins, where she was offered a job.
Did you have similar opportunities when you were a student here?
Absolutely. While I was working on my doctorate, I had worked with Houston METRO because my committee wanted to see the application of my research to real-world data. I started working for the United States Postal Service after earning my doctorate, primarily in Washington, D.C., and it had me traveling all over the country. My job was configuring and implementing an automated mail tray management system in postal processing and distribution centers —cutting edge for the time!
After five years, though, I got homesick, and a job opened up in the Office of Management and Budget (OMB) at Houston METRO. They already knew me from my doctoral work with the company, which was a key factor in me getting hired. I spent the next 15 years there; I was first in OMB, and then I went to the Grant Programs division to work on the installation of the rail lines for the federally-funded North Corridor extension and Southeast Corridor projects.
You were the CCE ambassador for the 2017 Faculty & Staff Campaign, which ended up raising more than $1 million for UH: why did you volunteer to be an ambassador, and why do you believe faculty giving is important?
Ultimately, the reason we are all here is for the students. I can truthfully tell you that I wouldn't have been as successful and effective in the field had it not been for what the faculty had done for me when I was a student. They were very generous, helping me either directly or indirectly as far as getting scholarships and taking trips to present papers. The college and department can't do that if the funds are not available.
I've always been active with the University, and I can attest that the level of visibility with the "Here, We Go" Campaign is certainly a lot higher profile than what I've seen from UH before. Since graduating, I've been active with the Industrial Engineering Advisory Board and Spirit of Houston Alumni Association. As far as philanthropy goes, I've also been involved with the William C. Moffit Scholarship Fund.
Speaking of the Spirit of Houston and Dr. Moffit: you played euphonium in the marching band as an undergraduate. How do you see your experience in the band in relation to your experience as an engineer?
It was really kind of weird how coming to UH came together: I was a native Houstonian, and I wanted stay here. I could be in Dr. Moffit's band, one of the country's preeminent band leaders with one of the premier marching bands — plus I'd been going to Cougar football games since I was little — and I wanted to major in Chemical Engineering, which was, and still is, one of the top programs in the nation. So it was really neat that it all worked out.
I wouldn't trade anything for my memories of college. Being in the band allowed me to be active in the overall University community. It made me a more well-rounded person. So, when I was in the process of wanting to create a scholarship, I thought, how do I acknowledge both my engineering and music experience? I ended up funding an endowed scholarship for engineering students who are in the marching band.
What I tell the students is that college is an overall experience. Of course I want them to work hard and learn all they can, but also want them to have fond memories of their experience here. UH has so many resources for them, and for students those activities are either low-cost or free. I want them to expand their minds and get a well-rounded education.
What would you say to fellow alumni to encourage them to get involved?
Here's a good example of how alumni can make a difference: when I was in the band, we took a lot of road trips. As a student, you don't really think about it — you just pile on the bus. Years later, you find out that the reason you got to go on all those trips is that active and interested alumni made the donations that made those trips possible. My attachment to the University itself was developed because of that alumni philanthropy.
The same thing that was given to me to help me be a successful engineer, I want to be able to give back to others. I would say the same thing to fellow alumni: think about what was done for them, how the University enhanced their career and themselves personally, and they can pay it forward so that students today can have that same experience.
What do you hope that UH will be able to achieve by 2020?
As enrollment is growing, needs are growing too. Right now we are bursting at the seams. We can use more space for student organizations, places where students can study, more lab space, just overall increase the educational experience. Heading for 2020, we need the resources to accommodate these students. That goes back to my philanthropic bent — I want to help the University in meeting these goals.
Know a Cougar we should profile? Contact us at lunarcougar@uh.edu! To read more great alumni and donor profiles, or to make a gift to UH, visit the University Advancement home page.