Lori Markel (Pharm.D. '08)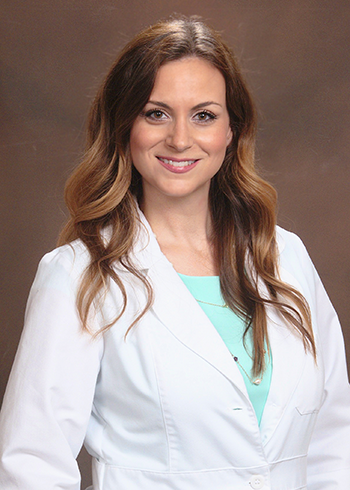 Lori Markel (Pharm.D. '08) is the co-founder of Sienna Compounding Pharmacy in Missouri City, Texas, which specializes in compounding medications: preparing customized medications to meet each patient's specific needs. On February 24, 2016, she will speak at the Meet & Greet for the UH College of Pharmacy's chapter of the National Community Pharmacists Association (NCPA), sharing her experience as a pharmacist and business owner. She is originally from Tyler, Texas and received her Bachelor of Science degree from the University of Texas at Tyler. She is also an amateur photographer in her spare time, and has a passion for dog rescue.
LUNAR COUGAR: What originally inspired you to become a pharmacist, and why did you decide to specialize in compounding?
LORI MARKEL: When I was an undergraduate, I had the opportunity to job shadow a family friend who owned a compounding pharmacy in Tyler. I could see that the technicians and pharmacists really loved their jobs, and took pride in the medications they were custom-making for their patients. It was at that point I knew I wanted to become a pharmacist.
Even though I experienced other areas of pharmacy, I always kept coming back to compounding — I find it to be the most interesting area of pharmacy. Your mind is actively working to confront new challenges every day. When you solve a patient's problem through customizing a medication for them and see the results, it's an amazing thing to witness.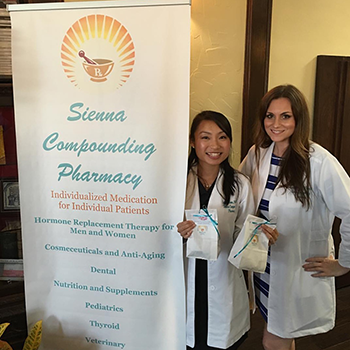 How did you meet Sulisa Chow, your business partner, and why did you decide to open Sienna Compounding Pharmacy?
Sulisa and I met while working at Kroger Pharmacy in 2011. We worked well together and both had the same workplace goals, which include a dedication to superior customer service and attention to detail. We eventually left Kroger and found ourselves working together again at another compounding pharmacy in Houston several years later. At that point, we both wanted to open our own pharmacies to provide quality compounded medications to our patients, but wanted someone to work with. So, we joined forces and partnered up to open Sienna Compounding Pharmacy in August 2015.
How is the patient experience at Sienna Compounding Pharmacy different than in a usual pharmacy?
The patient experience in a usual pharmacy is very different. In typical retail pharmacies, you are limited in the amount of time you can spend with each patient, even if you want to spend more time with them. By focusing on compounding, I am able to spend much more time with my patients and really get to know them. If patients come into my pharmacy with questions or concerns, it is not unusual for me or Sulisa to spend 15 to 20 minutes talking to them. Knowing that we have made an impact on our patient's lives, even if it's small, is the most rewarding part of owning our own business.
What have been the unique challenges and rewards of running your own business, as opposed to working in a previously existing pharmacy?
When you are a business owner, your job doesn't end when you leave for the day. You continue to learn, communicate and network at all hours. The most challenging part of opening your own business is putting your personal plans on hold in an effort to build that business, continuing to have faith that it will work out, to break through every barrier that is presented to you and beat the learning curve. You are no longer just a pharmacist or employee, you are a president, a treasurer, a marketer, a technician, a cashier . . . the list goes on! However, knowing that you are building something that is yours is an incredible feeling.
What brought you to UH? What was the defining factor in your decision to enroll?
I came to UH because they accepted me! That may sound a little odd, but pharmacy school is very competitive.  When I got my acceptance letter in the mail, I cried! I was so happy to be accepted in pharmacy school. Coming from Tyler, I was scared to move to such a big city, but I immediately accepted. I received acceptance letters from other pharmacy schools after UH, but I knew that Houston was where I was meant to be, and I have never looked back. I kept my acceptance letter and still have it to this day!
How did your education at UH shape your life? How do you use what you learned at UH in your life now? 
Coming to UH really shaped who I am as a professional. I matured so much during my four years at UH. First of all, the classes were much harder than I expected! I had to learn to study well and utilize study groups to expand my knowledge. Secondly, I was involved in many professional associations which helped shape my professionalism and network to better prepare me for working life. I still carry these lessons with me: work hard, study hard, but get involved so you can have a bit of fun every now and then.
Did you have a favorite professor or class at UH, or any other favorite UH memories? 
Although the staff and professors were tough, they were also involved in our education and cared so much about the students. It was nice knowing their office doors were always open, the support they provided was very much appreciated. Dr. Louis Williams was a favorite professor of mine, as well as Dr. Lynn Simpson. They both show such compassion, and are so involved in other professional organizations with the students — they not only made an impact on me, but on all pharmacy students. Dr. Nancy Ordonez interviewed me when I applied, and was also my mentor throughout pharmacy school. My gratitude toward her for not only believing in me when I was an applicant, but also for supporting me through school, cannot be described.
The pharmacy school is a tight-knit crew. We start and end all four years together and take the same classes together. We took trips to conventions all over the country. We had study groups late into the night before every test. We had margaritas after every test!  So, my best memory is all of the amazing friends I made while at UH, my lifelong "executive committee" of friends as I call them, the ones I would not have made it through without . . . they all have a special place in my heart and win all the memories.
Have you been back to campus recently, and have you stayed involved with UHCOP since graduating?
I visited campus about two years ago when another close friend graduated. The growth on campus is incredible! As an alumna, I also volunteered on the admissions committee for UHCOP for three years interviewing potential Pharm.D. candidates. I am excited to visit again on February 24th, when I will be attending a National Community Pharmacist Association meeting.
What do you like best about living in the greater Houston area?
I always thought I would move back to Tyler upon graduation, but during my four years in pharmacy school, I fell in love with Houston and decided to stay. I truly love it here. The food, activities, parks, concerts, rodeo, and festivals drew me in. I have lived in Houston for nearly 12 years now, and still have not done it all. There is always something new and exciting to do, and that's what I like the best about this great city.
What are your hobbies, and what do you enjoy about them?
Although I have not had much time for it lately, I love to adventure travel. I've been white water rafting in Alaska and snowmobiling on a glacier in Iceland. Being outdoors and doing something I normally would not is so much fun, and I love having a great story to tell! I am also involved in dog rescue and am an amateur photographer. I love taking photos of anything, but I particularly like taking pictures of my two dogs, Diva and Oreo, as well as foster dogs that are looking for their forever homes. I have three Instagram accounts, @pharmd_lori, @sienna_rx and @petphotography4acause, which I try to update regularly. Pictures allow me to capture the most important and beautiful moments in life, and I love to share that with others.
 What advice would you share with current or prospective UH students, or aspiring health care professionals?
Believe in yourself and never give up. If you make a bad grade, just keep going and study harder. If you don't get into professional school the first time, apply again! If you believe in yourself, you will get where you want to be. It may take more effort and time, but if you keep going, you will be successful.
Know a Cougar we should profile? Contact us at lunarcougar@uh.edu! To read more great alumni and donor profiles, or to make a gift to UH, visit the University Advancement home page.