Lisa ('95) and Michael ('97) Sachs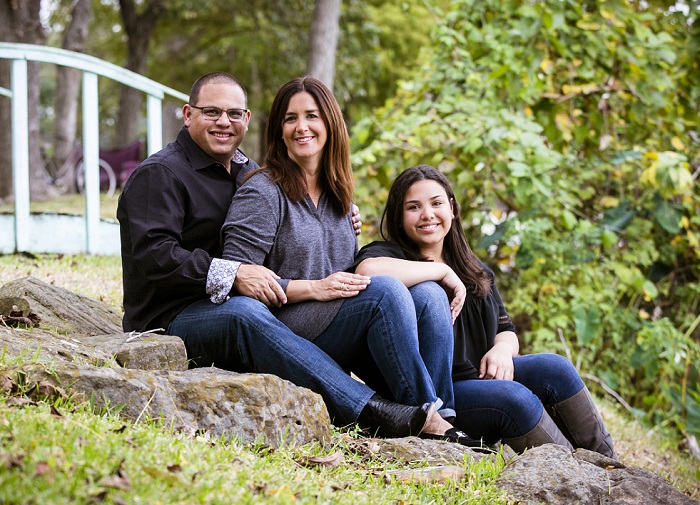 Michael, Lisa and Carlie Sachs
Lisa ('95) and Michael ('97) Sachs met at UH, where Lisa attended the College of the Arts and Michael attended the College of Liberal Arts and Social Sciences. Both Lisa and Michael were Frontier Fiesta student leaders. They have stayed involved with their alma mater ever since graduation, and married in 2000. Most recently, they became members of the Here, We Go! Campaign Committee for Scholarships and Student Affairs. Michael is a managing partner with Galene Financial, and Lisa is an educator at the Shlenker School. They live in Houston with their daughter, Carlie.
How did you meet at UH?
LISA: We met as undergraduate students working on Frontier Fiesta in 1995. I was Chairman of Frontier Fiesta in 1996, and Michael was the Director of Scholarships.
MICHAEL: We were both very involved on campus but with different organizations. Until Frontier Fiesta, we had never really known each other.
How do you use what you learned at UH in your lives and careers now?
MICHAEL: Lisa and I both credit many of our achievements in our careers and personal lives not only to our academic studies at UH, but also to our involvement in a wide variety of organizations and leadership opportunities that we were afforded while on campus.  We are both keenly aware that if we had chosen other institutions for college, we would probably have not had access to the same resources.  For both of us, it was easy to gain access to a wide variety of activities and experience at UH.
LISA: For example, I have a degree in interior design and a minor in architecture, but pursued a career in education. Michael's degree in political science led him to a career in finance and business.  Both of us always say it is not necessarily what we learned in the classroom that made us who we are today, but rather the vast array of skills we learned from our involvement on campus. We both do so many things in our daily lives that we learned in addition to and outside what we learned in our degree fields.
Is that why you decided to create the Michael and Lisa Sachs Leadership Endowment to support undergraduates involved in extracurricular activities?
LISA: Yes! A few years ago, we decided we wanted to make a financial contribution to the University and we wanted it to be something we could both support. This led to us reflecting on what had made our experiences at UH so important.
MICHAEL: We both agreed that our classes, professors, and degrees were important, but it was truly the leadership positions we held, and the student organizations we participated in as undergrads, that made us who we both are today.  It just seemed natural for us to give back to that area.
Why have you chosen to stay involved with UH, both through your giving and your volunteerism?
MICHAEL: Giving back is very important part of who we both are.  It is a core value we both embrace and instill in our daughter as well. It has always been a priority for both of us.
LISA: As young alumni, we started giving back what we could: our time. As we have grown, we have been fortunate to be able extend our support financially as well.
You are members of the Campaign Committee for Scholarships and Student Affairs – what does the "Here, We Go" campaign mean to you, as alumni and donors?
MICHAEL: It is about being part of something that is bigger than all of us collectively. While one person can certainly make an impact, a group of like-minded determined people can move mountains.  We believe that everyone that contributes to the campaign is helping lay the groundwork for future of the University of Houston and that future is exciting!
What do you hope to see at UH in 2020?
LISA: We would love to see the University continue to grow as a whole and continue to strive for excellence. We also want people to know that there are many facets of the University, doing amazing things, in addition to athletics.  Regardless of how you end up at UH, there is something for everyone!
Know a Cougar (or a Cougar couple) we should profile? Contact us at lunarcougar@uh.edu! To read more great alumni and donor profiles, or to make a gift to UH, visit the University Advancement home page.