Kevin Pennell ('98)


Kevin Pennell ('98) is an attorney with Zukowski, Bresenhan, Petry & Piazza, L.L.P. in Houston. A devoted family man and loyal Cougar, Pennell has been enjoying UH football games since his time as a student. He and his wife Stephanie live in Houston with their three children, Lauren, Elizabeth and Charlie.
LUNAR COUGAR: What brought you to UH? Was there a defining factor that led you to enroll?
KEVIN PENNELL: When I was a senior in high school I enlisted in the Navy's delayed enlistment program. I then injured my shoulder and was unable to serve and I had to find a university to attend. I chose UH because I was living in Houston and it was a place I could afford since I was putting myself through school.
Do you have a favorite memory from your time at UH?
I remember when UH beat Southern Miss in what was essentially the Conference USA title game in 1996. The game went into overtime and Southern Miss had to score in order to tie the game and it was 4th and goal at the 7. They threw a screen to the left side and UH stopped them about a yard short of the goal line to end the game and win the conference. I was sitting in the student section in Robertson Stadium.
How did your time at UH prepare you for your future?
The thing I always appreciated about UH is that everyone that was there wanted to work hard.
How have you stayed involved with the University since you graduated?
I take my kids to the football games. We all wear red. They are all big fans of Case Keenum and we're excited about Coach Herman. The kids always get excited about the games and the rockin' Cougar band.
I have a fun story about going to football games. At Robertson Stadium, our seats were right on the goal line and the second row. One of the main reasons we got our seats there was so my daughters could interact with the cheerleaders. One of the cheerleaders named Casey just adored my son Charlie. She would always make time for him and the girls. Her parents sat in the same section, so every year we'd see them.
Well, as you know, they tore Robertson down and then we had the year in Reliant. We weren't able to get our seats right on the goal line in TDECU Stadium like we had at Robertson, but our seats are very close to where they used to be. At the first game in TDECU we're figuring out where exactly our seats are and we get there and I hear someone behind me say "Charlie?" I turn around and there's Casey. She and her parents had season tickets right next to ours in the new stadium!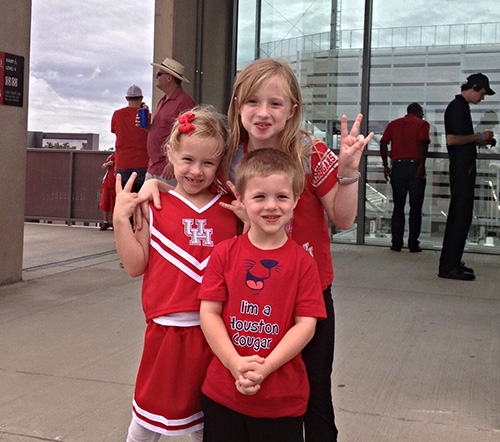 (Lauren, Elizabeth and Charlie)
What made you want to practice law?
When I started at UH my plan was to be an English teacher. I majored in English and was working my way through when I got to the point where I was going to start student teaching. This really struck a nerve because, not only could I not work that semester to support myself, but I also had to pay tuition to student teach. So I dropped out of the student teaching program with no plan B.
I was working as a dispatcher for a local courier service while I was in school and my boss there offered me a full time job if I wanted to work for him after I graduated. So I went to work and figured out pretty quickly that dispatching, while a great college job, was not something I wanted to do for the rest of my life. A friend of mine had graduated from law school and we were out for drinks one night and he was talking about how he was going to clerk for this judge and then go to work for a firm. So I thought, "I wonder if I could do this law thing." So I quit my job and I got a job at a law firm as a file clerk and figured out that I could be a lawyer. That's what led me to apply to law school and I think it's a good profession for me.
What are you passionate about? What drives you?
I'm passionate about my family. I'm passionate about my Roman Catholic faith. And I'm passionate about paying the bills…
What advice would you share with prospective UH students?
UH provides great bang for your buck. It's a smart choice for people who want to maximize their future income and minimize the costs.
Know a Cougar we should profile? Contact us at lunarcougar@uh.edu! To read more great alumni and donor profiles, or to make a gift to UH, visit the University Advancement home page.