Jamel Vaughn ('09, O.D. '13)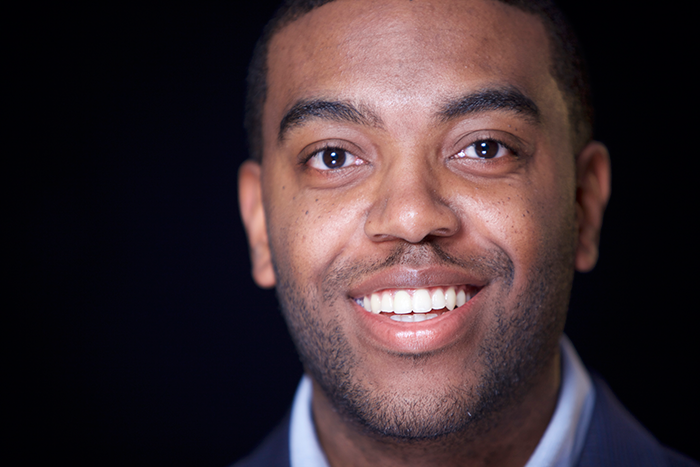 Dr. Jamel Vaughn ('09, O.D. '13) recently became the new owner of Advanced Eye Care in Dalhart, Texas. Trained in the diagnosis and management of ocular conditions, systemic diseases that affect the visual system and specialty contact lens fittings, Dr. Vaughn received his bachelor of science degree in biology from UH's College of Natural Sciences and Mathematics and went on to receive his doctor of optometry degree at UH as well. Before moving to the Texas panhandle, he practiced in the Dallas/Fort Worth area. His wife, Leslie, is a registered oncology nurse, and they have two children, Ryder and Olivia.
At what point did you know that you wanted to be an optometrist?
As a high school senior, I sat down with my mother and we discussed my academic strengths along with my professional interests. Math and science proved to be an academic strength, and I wanted to pursue a profession that would allow me to apply the two. With my mother being a type 1 diabetic, I understood the importance of eye health. Additionally, math and science is used on a daily basis in optometry, so it made perfect sense to pursue it as a career.
What do you like best about being an optometrist?
While I love assisting patients' visual needs with the help of glasses and contacts, one of my favorite aspects of optometry is caring for individuals in for emergency office visits. There are a significant number of patients in the panhandle who are involved in ranching, welding, and farming, which increases the risk of foreign bodies and eye infections, among others. As a result we see a lot of emergency office visits in the practice. These cases are interesting because of the challenge; you never know what case will walk through the door, and it is up to you to figure out the diagnosis and management. It's like solving a mystery.
Another important aspect of being a health care professional is patient education. I thoroughly enjoy helping patients understand the state of the health of their eyes and visual system and how different medical conditions affect it.
What's one common example of how visual health affects different medical conditions that people usually don't know about?
Usually it's the other way around: medical conditions affect visual health, such as elevated cholesterol, high blood pressure, and arthritis, but the most common is diabetes. This condition can cause a break down in blood vessel walls leading to hemorrhaging within the eye. In addition, diabetes can cause fluctuations in visual acuity.
What brought you to the Texas panhandle, and what do you like about living there?
My family has a strong connection to the area, due to the fact that my wife is from Amarillo and most of her family still resides there.  Additionally, I had the opportunity to take part in a clinical rotation in Canyon, TX and I fell in love with the area.  When the opportunity of ownership in an optometry practice presented itself, my wife and I took a leap of faith and moved our family to the panhandle.
A few things I have really enjoyed include the kindheartedness of the community, the friendships we have created, and the wonderful landscape.  One of the areas I enjoy the most is Palo Duro Canyon, which is the second largest canyon in the United States.
What brought you to UH? What was the defining factor in your decision to enroll?
I chose UH because of the incredible reputation of the College of Natural Sciences and Mathematics. Another important factor in my decision was the diversity that the University and the city displayed in my visit to the campus. I truly believe that the diversity of the university has tremendously helped me become the person I am today. While in Houston, I enjoyed learning about the many cultures represented in the city. Furthermore, I felt that being in close proximity to the optometry school would allow the opportunity to observe optometry students in various clinical rotations.
Did you end up being able to do that during your undergraduate years?
Yes — on several occasions I was able to follow a few fourth-year students during their rotation through ocular disease clinic. I was amazed by how much knowledge they displayed when quizzed by their clinical professors. Being close to the College of Optometry also allowed me to meet as many optometry school professors as possible before I applied.
How has your education at UH shaped your life?

My education at UH has provided more than just a foundation for what I do on a daily basis.  I truly enjoyed the fact that my professors pushed me to heights I did not know I could reach. Both of my degrees from UH provided a wealth of knowledge in ocular anatomy, physics, and chemistry. This knowledge is used with every single patient I examine, whether it is the use of chemistry when discussing drug interactions, the use of optics when prescribing contacts and glasses, or the use of ocular anatomy when evaluating eye health.
Did you have a favorite professor or class at UH?
During my undergraduate degree one professor stands out to me: organic chemistry professor Dr. Randolph Thummel. For most students going into the health care field, organic chemistry is one of the most dreaded pre requisite courses needed for professional school. For such a complex subject Dr. Thummel made it seem simple with his excellent teaching style. I really appreciated that!
During Optometry school there were two clinical professors that helped shape me into the clinician I am today. Dr. Janice Wensveen was my clinical professor on the day I saw my first patient in clinic. Her wealth of knowledge and her calm demeanor when caring for patients set a great example for me. The other was Dr. Nick Holdeman, my clinical professor in arguably one of the toughest clinical rotations, Ocular Disease/Medical clinic. I left that clinical rotation with knowledge and confidence to treat and manage some of the most difficult ocular disease cases you could ever encounter as an eye care professional.
Any other favorite UH memories?
Being an avid sports fan, a favorite memory of mine was during my first semester as an undergraduate student. The UH men's basketball team beat an impressive Arizona Wildcat team on national television, and I rushed the court along with the entire student section!
Have you been back to campus since graduation?
Yes, and I was amazed at the improvements that have been made throughout the campus. My family and I stayed overnight at the Hilton on campus and enjoyed walking around the updated university center. The TDECU stadium is incredible and we enjoyed the surrounding areas and atmosphere on game day. I am truly proud of the continued improvements to the campus.
What are your hobbies, and what do you enjoy about them?
I recently took several courses on sailing and I have really come to enjoy it, probably because of the connection it has to math and physics. I also enjoy photography and all things sports! I consider myself a super fan of the UH athletic department and enjoy watching the competitive nature of our Cougar sports teams.
Furthermore, I have always looked for ways that I can give back to my community, and found an opportunity to do that with Rotary Club. I truly enjoy the work that Rotary does for the community including its work with students. Currently I serve as president elect for the Rotary Club of Dalhart. Along with Rotary Club, I also volunteer at our home church and Make a Wish North Texas.
What advice do you have for current or prospective UH students, or aspiring health care professionals?
The University of Houston is an incredibly diverse community of intelligent, influential, and caring people, so take full advantage of this network. Get to know your professors because they are there to help you, and will gladly assist you in your goals as a student. Lastly, for aspiring health care professionals, the process requires patience, stamina, and hard work; but if it didn't require these things, it wouldn't be worth pursuing.
Know a Cougar we should profile? Contact us at lunarcougar@uh.edu! To read more great alumni and donor profiles, or to make a gift to UH, visit the University Advancement home page.