Iliana Rocha ('03)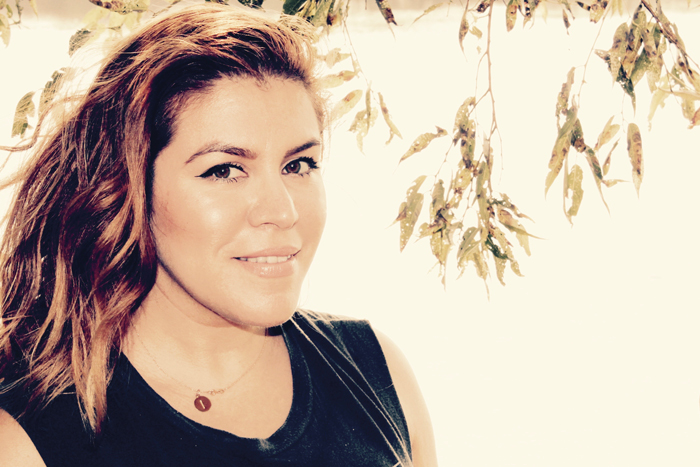 Iliana Rocha ('03) is the author of the poetry collection "Karankawa," which won the 2014 AWP Donald Hall Prize for Poetry. After graduating from UH, she earned her M.F.A. in creative writing from Arizona State University, where she was poetry editor for Hayden's Ferry Review. A native of Victoria, Texas, she is currently a Ph.D. candidate in English with a creative writing emphasis at Western Michigan University. Selected poems from the collection can be found online in Blackbird 12.2.
LUNAR COUGAR: Can you describe your poetry collection and your inspiration to write it? Who is the intended audience for the poems?
ILIANA ROCHA: The origin story of "Karankawa"' begins with the death of my aunt, who lived in Lake Jackson, Texas. I was living in Arizona at the time, so I was in a unique position to observe the myriad ways each member of my family (de)constructed versions of grief. It was important for me to attempt to capture the multi-dimensional qualities of grief and loss while also interrogating the grand narratives of my family.
I was also exploring Adrienne Rich's and Alicia Ostriker's theories on revisionist mythmaking, and part of my project was to rewrite the creation myths and folklore I had been taught throughout my life. Using the framework of the Karankawa Indians suddenly became integral — they inhabited the area of Texas where my aunt lived, and when I started researching them, I realized their legendary status of being a violent tribe (infamous for tearing out their enemies' hearts and drinking the blood) was false. Instead, they were mostly a peaceful people, nomadic, who resorted to violence only when defending their resources
Because there were so many gaps and omissions in the Karankawa history, the mystery of their lives simply could not remain a mystery — I suppose there exists a tendency to replace gaps in history with folklore, true or not. I decided to rethink stories told to me — La Llorona, birth stories — as well to revisit defining moments in my childhood and adolescence with the objective of rewriting and revising them from my perspective, true or not. Hopefully, the reader identifies a major parallel running throughout the book, the elegiac poems dealing with loss and the creation poems celebrating (but being wary of) the great responsibility of being alive.
Did you always intend to pursue your MFA and Ph.D. in creative writing? If not, what inspired you to do so?
Honestly, no. When I first started taking creative writing classes, I did not really have a concept of what it meant to pursue a graduate degree, let alone one in creative writing. It was only when I joined the creative writing community at UH that I met like-minded people interested in the opportunities beyond a bachelor's degree. I still remember some of the outstanding and talented individuals who were in my classes, some who even went on to MFA programs.
What do you like best about teaching?
I absolutely love teaching. Being in my PhD program at Western Michigan University, I teach only creative writing courses, which is such a gift. Teaching there for over three years now, I have been humbled to not only witness a student's evolution throughout the semester, but a continuing transformation even after our sixteen weeks together is over. I do not see my duties to students ending when our course comes to a close — Dr. Bill Olsen (a fellow UH alumnus and my dissertation director and mentor) said that people's enthusiasm for poetry is extremely fragile, so we must do everything in our power to nurture and encourage it. I have taken this to heart, and I am delighted when students trust me enough to share with me their submissions for chapbook contests or to ask me to write letters of recommendation for graduate school. My relationship with my students is special because poetry is special.
What are 1-2 of your favorite poems/texts to teach, and why?

1-2 texts? Ah! That is such a difficult question! Just last week, we studied John Berryman's 77 Dream Songs, which I had never taught before, and I was nervous because it is such a challenging text. However, it really resonated with my students on emotional, philosophical, and linguistic levels. They were asked to write Dream Song influence poems, and during the process, their reactions ranged from "Am I doing this right?!" to "What the hell is this?!" to "This is such a cool project!" — they are never shy to email me and let me know how they are feeling. I love seeing their reactions move from frustration to epiphany when they reach their breakthrough moments in their relationship with a text.
Some more contemporary writers I love to teach are Danez Smith, Mary Ruefle, and Carmen Giménez Smith, along with Beckian Fritz Goldberg's prose poems and Jericho Brown's persona poems. Each of these poets has an unapologetic voice that explores the boundary between tenderness and violence, but do so in such distinct ways. I hope that at some point in my career, I can teach a Chican@ poetry class and include some of my favorite poets Rigoberto González and Eduardo C. Corral, two writers who have been extremely influential in my own development as a writer–I just hope I can do them justice.
What brought you to UH? What was the defining factor in your decision to enroll?
I actually had a scholarship to a college in Boston, Massachusetts, and I went to tour the campus, and I just hated it at the time. Being from Victoria, Texas — actually, I grew up outside the city limits going toward Goliad — the manic Boston streets were not a fit for someone like me, a painfully shy, weird country girl who wanted the big city but closer to home. I thought turning down the scholarship would haunt me, but it never did. I enrolled in community college for two years while I worked and lived with my parents, and then I transferred to UH because I really wanted to take advantage of such a famous program that felt accessible, reachable.
How did your education at UH shape your life? How do you use what you learned at UH in your life now?
I learned that writing communities exist! This is something I wish I would have taken advantage of when I was at UH. When I was there, I mostly kept to myself — I was still trying to navigate living in a big city, being at a major university, working with very talented writers . . . I regret not making more of an effort to connect with my peers in the English department, but this was something I had to learn. When I work with undergraduates now, I remind them, ad nauseam, to actively participate in the various writing communities on campus, be it in the literary journal, reading series, small press, etc. to make those connections sooner rather than later.
What are your hobbies and what is it you enjoy about them?
My current obsession is true crime, and this has been a long-standing obsession, even before the popularity of something like Netflix's Making a Murderer. Particularly, I have always been interested in stories of missing women, mostly because of the rhetoric surrounding their disappearances. Again, this goes back to the Karankawa Indians in a way — when there is omission in a narrative, there seems to be an inherent need to fill it.
My new poetry explores this theme more directly in the form of some deconstructed villanelles that profile some infamous mysteries, from JonBenét Ramsey to Jayne Mansfield to Lupe Vélez. My hobbies have informed my poetry in unexpected ways that surprise even me.
Drag performance is also something I enjoy, and a couple of months ago, I was even invited on stage at a drag show of one of my favorite performers, Trixie Mattel. Aside from my book being released, this was definitely a highlight of 2015. As someone who is passionate about destabilizing ideas on an essential identity (what it means to be a "man," "woman," or even "Mexican"), drag is the physical embodiment of that instability. To use Judith Butler's verb, drag performers "trouble" constructs of identity — gender, sexuality, race, ethnicity — which resonates with someone like me who has tried to escape essentialist perspectives on race and ethnicity my whole life. Correspondingly, the writers I love to study are transformative because they demonstrate a plurality of voice and, most importantly, a threat to a singular Chican@ identity.
And, I love learning about makeup from drag queens.
Did you have a favorite professor or class at UH, or any other favorite UH memories? Did you work on the staff of any UH lit mags?
I loved working with Helena Mesa, Cynthia Macdonald, and Robert Phillips, and I still have crystal clear memories of being in their workshops. As a 22-year-old with zero experience in a writing workshop, I was thrilled (but also intimidated beyond belief) to be in the company of such famous writers. When I was in Helena Mesa's class, she and I had a conference at the end of the semester in which she mentioned I had done the most effective revisions. To someone like me, this was such an important moment in my development because it demonstrated to me that I had potential to develop my craft, and perhaps she identified a poetic spirit there. I actually ran into her recently at her poetry reading in Michigan, and I immediately reverted back to that shy, awkward student from fifteen years ago. Some things never change.
I also have such a fondness for the late Cynthia Macdonald, but I did not impress her much in class, and I loved that quality about her. She was unafraid to be direct and blatantly honest in order to generate surprise and significance in her students' poems, moving us away from the mundane.
What advice would you share with current or prospective UH students?
Make friends in any capacity you can! And, Hakeem Olajuwon went to UH, so you are in good company!
Know a Cougar we should profile? Contact us at lunarcougar@uh.edu! To read more great alumni and donor profiles, or to make a gift to UH, visit the University Advancement home page.