Happy Holidays from the Lunar Cougar!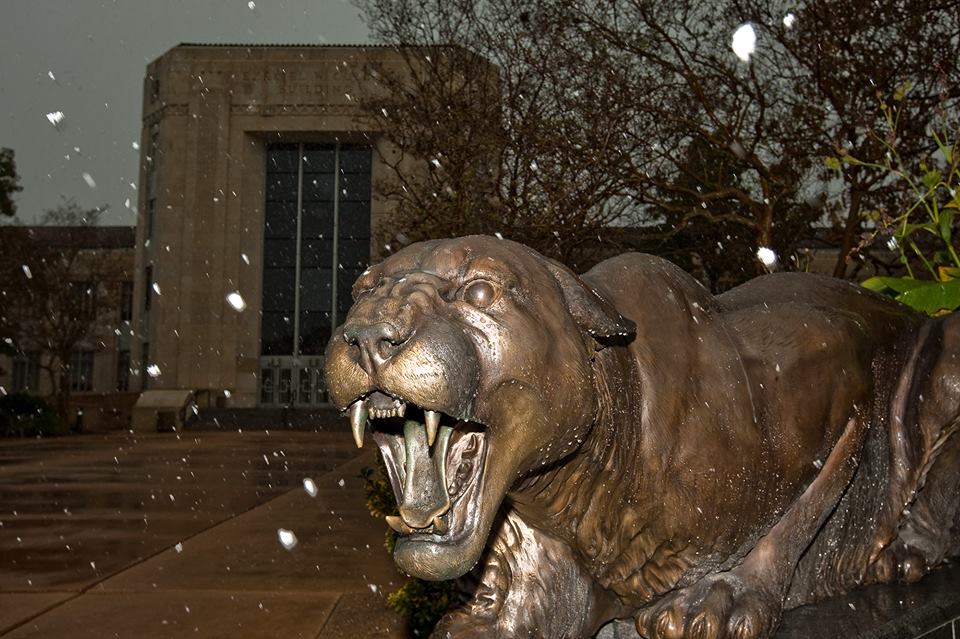 Campus snowfall in 2009 – photo via UH's Facebook page
Whether you're hunkered down with family in Houston's heatwave or celebrating a white Christmas, we wish you a very Happy Holiday season! The University of Houston will be on break until January 4, and we will bring you another great alumni profile on January 8. Until then, enjoy these alumni stories from the UH community, and have a happy and safe holiday!
Charles Dorn ('80), longtime New York resident, rallies northeast Coogs for President Khator's recent visit;
Thusnelda Valdes ('72, M.A. '75, Ed.D. '79) fled her native Cuba in 1961, spent 46 years on campus both as a student and a guidance counselor for students, and has written a novel based on her amazing life experience;
Forbes.com recently featured a blog post written by Alex Pankiewicz, a current UH student double majoring in chemical engineering and chemistry with a minor in energy and sustainability, titled "The Paradox Of China — Rising Standards Of Living, More Pollution";
Weeks before graduating from the University of Houston Law Center, Esther Kim (J.D. '15) learned she had earned her dream job, receiving the Equal Justice Works (EJW) Fellowship for public law;
Jessie Smith ('15) promised his father he would graduate from college before he died of pancreatic cancer. After an unpredictable, he received a scholarship in Religious Studies and has fulfilled his promise, and has been offered a job helping youth who are in similar situations;
Cecilia Turchetti ('15) is the first student to graduate with a Bachelor of Arts in Women's Gender & Sexuality Studies. She recently became a naturalized U.S. citizen, and plans to travel to Europe in the near future to volunteer with refugees fleeing Syria;
Bauer College of Business alumni don't always end up in a suit and tie — Freddy Cruz ('01) is a Top 40 radio DJ, and Rashmi Bhat ('14) owns her own sandwich shop.
Know a Cougar we should profile? Contact us at lunarcougar@uh.edu! To read more great alumni and donor profiles, or to make a gift to UH, visit the University Advancement home page.