Gabriel Preisser (M.M. '10)
*****************************************************************************************
Editor's Note: This interview was conducted before the tragic mass shooting in Orlando on June 12. Mr. Preisser's organization, Opera Orlando, has issued this message and call to action: "Our hearts go out to all the families and individuals affected by this horrific tragedy. Please help succor those in need by reaching out to the following organizations listed below. Donations, volunteers, blood, gift cards, anything can be of help. Let us stand as a community united by love and service during this time of tragedy, loss, and mourning." To see the full list, visit operaorlando.org.
*****************************************************************************************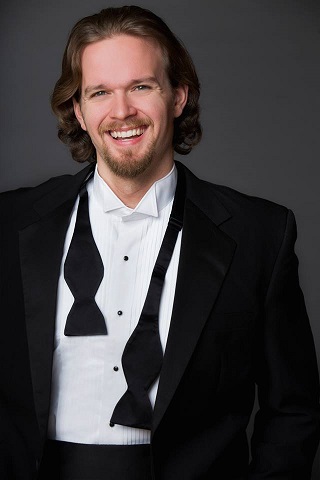 Gabriel Preisser (M.M. '10), a 2016 League of American Orchestras Emerging Artist, is a lyric baritone singer whose resume includes more than 40 operatic and musical theater roles. He recently became executive and artistic director of Opera Orlando, and is co-founder and CEO of Angels & Demons Entertainment. He lives in Orlando, Fla. with his wife and son. To find out more about his work, visit gabrielpreisser.com.
Have you been back to campus recently, and have you stayed involved with UH since graduating?
I came back to UH about a year ago to do a Masterclass for Professor Joey Evans' studio and was very impressed by the talent there. UH continues to be very competitive in the music world, especially in opera, and I often run into other alumni on gigs or at auditions. I definitely keep in touch with the voice faculty, [Moores Opera Center Director and Founder] Buck Ross, and a few others — oh, and the football team. I was very conflicted this last bowl season with my two alma maters facing off against each other!
What led you to apply to and attend UH initially?
My undergrad teacher at Florida State University was the first to suggest UH to me, primarily because of Buck Ross and because of how many opera productions UH does. That was certainly a big part of my final decision to go to the Moores Opera Center for my master's degree; they produce four operas every year, whereas most major universities produce two or three.
Also, the voice faculty at the Moores Center was a huge part of my decision. All of the voice faculty were active professional singers who had distinguished careers. I knew it was the place for me: lots of performance opportunity with people who knew what it was really like out in the "real world" of opera.
Did you have a favorite professor or class at UH, or any other favorite UH memories?
The whole voice faculty holds a dear place in my heart, especially Joey Evans, who was my private voice instructor and remains a mentor and dear friend to this day. Buck Ross also did so much for me, and I still go to him for advice or resources!
Oddly enough, some of my favorite memories were getting to work on the sets for the opera with Thom Guthrie. I never have time to do that now… Thom was very patient with us singers!
How do you use what you learned at UH in your life now?
A big part of the Moores Opera Program is doing new works and getting to rub shoulders with active composers like Ricky Ian Gordon or Daron Hagen. This prepared me immensely for my experience with originating "Silent Night" at Minnesota Opera, which I then took to Opera Philadelphia and Cincinnati Opera — I would say that has been one of my favorite roles. I've never felt out of my league or underprepared because the Moores Opera program taught me how to prepare a role, study a score, and hold my own even on a brand new piece.
What was it about "Silent Night" that made it so memorable?
The piece retells one of the greatest stories of humanity in our history: the World War I Christmas truce between Allied and German soldiers. I was very fortunate to play the role of Scottish Lt. Gordon, who proposes the truce. The most impactful thing to me was bringing to life a character who really existed, who had a family and who really lived in the trenches and was able to find the beauty of humanity amidst the crude brutality of war.
You were recently appointed executive and artistic director of Opera Orlando — what goals do you have for the organization?
I believe that opera is the highest form of art, but to survive in today's world it needs to retain and enhance its place as a major form of entertainment. Moving, imaginative, accessible, and relevant productions are our goal — classics reimagined in intimate or unexpected places. Our home venue, the Alexis and Jim Pugh Theater at the new Dr. Phillips Center for the Performing Arts, seats 300 and allows us to immerse the audience in the action while also providing the red carpet treatment of coming to a premiere performance venue right in the heart of downtown Orlando.
We are also hard at work building an audience for the future. Lead up events throughout the greater Orlando area, along with our Youth Program and our upcoming touring show help engender and educate a larger audience. Also, we are following a common model across the US by starting an Opera Young Professionals group with special perks like season tickets, VIP passes to after parties, and more. Opera Orlando also aspires to expand our education program: getting shows out in the community and schools, elementary school presentations, Opera 101 for high school and adults, and touring opera presentations, to name a few.
I used to tease about running an opera company, but figured that would be much later in life if ever. I still don't know if I really believe I'm doing what I'm doing. It hasn't really settled in, and it kind of remains to be seen how it will affect my singing career.
Does your new position mean that you are paring down your own performance schedule?
I am hopeful that by continuing to perform I can serve as an ambassador for Opera Orlando. Being out in the field as it were on gigs certainly enables me to stay connected with the "singer world" and helps me gauge what other companies are doing, what works and what doesn't.
I think I will always be a performer first and foremost and hope I can use my experience and expertise as a full time opera singer to help Opera Orlando thrive and make a unique mark in the opera world. I may have to be a little more picky about which gigs I take, but I am still running after auditions and networking for gigs as one does nowadays. I feel it will only help my perspective on the administrative side the more active I say in the performance world.
You co-founded Angels and Demons Entertainment, which looks like a great way to make it easier for venues nationwide to produce lavish operas and musicals. What inspired you to co-found this organization, and what has the response been?
Along with my co-founder and business partner Bob Neu, we saw a niche market in the industry that was increasing in demand: producing semi-staged operas and musicals for symphonies. For various reasons, symphonies are programming operas and musicals more and more. Their audiences are demanding it, and often symphonies do not have the infrastructure and/or experience to produce a full-fledged production. While concert versions of "Tosca" or "La Boheme" are nice, audiences really want a taste of the full experience — costumes, set, lighting, etc. — and that's where our company Angels & Demons comes in.
We specialize in this semi-staged, yet appearing and feeling fully-staged concept. Bob had been doing this kind of thing with symphonies for years, and luckily with a little promoting, fundraising, and connecting we have been very fortunate so far with this endeavor. We have four projects upcoming across the US, including a site-specific "Marriage of Figaro" in the historic James J. Hill Mansion in St Paul, Minn., which will be a change for pace for us and perhaps a new niche that we can fill.
What do you like best about living in the greater Orlando area?
Orlando is where I grew up and is very much home for me, my wife, and son. We love the parks, we love the bike trails, we love the growing arts scene and are excited to be a part of it.
What are your hobbies, and what do you enjoy about them?
All things sports! I love a good competition and sports are a good outlet for that. I grew up on sports and try to stay as active as possible, which is tricky with all the travelling for gigs.
What advice would you share with current or prospective UH students, or those aspiring to a musical profession?
Be true to yourself. Trust your instincts and always, always show up prepared.

Know a Cougar we should profile? Contact us at lunarcougar@uh.edu! To read more great alumni and donor profiles, or to make a gift to UH, visit the University Advancement home page.