Jennifer Yen ('02)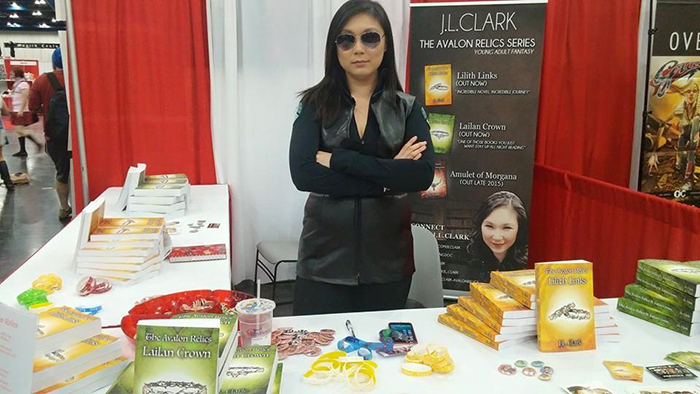 Dr. Jennifer Yen is a Clinical Assistant Professor of Psychiatry at Baylor College of Medicine, and previously served as an Assistant Professor of Psychiatry at the University of Texas Health Medical School. In the evenings, her storytelling alter-ego takes over, and she writes young adult fiction (YA) in the fantasy genre under the name of J.L. Clark. In 2014, she published two books in her Avalon Relics series titled "Lilith Links" and "Lailan Crown," and is currently working on the final installment of the trilogy, "Amulet of Morgana." She lives in Houston with her husband and three dogs.
LUNAR COUGAR: What brought you to UH? What was the defining factor in your decision to enroll?
JENNIFER YEN: My family is from the Dallas/Fort Worth area, and I was looking for a school that would give me a different environment than where I was raised.  UH offered me the chance to do that in the context of admission into the Honors College, which offered me smaller class sizes, and with the added benefit of scholarships to help fund my time there.  In addition, since I was already mentally set to get into medicine, Houston happens to be one of the few cities that contains two medical schools (Baylor and UT Health Science Center at Houston).
Can you pinpoint the most important thing you learned at UH? This can be academic or a life lesson.
Growing up in a very strict household, I can say I was probably a bit sheltered from various things.  I discovered a vast world of diverse cultures and peoples, and made some lifelong friends in my time there.  I learned that there are many paths that people take through life, but despite any differences in our background, race, gender, or religion, we all have common goals and hopes for our lives.
How did you come to your current career as a psychiatrist, and what do you enjoy about your work and patients?  
Although I was, at the time, interested in going into pediatrics, I think my eventual transition to psychiatry was born out of my love of classes that involved the brain, such as neuroscience and psychology.  I have always been a huge fan of mystery books and detective stories, and enjoyed jigsaw puzzles (the more pieces the better!), and the puzzle that was the human mind was too intriguing to pass up!  What I love most about psychiatry is actually two-fold:  I appreciate the fact that by nature, my visits involve me actually speaking with my patients, learning about their lives, and helping them to improve their current state, but also the fact that the field of psychiatry is constantly growing, with the ability to dive into many options as a provider.
When did you first begin writing, and how does that intersect with your medical career? 
As a psychiatrist who sub-specializes in child and adolescent psychiatry, part of connecting genuinely with my patients is to share interests with them, or at least be knowledgeable about what is going on in their lives.  As such, I often keep up with the current musicians, artists, actors/actresses, and authors that they enjoy.  While reading many of the recent YA novels, one of the most frustrating things I encountered was the lackluster way many of the protagonists were written, especially when they were female.  It was disturbing to see how many heroines were in fact, not very heroic, tending to be blank personalities that leaned on male counterparts for their identity and strength.  I see too many young people come through my office that suffer anxiety, depression, eating issues, or behavioral outbursts stemming from their own insecurities and peer pressures.  That was ultimately part of what drove me to start writing, and why I inject my books with empowering messages now.
Who do you consider the main audience for your books, and what do you hope they will take away from the reading experience?
I wrote the books to be YA, which essentially is anyone in their adolescent years (age thirteen through twenty), primarily because the books are written from the perspective of a teenage girl, dealing with issues of identity, social roles, and peer expectations.  However, as it is with many books, my actual audience ranges from age ten to age sixty.  I think that everyone knows what it feels like to question who you are, what you should believe in, and having people put pressure and expectations on you.  I think no matter my reader's age, I want them to walk away from the books understanding that many of the worries and fears that you feel are normal, and that there is no shame in not fitting the mold.  Your differences are what make you unique, and are often what people love most about you.  Trust in yourself and love who you are, and others will follow suit.  As the characters in my book say, luceat lux vestra, or let your light shine!
You recently sold your books at the Anime Matsuri convention in Houston (pictured). How would you explain "cosplay" to someone who's never heard of it, and what's your dream cosplay? 
Cosplay is the act of dressing up as your favorite character from a movie, TV show, book, or video game, typically to showcase your love for that character.  It's a great way to express your individuality by showing others who you resonate with, and many people put enormous amounts of time and money into recreating the costumes to the smallest detail.  As for my dream cosplay, I tend to gravitate towards strong female leads.  I recently cosplayed Agent Melinda May from Agents of SHIELD, and have cosplayed Inarra from Firefly in the past.  This year, I am looking into Selene from "Underworld" and Mulan, because of her courageous actions to help honor her family and fight for what she believes in.
What other projects are you involved in in Houston?
I am currently starting a collaboration with a local Houston tabletop gaming company, Artistic Justice Games, on bringing their first mobile app game to life.  I will be authoring the narrative and the dialog between characters for the quest portion of the game.  In addition, I will be working on a book that will tie in with the game itself.  I am also the advisory board chair for a local nonprofit service organization called the Leading Ladies, with six chapters in local high schools.  Leading Ladies teaches its members the importance of team work and community service, as well as leadership and life skills that can be used in the future.  Recently, my books were the inspiration for their fourth annual fashion show, Paint It Red, benefiting the American Heart Association.  The student designers used one of Avalon's five outer lands, or humuses, as the inspiration for their clothing line.
How did your education at UH shape your life? How do you use what you learned at UH in your life now?
I think the most important thing I took away from UH was not in formal education, but rather, my experiences with others.  UH opened my eyes to so many differing perspectives, and how people can still work together towards a greater goal.  I have lifelong friends that I made while I was at UH, people that have been with me through good and bad times, and I wouldn't trade their friendships for the world.  By being exposed to so many ideas, backgrounds, and beliefs, I have learned never to judge a person on first impression, and understand that there is always a story behind their facade.
What advice would you share with current or prospective UH students?
Many people like to say that high school were the best years of your life, but I disagree.  College is the time that you first spread your wings and explore who you want to be as a person.  Many of the people you meet during college will have a lasting impact on your life, and you should make use of your time to experience as many new and positive things as you can.  Soak everything in, but don't lose sight of appreciating the little things.  Take your time and "smell the roses," so to speak.  Remember that learning is not always just about the academics, but also about what you take away from your off time.  I had both fantastic and horrible memories from college, but I wouldn't trade a single one.  They made me who I am today, and I will always remember my time at UH fondly for that!
Know a Cougar we should profile? Contact us at lunarcougar@uh.edu! To read more great alumni and donor profiles, or to make a gift to UH, visit the University Advancement home page.