Dena McNeill ('83)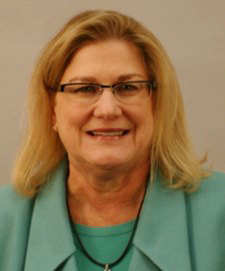 Dena Regas McNeill ('83) resumed her education at the University of Houston after a move from west Texas, and within the span of two years she had attained her private pilot's license, her real estate license and a bachelor's degree in marketing. She enjoyed a successful career in sales that has led her to the health care business development industry, where she currently a Director of Marketing and Sales for PwC in Houston. Her work in the region has resulted in her being selected as President-Elect for the Healthcare Financial Management Association Gulf Coast Chapter.
LUNAR COUGAR: What brought you to the University of Houston?
DENA MCNEILL: In 1977, I moved from west Texas to Houston with my first husband. I had accumulated some college credits, and decided I wanted to go back to school. At that point in time, UH was my best choice.
How did your time at UH prepare you for your future?
Oh, it was great. The really great thing about UH was that they brought in executives from local companies and firms to come talk to us. I'll give you an example. I thought I wanted to go into advertising. They brought in the top executive from Ogilvy & Mather to talk to our class. When I found out how much money I wasn't going to make and how many years it would take before I made any money, I decided, "Nope. That's not for me."
It was interesting, they also brought in a guy who went to UH and started his own business. He had a plant business for offices. It was very interesting. I knew I didn't want to be the entrepreneurial type because my parents owned their own business all their lives, and I decided at an early age I was going to go work for someone else with benefits.
It was all very well constructed, and it was a great school to go to.
You're now working in health care business development. What is it about that industry that suits you so well?
The opportunity is very challenging. I've got to do more than just business development. It's almost like running your own business, working with the partners who actually own the business. So, we're constantly generating proposals, writing papers, strategizing on how to make a certain hospital more successful or working on deals. That's big right now in the health care industry. There's a lot of consolidation occurring.
So, it's more than just pure "here's your number, go sell something and get paid for it." It's a team effort. It takes a lot of leadership to do what I do. You've got to have strong leadership skills.
I learned that you are the President-Elect of the Healthcare Financial Management Association Gulf Coast Chapter. Congratulations!
Thank you. I got talked into it. As I tell everybody, "I have a job where I get a paycheck and I have a second job that's a lot of work." Right now I'm getting spun up to take over in June. On top of that, I'm also the Sponsorship Chair and have been for the last five years. And, I'm the chair of the State Meeting Committee.
Do you have a favorite memory from your time at UH that stands out to you?
I was taking a finance course that involved a lot of calculus and it was in an auditorium of about 500 people. When we were going through the first lesson, afterwards I went to the professor's office and said "I am in big trouble." He asked, "What's going on?" And I said, "Well, all these things that you put up on the board today, I've never seen. I don't know what they are. I just got done taking all my pre-recs, here at UH, for the math portion. I am not prepared for this class." He responds, "Yes, I know. I've had this complaint from other students. We've decided in the business school that we are going to take back the math and teach it ourselves instead of depending on the math teachers to do it."
He said "I'm going to assign a TA to you. You're going to come over here whenever you have a problem and we're going to help you work through it. We're going to teach you what you need to know so you can pass this class."
We got to talking, and I had my real estate license at the time, and we talked about that. So every day when I went to class he would say "Now where is my realtor? What are points today? What are the interest rates?" I got to talk about the market and it was a really nice gesture from someone teaching 500 students. I would not have gotten through that class without stepping up and saying "I need help." And he was more than happy to help me.
I credit UH for giving me an excellent education and helping me to complete my degree. The day I graduated from UH was the happiest day of my life up to that point.
What advice would you share with a prospective UH student?
I would say, again, if you go to a school like UH, you're going to get exposure to local executives and the local community and we are in the fourth-largest city in the U.S. It's a wonderful atmosphere not only to learn, but to learn about what you might want to do and help you make good decisions.
Know a Cougar we should profile? Contact us at lunarcougar@uh.edu! To read more great alumni and donor profiles, or to make a gift to UH, visit the University Advancement home page.