Corbin Hedt ('11)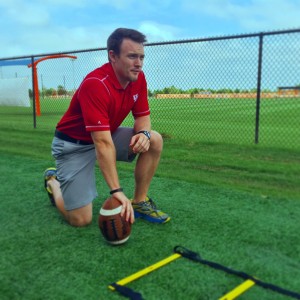 Corbin Hedt, PT, DPT, CSCS ('11) graduated from Physical Therapy school at Texas Woman's University this past May 2014 and started with Houston Methodist Orthopedics & Sports Medicine that same month. In that short time, he has worked with members of the Astros, Texans, Dynamo, Dash, Houston Ballet, and Rodeo, as well as amateurs and weekend warriors in just about every sport or activity imaginable.
LUNAR COUGAR: Have you enjoyed working at Houston Methodist Orthopedics & Sport Medicine for the past year?
CORBIN HEDT: I have enjoyed every second at Houston Methodist. I consider myself very fortunate to be part of such a strong and prolific company.  I have grown tremendously as a professional over the past year and have developed a meaningful bond with communities around Houston.
What kind of specialization did you have to achieve in order to become a PT, DPT, CSCS?
While the initials can be a mouthful, in my profession it's rare to see someone without some sort of advanced certifications and credentials. The PT and DPT stand for Physical Therapist and Doctor of Physical Therapy. I received my Doctorate in Physical Therapy from Texas Woman's University in 2014. Getting my bachelor's degree in Kinesiology from UH played a big role in achieving that, as I already had a solid foundational background in Health and Human Performance.
The CSCS stands for Certified Strength and Conditioning Specialist. I chose to pursue my CSCS to better incorporate my knowledge of physical performance and conditioning in to my current patient practice. In March of 2016, I plan to add SCS behind my name as I become a Sports Certified Specialist in the field of Physical Therapy.
What is the most rewarding part of your job?
The most rewarding part of my job is the fact that I literally get to play, teach and watch sports for a living. As a sports physical therapist, I'm blessed with the opportunity to work with professional athletes of all backgrounds.
Can you remember an "epiphany" you had while studying at UH, or the most important thing you learned?
I think the biggest epiphany I had after starting at UH – the difference from other schools and campuses – was that everybody was always on the move and always going somewhere to achieve something. I found that everyone at UH was so driven to success, and that continually inspired me to stay motivated and push for goals beyond what I would have normally thought possible.
How do you use what you learned at UH in your life now?
My educational experience at UH provided an excellent foundation for me. Being around an environment of such knowledgeable faculty and students allowed me to thrive as a student and really get a big picture as to what kind of professional I knew I wanted to become. I think the resources allotted to me as a student absolutely gave me an edge in my graduate school career compared to my peers.
Did you have a favorite professor or class at UH?
I'd truly like to commend the entire Health and Human Performance faculty/staff at UH. We are lucky to have such a robust program with extremely intelligent faculty. The educational and research components of Houston's HHP/Kinesiology programs rival those of the best schools in the country – likely exceeding most.
What do you think are the most important issues our society is facing today, specifically in the field of sports medicine?
Medicine is an ever-evolving field that is constantly getting better. While we do have a lot of kinks to work out and political arguments to overcome, it's hard not to be amazed at the advances we continue to make.
What do you like best about the city of Houston? Are there specific activities or places you enjoy in Houston?
Growing up in Houston, I've always had such a great appreciation for the city that raised me. There's always something to do, there's always something to see… I never get bored, that's for sure!  My favorite part about Houston is all the green space and parks that we can enjoy. And I especially love sports! Playing outdoor games and being active is what I like to do. The competitor in me will likely never go away.
Have you been on campus recently, and what do you think of all the changes?
Each time I go back to campus, I'm amazed at how easily I get lost – there's always something new! I'm very excited with all the new initiatives and programs. I can't wait to see what the future holds.
What advice do you have for current UH students?
Find a passion and make a difference! UH has so many different resources and knowledgeable people… use them to your advantage. The best part about being in Houston is that we have access to just about anything you can imagine. If you have goals and a drive to accomplish something, keep at it and don't be afraid to learn something new!
Know a Cougar we should profile? Contact us at lunarcougar@uh.edu! To read more great alumni and donor profiles, or to make a gift to UH, visit the University Advancement home page.