Arie Thrasher ('14)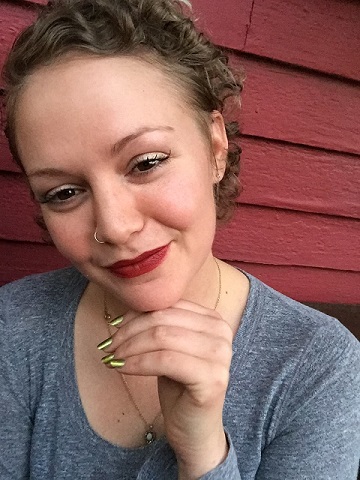 Arie Thrasher ('14) is the founder of Bea Ying Projects, working as an artist agent and art broker specifically for artists in the beginning of their careers. She is also the general manager of Joybird Furniture's flagship Houston store. Bea Ying Projects' latest exhibition, PARADISE, features work by Fulbright Scholarship-winner Aki Neumann, and will be on view at NeNo Studios in Houston through August 27, with an opening reception on August 19.
Tell me a little about Bea Ying Projects. Who does the organization serve, what does it do, and what inspired you to start it?
Bea Ying Projects' mission is to promote and support early career visual artists in Houston. I organize solo and group exhibitions, manage an art studio that houses five artists' studios, and provide as many resources as I can, like supplies, tools and connections to people and places that could help the artists.
I was originally inspired to start Bea Ying Projects after witnessing my mother's experience as an artist growing up. I realized that she had to be just as much of an entrepreneur as an artist in order to be able to do it full time, and even then it was a hustle! I feel strongly about supporting artists in their beginning stage.
Are you a creator yourself? What is your favorite medium?
I think I would consider myself a "creator" whose medium is spaces and people. I see the act of orchestrating a project or event as an art, with a specific statement and feeling I'm aiming to convey to those who experience it.
Can you give us the scoop on the upcoming show in August?
Yes, I'm so excited! The show that opens on August 19, PARADISE, is a solo-exhibition for a painter named Aki Neumann whom I met about a year ago. She originally wanted to have a studio in my space, but it didn't end up working out, and we remained friends. She found out earlier this year that she was granted a Fulbright scholarship and will move to Hungary this fall, so we decided to plan a show before she left.
She paints gorgeous, muted, oriental-influenced illustrations on archival paper, and will be making an animation and sculptures for the show as well. We'll be presenting the pieces in a very unusual format, and I think the mix of the space and body of work will make magic.


Why did you decide to you earn your B.B.A. from Bauer College of Business after receiving your associates degree in the arts at Houston Community College? What specific goals did you have?
I decided to attend Bauer because of the Wolff Center for Entrepreneurship (WCE). I knew I wanted to obtain an entrepreneurship degree, so after some research, I was happy to find Bauer housed the #1 program in the country! My goal was to just absorb as much knowledge as possible, and to get out of my comfort zone by putting myself in positions where I had to do a lot of public speaking and work as part of a team. Programs like LeaderShape and the Collegiate Entrepreneurship Organization really prepped me for getting into WCE. Then, WCE made me push every boundary I had as far as workload, responsibility, engagement and leadership.
How do you use what you learned at UH in your life now?
I use what I learned every day! It's a part of the foundation of who I am and how I conduct myself. I'm forever indebted.
Did you have a favorite professor or class at UH?
Ken Jones and Dave Cook, directors of WCE, are the most courageous and generous people I've ever met.
Did you live on campus during your time at UH, and have you been back to campus since graduating?
I lived in a neighborhood so close by that it felt as though I was living on campus! And yes, I've been back a couple of times for WCE events and exhibitions at Blaffer.
What was the last exhibition you saw in Houston that moved you, and why?
"Statements: African American Art from the Museum's Collection" at the Museum of Fine Arts, Houston. It moved me for a number of reasons, the first being that the work was so rich, beautiful, deep and full of passion. Pieces like this are fun to look at because they strike a chord inside in a way nothing else can. It feels like a nod, or an acknowledgement of a feeling that cannot be described with words. It feels like biting into a perfectly ripe pear.
Secondly, it moved me because of the current events and the history of people of African diaspora in America, and the statement each piece makes in that regard— some very tragic statements, some extremely courageous statements. It's a very emotional show, and that's what I look for in art: depth of feeling or insight.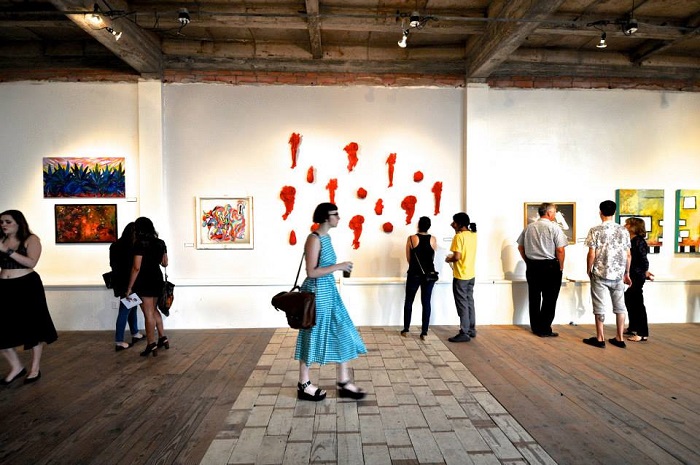 How can Houston better support its artists? From your perspective, what is the state-of-the-union of Houston arts now?
It's hard to comment on the state of Houston arts now; it's a huge thing to assess. I think in general, as a society, we should value art and artists more. Art acts as a mirror of the modern times, and can teach us a lot about ourselves so that we can grow and improve. Also, we are generally unconscious of it, but the quality of our visual surroundings strongly influences our mood. Living amongst beauty has the power to uplift you, and can majorly impact your life long term. A couple of ways the general public in Houston can better support its artists is by following artists and their exhibitions, appreciating their ideas and then, when possible, purchasing their artwork.
What do you like best about living in Houston?
I love Houston with all my heart. I truly believe we are an undiscovered gem. We're multicultural, we have amazing food, humidity to keep our skin young, low cost of living and we're flat which makes for a wonderful sky. Oh, and the art museums here are world class.
What advice would you share with current or prospective UH students, or aspiring artists?
I'd say, follow your heart. Also, to the artists — taking an entrepreneurship class will be very, very beneficial!
Know a Cougar we should profile? Contact us at lunarcougar@uh.edu! To read more great alumni and donor profiles, or to make a gift to UH, visit the University Advancement home page.