Alyson Landry (M.A. '16)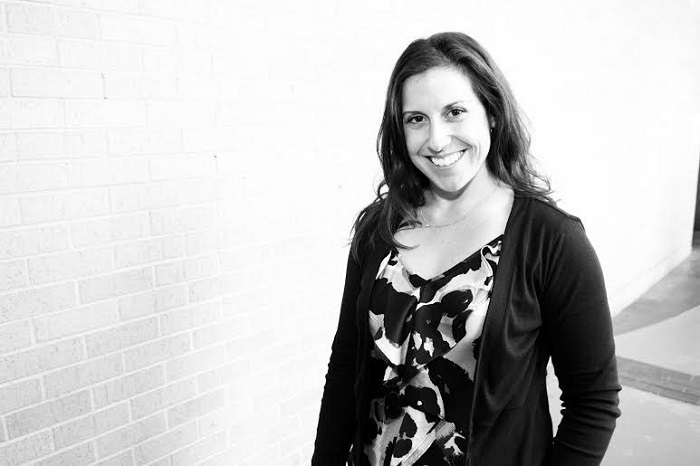 Alyson Landry (M.A. '16) teaches Professional Communications to seniors at Houston's High School for the Performing and Visual Arts (HSPVA), and has presented on how to integrate arts and academics nationwide. She studied theater at Florida State University, and has worked professionally in regional theaters and trained in London before becoming a full-time educator. She earned her M.A. in Arts Leadership from UH in 2016, and spoke with us about how the degree has changed her point of view and connected her to Houston's vibrant arts community.
LUNAR COUGAR: What was it like to enroll in the M.A. in Arts Leadership when it was — and still is — such a new program?
ALYSON LANDRY:It was exciting! When you're in a new program, you can sense that it's still open to adapting to a student's needs. Our professors were asking for us feedback, both during and after the class, to make sure that the curriculum was really molded to what we want to learn and what is relevant to our careers. Of course, not everything is taken into account, but it there was a genuine desire to know what you thought about things. I appreciated that it was very responsive.
Are you an artist yourself?
My undergraduate degree is in theater, and I did work professionally right after college. But, I didn't want the stereotypical starving artist lifestyle. Knowing that I can parlay my gifts into teaching is very satisfying.
Why did you decide to apply to the program?
I was looking for a graduate program that would help me affect change outside of my classroom. At the time, I was teaching elementary and middle school students, working on curriculum design for arts immigration in academic classrooms, and I presented on that at the regional and national level. That spurred me into thinking, "How can I do more outside of the classroom?" And when I researched different programs, I never really found one that really fit.
And then, after meeting my now-husband, the M.A. in Arts Leadership was created and it seemed to fit everything I had wanted to learn: the administrative side of the arts, the management side, and how to interpret my classroom leadership into different arenas. I applied, was accepted, and moved to Houston in the summer of 2014. My husband teaches at HSPVA, too — physics.
It must be interesting to teach physics at an arts high school.
It's very interesting. I actually met him at a conference for arts educators, where he was presenting on how he integrates the arts in his physics class. I was there presenting how to integrate academics into the arts.
How did you get involved at HSPVA after moving to Houston?
When I first moved here, I did some substitute teaching to get the lay of the land. I didn't anticipate working at HSPVA, but it worked out beautifully.
Tell me about the class.
It's called Professional Communications, and it's essentially teaching technology, communication skills, and life skills through the lens of the arts, to keep it accessible and relevant to the students. Only seniors take the class. Right now, we're going into a marketing unit, with a focus on resumes — they have to create one for an arts focus, one for a non-arts focus position, and one for college.
I wish we'd had a class like that at my high school!
I want to make it as useful as possible to them. For example: I had conversations with alumni about what they wished they'd learned in high school, and the first thing they all said was taxes, so we're going to cover taxes.But we include so many topics, from self-promotion to community arts initiatives. One research assignment was to write a paper on a national, state-wide or local organization or aspect. I assigned a different organization to each student, and they presented to the entire class. That idea came directly from my Arts Leadership class at UH.
Do you think that this type of class is particularly important for arts-focused students?
I think so. I tell my students, and hopefully they'll understand this when they leave, they can make a living in the arts, and there's many different ways you can do it. Right now, they think they have to be either a starving artist or an engineer — they don't see how they can transfer their arts skill set and strengths into a different setting. For example, when they prepare for college essays and interviews, it's so funny to me that they often don't reference the fact that they've been in an art school for four years if they want to major in a different field. We're working on connecting those dots.
How did earning your M.A. in Arts Leadership prepare you to teach this class?
I wouldn't say that the Arts Leadership program affected my pedagogy, because of my teaching experience prior to moving to Houston. But I have the ability to see things in a different light, and to see the bigger picture. Also, the connections that Arts Leadership program gives you are huge. Because of my practicum, I met all the arts leaders in the city, and now I'm passing that on to my students. For example, Perryn Leech, managing director of the Houston Grand Opera,has offered to come to speak to my class soon on his view on leadership in the arts community.
"Quiet leadership" is something I learned to emphasize during the M.A., or the idea that you can lead by example. You don't always have to be that extrovert leading the charge — that's not what leadership is all of the time. Leadership is listening, assessing, finding the people and matching them to their strengths, and you can only do that by listening and assessing. Collaboration is great, but if you speak too much, you become white noise and nobody hears you. That's kind of the things I'm trying to impart to the students: really think about what you're going to say, have conviction in what you say, truly listen, try to make connections, and then contribute, but make sure what you're contributing has value as opposed to just talking for the sake of talking.
The other thing I would say is that it taught me how to be an advocate for myself — that the connections are there, but you need to act on them and be open to opportunities. If you decide not to take advantage of an opportunity, really be at peace with that decision, but don't just count something just at first brush. If somebody had said to me, "You're going to complete a practicum with the City of Houston." I'd have said, "You're crazy." But I took that opportunity, and that path led to amazing people and connections that I am now using in my class.
What advice would you share with UH students or aspiring art leaders?
For UH current students, you need to visit the library because it's awesome. It's a commuter campus so you might not normally hang out in the library, but it's wonderful. Try to not get frustrated when the professors expect you to figure things out on your own. And listen more than you speak. That's my new personal leadership focus — listen more than you speak.
Know a Cougar we should profile? Contact us at lunarcougar@uh.edu! To read more great alumni and donor profiles, or to make a gift to UH, visit the University Advancement home page.