Alvaro S. Rios ('01)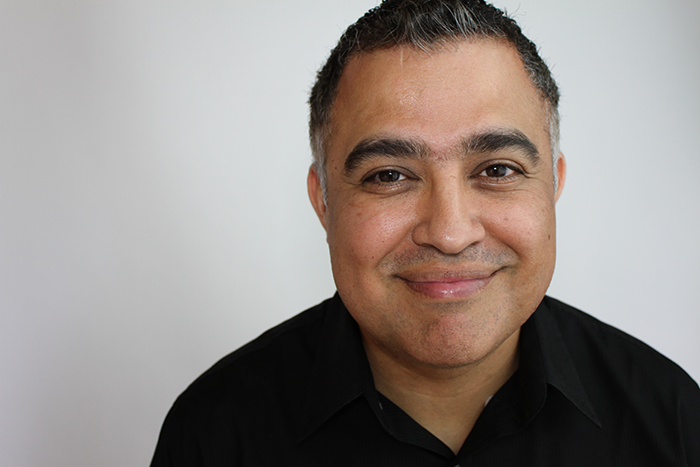 Photo by Joe Camareno
Alvaro Saar Rios ('01) is a playwright who is currently a theater professor at the University of Wisconson-Milwaukee (UWM). His plays have been produced nationwide, and include "The Crazy Mexican Show," and a one-man show, "One Hot Texican Summer." His newest play Luchadora! was recently published by Dramatic Publishing. A Houston native, he spent three years in the U.S. Army after graduating from Lamar High School, and holds an M.F.A. in Writing for the Stage and Screen from Northwestern University. He co-founded a theater troupe, the Royal Mexican Players, with his wife, Michelle Lopez-Rios, who also teaches at UWM and for the Summer MA program for UH's theater department. His next appearance in Houston will be on April 27, 2016, when he will perform at Nuestra Palabras' 18th Anniversary reading.
LUNAR COUGAR: What brought you to UH? What was the defining factor in your decision to enroll?
ALVARO SAAR RIOS: I transferred there in 1998 from Houston Community College, where I was a communications major, after meeting Tony Diaz, who was a graduate of the MFA program at UH. He had recently founded Nuestra Palabras: Latino Writers Having Their Say, a monthly event where people could come and share their work, whether it's poetry, short stories, plays, acting, dancing, music — a showcase series. At that point, I knew I wanted to transfer to a different school, but I didn't know much about what UH had to offer.
Meeting Tony and hearing about the UH program changed my view — they even had an undergraduate English-Creative Writing degree where you could take some classes with the Creative Writing faculty. That was very appealing to me. And it was momentous to meet Tony, the first writer I had ever met. To have that writer be Latino, with the same type of background as me, made me realize that it was something I could do.
Did you consider yourself to be "a writer" before that, or was it a new revelation?
I didn't consider myself to be a writer before meeting Tony, but he showed me that a writer is someone who writes voluntarily. I had a death metal band in high school, and I was writing all the lyrics. I kept a journal during basic training for the army just because there wasn't much else to do, so I would write about the experience in my off time. And I still never thought, I'm a writer. So, it took me a while to realize, but the interest had been there all along.
How did you transition from writing songs, poetry and stories to writing plays?
I started completely by chance. A friend of mine needed a play because couldn't get the royalties to the play he wanted in time. He asked me if I'd write one for him — I told him I'd never done it. I didn't read plays. I didn't write plays. He said, but you're a writer. So I told him I'd try, and it was a great experience. I've learned that I have a better handle on being a playwright than a poet, but they are closely related. Coming from a poet's perspective in playwriting is definitely valuable — just look at Shakespeare. I love how poetry informs the writing and the creation of dialogue.
My last class before I graduated was the only playwriting class I took as an undergraduate. I was supposed to graduate in 2000, but during that semester I found out that I got into the Edward Albee playwriting class, and that wasn't until spring 2001, so I waited to graduate until afterward. But then I returned in 2004 because Lanford Wilson was teaching a playwriting class.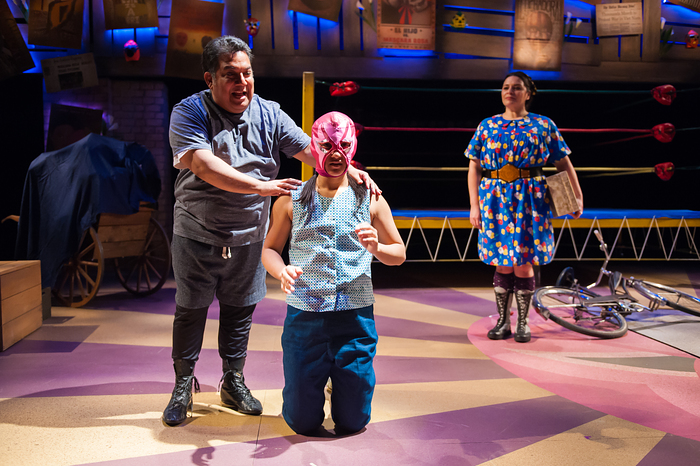 From left to right: David Flores, Jamie Mercado, and Michelle Lopez-Rios in Luchadora! Photo by Paul Ruffolo Photography.
Regarding the Royal Mexican Players: how did the group come into being, and what is the group's goal as a theater collective? Do you have plans to do another Houston production in the near future?
I started the Royal Mexican Players the same year I took Lanford Wilson's class at UH, 2004. He had talked to us about being one of the founders of Circle Rep Theater, and how they would basically write, workshop, develop and produce their own work, and that inspired me. I thought, this is what I should be doing. I had written a play, "The Crazy Mexican Show," and I found my tribe to do it with. We performed in Houston, and we were invited to perform in San Antonio at a theater festival. Then we were invited to perform at Clarkson University in Potsdam, NY, 18 miles from the Canadian border. When we arrived, we tripled the Latino population! It was really awesome — the audience and students really connected with the work, and that solidified it for me: this is what we should be doing right now.
We decided to continue to do the work as Royal Mexican Players when my wife and I moved to Milwaukee in 2006, even though we knew none of the other members would move here. We always have so many different levels of what we do. We collaborate with universities to develop work, we work with many professional theaters, and we also self-produce our own work. Each one of those has a different result. Each time we self-produce, we always think of how we can take the show back to Houston. That's always been our goal: to not just create theater, but to make it portable, so we can take it anywhere. Houston is a great place to take our work because it allows us to keep a strong connection with our audience there.
How has growing up in Houston influenced your work?
I write about Houston all the time! The longer I've been away from it, the more I write about it. If I'm not writing about Houston, I'm writing about Texas, especially because I don't see plays that are genuinely about Houston, or even about Texas. And people want to see them, even up here in Milwaukee!
As a playwright, I can't deny that those are my stories. In creative writing class, they tell you all the time, write what you know. What do I know? I know Houston, I know Texas. And that's what I love writing about.
Did you always want to be a professor? What sparked that desire, and what do you like most about teaching now?
I wasn't always explicitly interested in teaching, but one of our missions when we were creating Royal Mexican Players was to give back to the community. There were times when we would offer a playwriting class, or a writing class or voice class. We've done that at theaters, and in collaboration with local colleges. Doing that came very naturally, and I always liked those classes because it put us in touch with the audience.
When we moved to Milwaukee, one of the first things my wife and I did was teach writing workshops to get to know the community. When I went to graduate school at Northwestern University, I was required to teach, and that formalized situation helped me get a grasp on it. I was very comfortable speaking in front of an audience and creating lesson plans, so by that time, it came naturally. It's always been a part of me, but it took a while to acknowledge that it was something I wanted to do as part of my career.
How did your education at UH shape your life? How do you use what you learned at UH in your life now?
I was exposed to so many different types of writing at UH. So being able to take an awesome class with Tony Diaz, but then also being able to take a playwriting class with Lanford Wilson and Edward Albee, and Cynthia Macdonald — she inspired me to write essays. I think that because I was exposed to so many different types of writing and writing forms at UH, I didn't feel bound to just one thing. I didn't feel like when I graduated that I was just going to write fiction, or just poetry; I felt like all those forms were totally open to me.
Did you have a favorite professor or class at UH?
Besides creative writing professors whom I've already mentioned, Dr. Paul Guajardo was very inspiring to me as a scholar. He taught — and still teaches — Latino and Hispanic literature. Even though I was writing academic papers in that course, it impacted me as a creative writer. I remember him sitting down with me with one of my papers, and although I probably met with all my professors while I was there, I remember that specific meeting with him and him talking about my paper and how I can be a better academic writer. I did become a better writer just by taking that class, and him taking the time to actually sit down with me and tell me what my paper needed — but also posing questions in a way that I would figure out the answers for myself. I'll never forget that. From time to time, I even send him an email — like to let him know when I became a professor myself.
What advice would you share with current or prospective UH students, or aspiring theater artists and writers?
I have to break this down into two: my advice to UH students is to finish. I went to school with some very smart people, but not a lot of them finished their degree, for various reasons. Some did go back eventually, which is great, but just do it — because that piece of paper will open up so many doors.
In terms of aspiring theater artists and writers: say yes to everything. Maybe that's advice for all students, too. That's exactly what's gotten me to where I am today. I never thought I'd get the opportunity to write an opera for the Houston Grand Opera, or radio essays for NPR. But doing those things improved my writing in ways I couldn't have imagined. It's definitely led me to where I am today.
Know a Cougar we should profile? Contact us at lunarcougar@uh.edu! To read more great alumni and donor profiles, or to make a gift to UH, visit the University Advancement home page.