Melanie Johnson (M.H.M. '00)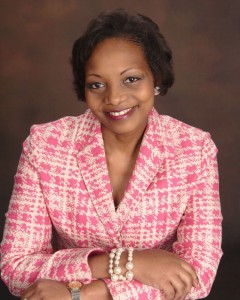 A native of Alabama, Dr. Melanie Johnson (M.H.M. '00) attended Auburn University where she received a Bachelor of Arts in International Trade and French. She earned her Master of Hospitality Management at University of Houston and her Doctorate of Education in Curriculum and Instruction at Texas Southern University. Dr. Johnson began her career in education at Houston area schools ranging from early childhood to higher education. She was the director of education at Space Center Houston before assuming her most recent role as the president and CEO of The Health Museum in Houston, Texas.
LUNAR COUGAR: What do you appreciate most about your new assignment at The Health Museum?
MELANIE JOHNSON: What I appreciate most about this new endeavor is the momentum at the museum — it had begun even before I arrived. I love the opportunity to enhance the visitor experience with brand new exhibits. We just opened the DeBakey Cell Lab, which is the largest bilingual cell lab that the public has access to in the entire country.
As an expert in the field, what do you feel are the most important issues our society is facing today in the areas of health and wellness?
It seems to all start with what we put into our bodies — the types of nutrients and the lack thereof — and how we expend that energy.  It also depends on whether we live sedentary lifestyles or are mobile. The choices we make at the table inevitably lead to diseases and stress, or to health and wellness.
How does your Master of Hospitality Management (M.H.M.) degree intersect with your current career?
The master's degree I received at UH equipped me to deal with conflict resolution in human resources, business marketing and business management, productivity and how to run the "front of the house" versus the "back of the house." The travel and tourism aspects of my hospitality degree have certainly helped me in the positions I've held in museum management.  At Space Center Houston, where I worked just before my new appointment, we had nearly 100,000 schoolchildren visit each year! The Health Museum has more of a local pull, but we reach many school groups and tourists every day.
Did you have a favorite professor or class at UH?
William Chernish was my thesis director and he taught me a great deal. Before narrowing down my thesis topic, we researched a popular restaurant chain that was in decline at the time. Mismanagement and sociological problems were rampant in their business model. This research led me to understand that it's important to combat these types of sociological problems directly before they take the life out of your business. That was an epiphany I had while studying at the Hilton College.
Another professor I admired, who I would be remiss if I didn't mention, was Agnes DeFranco. She taught finance with real-world applications to the industry. Her expertise in finance taught me how to determine net assets in regards to the museum business.
What do you like best about the city of Houston itself? Are there specific activities or places you enjoy in Houston?
As far as travel and tourism goes, Houston just has a lot of very diverse offerings. We're a welcoming city to people of differing interests. If you want to see live sports, a concert in the park or make a trip to a museum — you always can find something to do.
What are your hobbies and what is it you enjoy about them?
I enjoy riding my bike and I love to read — especially self-help books. I really liked "The Slight Edge" by Jeff Olson. I also love reading anything by Malcolm Gladwell.
Have you heard about UH's new initiatives? Have you been on campus recently?
One of my sons, who is a high school sophomore, has attended the Gerald D. Hines College of Architecture program during the summer, so I do come up to campus for that and to attend various event at the Hilton College. With the new buildings, parking structures and restaurants on campus, it's apparent that UH is keeping up with the demands of the students. I'm really pleased to see that.
What advice do you have for current UH students?
I don't think students take full advantage of all the research opportunities with professors during their graduate and postgraduate years. I reflect back on the research I did and all I learned from countless professors. Seek out those endeavors with your professors and enjoy learning!
Know a Cougar we should profile? Contact us at lunarcougar@uh.edu! To read more great alumni and donor profiles, or to make a gift to UH, visit the University Advancement home page.