Tommy Lott ('59): A "Helping Hand" for UH Students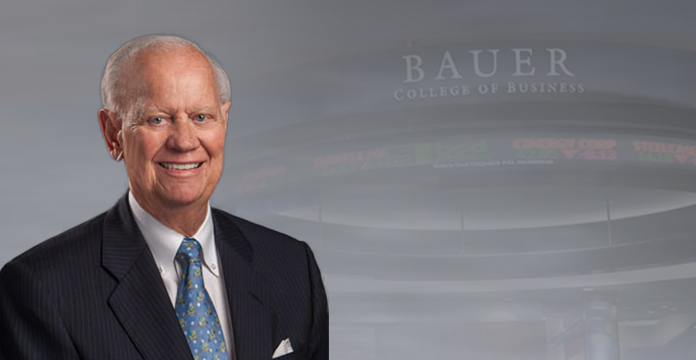 Giving back to his alma mater of the University of Houston (UH) is important to Tommy Lott ('59) — and for good reason. He was the first of his family to attend college and he used his degree from Bauer to become a well-respected business leader. "A great deal of people helped me do what I'm doing today. I was given a lot of opportunities," he says. "I didn't do anything without help and now I'm trying to give back."
Lott and his family left East Texas when he was a junior in high school. He arrived in the diverse, intimidating town of Houston, a self-proclaimed "country boy." He enrolled at the University of Houston, paying his way through what was then a "commuter school" by working at a grocery store. He immediately found kinship as a part of Tau Kappa Epsilon (TKE), a fraternity on campus. "The fraternity life was a tremendous asset to people like me, who were living off campus," he says, "It introduced me to friends I still have today." And he remembers coming from a small town to the city as an "enlightening" experience — "I met and went on to develop meaningful relationships with people from all over the country," he remembers.
Lott graduated from UH and married his wife, June, three years later. He has worked in a variety of different positions throughout his life; during his newlywed years, he was working for a manufacturer. He was able to create a network of business mentors and partners — they gave him a "hand up" by guiding his decisions until he eventually founded his own food brokerage company with the help of a retail broker who he had worked for back during college. The company, Lott Marketing Company, opened seven offices across three states. When the industry consolidated in 2012, he sold, but he remains on retainer as a consultant to this day.
In light of his successful career, he has a key piece of advice for students at UH studying business: "Expose yourself to some sort of business during college." In other words, real world experience is extremely beneficial to starting one's career. "Even if you don't have to work to put yourself through school, find a way to intern or volunteer so that you gain some type of business experience and begin to develop your network of relationships which can be every bit as important in your career as your degree," he says.
Lott comes back to campus about once a month for a Cougar Lunch with his old buddies from UH, and he has a football suite with one of his fraternity brothers. He's not sorry to admit that he believes that the better we are in Athletics, the more people come to appreciate a coach like Coach Herman, and the better UH's national presence will be. It's already gaining momentum: "I'm proud of our President's vision," he states.
That vision is what inspires him to give back — and he does so in a multitude of ways. The reason is simple: people once helped him. Lott contributes to Athletics, to the Pathways to Success Scholarship and to the Conrad N. Hilton College of Hotel and Restaurant Management. "I want to help train the next generation of food service professionals," he says. He also gives to Bauer, the Annual Fund and his TKE fraternity. Having a tie to the campus at the University inspires his giving. "Come back and take tours!" he encourages other alumni. He believes that there is no better way to stay connected to what is going on at the University and to want to support such an energetic expansion.
Aside from his penchant for investments and developing apartment complexes, Lott sits on the board of directors of the Community Bank, Enviro Water Minerals Company (EWM) and the Hermann Park Conservancy. He is proud of the work the Conservancy has done to improve the environment at Hermann Park. He loves the city of Houston and says it is a "well-balanced" place, with oil, real estate and the medical sectors all booming. He also enjoys golf, traveling and spending time with his two children, Ron Lott and Sandra Lewis, and his grandchildren and great-grandchildren. He may be busy, but has no plans to slow down anytime soon. Conference calls, emails and meetings keep every day an exciting new adventure — just like the one he started many years ago, as a fresh-from-the-country, eager student at UH.
-Sarah F. Hill