Tier One Scholarships Inspire a Generation of Students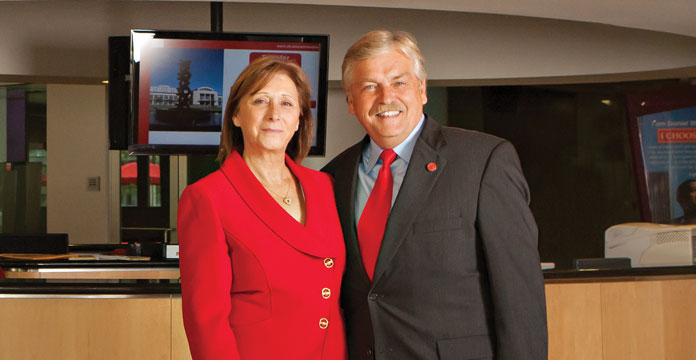 Donna and Les Haulbrook ('78) believe their support of the University of Houston's Tier One Scholarship Program should create more than opportunities; it should spark a ripple effect. "When alumni give back to UH, and when I give back to UH, we're facilitating the next generation of leaders," said Les, a College of Technology graduate. "At the same time, we're facilitating the opportunity for these new leaders to give back to their University. It's an environment that continues to grow."
In 2010, the Haulbrooks answered President Renu Khator's challenge to provide scholarship contributions that would be matched dollar-for-dollar by University funding. From this challenge and the generosity of its benefactors, the Tier One Scholarship Program was born. To date, more than 190 outstanding UH freshmen have matriculated as Tier One Scholars and contributed directly to the University's top priority of student success. The Les and Donna Haulbrook UH Tier One Scholarship Endowment, which also receives a corporate match from Donna's and Les's employer, ExxonMobil, enabled these students to pursue their dreams at the University of Houston.
"We want to support anyone who has the desire for education," said Donna, who fell in love with UH after attending Cougar football games with Les. "I hate to think that anyone would be limited in their desire to receive an education because of money. That's why we do this. We want to provide financial support for people who want to succeed." Tier One Scholars communicate regularly with their benefactors via correspondence, emails and events. They share their progress, seek advice and mentorship and, above all, express their gratitude. Donna and Les fondly recall meeting the scholarship recipients at the annual Tier One Scholars Reception and Dinner. One scholar thanked them profusely for her opportunity to study tuition-free at UH; the other left a lasting impression when he described his dreams and ambitions that were made possible by the Haulbrooks' generosity. "The second year of the program, we got to meet one scholar's parents," said Les, "and we really saw how much of a difference this scholarship made in her life. We learned about another scholar's double major and his drive to serve his community through medicine and medical research. That's why this program is so great, and knowing that we are able to help someone with this level of drive is why we believe in it and UH."
The Haulbrooks are proud of all the recipients and appreciate the thanks they receive, but they also share with the scholars a special message about the true meaning of philanthropy. "The only thing I want our scholars to keep in mind to show their true appreciation is not just the opportunities they've been given, but also the opportunity to give back," said Donna. "You don't have to have money to give back. You can be leaders and through your actions create a great environment at the University of Houston."
Les fondly recalls the environment he experienced at UH in the early 70s. It was a time when the athletics teams were invariably hailed for their prowess on the field and Hall of Fame-worthy leadership, which included Athletic Director Harry Fouke and coaches Bill Yeoman and Guy Lewis. Les played football for Houston and later worked closely with Fouke and legendary UH Athletic Trainer Tom Wilson who always pushed him to be the best person he could be. Additionally, Les worked with UH Athletics Hall of Honor inductee Ted Nance, who directed the University's sports information and media relations for a 33-year stretch that witnessed Andre Ware receiving the Heisman Trophy, Wilson Whitley receiving the Lombardi Trophy and college basketball's "Game of the Century." From these iconic UH leaders, Les learned the skills and life lessons he applied to his own career and success, as well as the importance of nurturing UH's vision by creating an atmosphere that breeds new leadership.
"Ted (Nance) taught me how to communicate in a manner that embraced the vision so that others would want to champion it; Harry (Fouke) was the visionary and Tom (Wilson) would encourage everyone he met to never give up. These were the people who showed you that you can be more than you would ever dream," said Les. "And we have an opportunity to do the same thing with the Tier One Scholarship Program."
Donna and Les remain passionate about sports, especially soccer. Les was instrumental in bringing the Mexican national football team to Reliant Stadium for a friendly match against the United States in 2003. Before a sold-out crowd of more than 69,000 fans, the match ended in a 0-0 draw, and Mexico failed to avenge its loss to the U.S. during the 2002 World Cup's Round of 16. For the Haulbrooks, soccer was a way to change the global image of Houston and ignite a diverse fan base that welcomed the opportunity to see a live international match on home turf. From this one game, Houston's soccer legacy, which today includes a successful MLS team, state-of-the-art stadium and loyal following, was born.
"I'm energized by the atmosphere and dynamics of moving forward," said Les. "People are recognizing the energy, direction and sense of purpose with Houston and UH – from athletics to academics – and President Khator is doing an amazing job of setting the tone. What we hope, and what Tier One Scholars have shown, is that when you give to this program you're helping someone who is going to be a future leader, someone who will make UH and Houston better. That's how you create a ripple effect."