The Empire That Trash Built: Maria Rios ('97) and Nation Waste, Inc.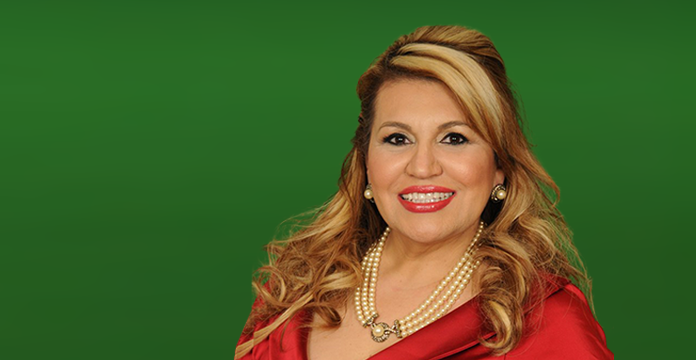 The difference between outdoors and indoors couldn't be more stark. Outside, a fleet of portable toilets stands, along with industrial dumpsters bearing the name Nation Waste, Inc. Inside, Maria Rios reclines in an elegant, sweet-smelling office, wearing a designer dress and heels. This is her empire, an empire of trash to be exact. "When I see waste, I see opportunity," says Rios, excitedly.
The University of Houston put Rios on this path to becoming one of Fortune Magazine's "Most Powerful Women Entrepreneurs" in 2013. Once bullied for her accent in school, she now accepts awards with great humility and constant awe. "It is utterly amazing that this girl who came from El Salvador without knowledge of English is now recognized in this light. Truly a gift from heaven!" she says, always punctuating the end of her sentences with exclamation marks.
Hard to forget by her own admission, other business owners, including Warren Buffet, have called on her to discuss her business strategies. "Just as I have paved the way to becoming the first Latina in the waste removal industry, there are many opportunities still for Latinas to be the first in many sectors." This dedication to minority needs has served Rios well. She sits on the Houston Hispanic Chamber of Commerce and Greater Houston Women Chamber of Commerce boards and was appointed by the mayor to the City of Houston Office of Business Opportunity Board. This is in addition to the many awards, accolades and feature stories she has inspired as of late.
Her studies at UH allowed her to apply her business management and marketing skills as far as negotiating new contracts and expanding operations by diversifying her product line. In addition to resulting in a multi-million dollar contract with the City of Houston, where Nation Waste, Inc. is the preferred provider of portable toilets for both airports and waste removal from the prison system, this diversification has led Rios to getting involved with recycling aspect of waste removal.
"We need to do this," Rios emphatically states when asked about recycling. "We need to make the waste removal system of this country cleaner, greener and more sustainable." The technology to sterilize medical waste and to create bioenergy and organic fertilizers is available. "Working for our environment" is Nation Waste's motto, and they are at work making it more of a reality every day.
Rios' story began as a 13 year old immigrant from El Salvador. Her parents were afraid for their three young daughters during the civil unrest and brought them to America. "But my mother always taught me to be bold and to take risks. My dad encouraged me to dream big," she remembers. She began her education at Houston Community College, then transferred to UH for her final two years, which only increased her work ethic. She still recalls the UH mission to "Learn, Discover and Engage." "I still learn, discover and engage, and that has made all the difference!" she shares.
One of her favorite professors remains, to this day, Dr. Martin Golubitsky, a mathematics professor in the College of Natural Sciences and Mathematics. He taught her to work with forecasting models and financial statements. A senior project during her degree required her to design a business model. Since she was very young, she had been working, saving her money and establishing great credit. She decided to take out a loan after graduation and put her senior project into reality. Since one of her many jobs as a young woman was at a large waste removal company, she thought to herself, "Waste is not going anywhere — there will always be a niche for trash removal, and I can cater to clients with special needs." This includes medical waste, high rise construction waste and construction site portable toilets.
With that very first loan, she hired a full-time and a part-time driver. Her husband was wary of the loan process and the dream of becoming a business owner; one year later, she had hired her husband on at Nation Waste, Inc., and was already well on her way to the mogul she is today. She currently has more than 29 trucks performing round-the-clock waste disposal, as well as on-site welders, mechanics and recyclers at her Nation Waste, Inc. compound off of West Mount Houston Drive in Houston.
Rios gives back to the community in many ways, supporting Aldine Little League and the Girl Scouts of America. But she is most proud of the many talks she is asked to give to graduating students. She always tells them "Be bold!" She also serves as a UH C. T. Bauer College of Business Wolff Center for Entrepreneurship mentor, teaching the bright, driven students there, through word and action, to take "managed risks."
These very calculated risks are what put Rios on the road to a wildly successful career — just recently, she was featured on the television program "Blue Collar Millionaires" on CNBC. Her Goldman Sachs 10,000 Small Businesses Initiative award committee and the U.S. Hispanic Chamber of Commerce, including other outlets, recommended her for an interview on the television show. Her larger than life personality and enthusiasm for her work — "I love waste!" she is heard oftentimes saying — made her an unforgettable guest.
–Sarah F. Hill