Talking With A Specialist: Paul Likhari, Philanthropist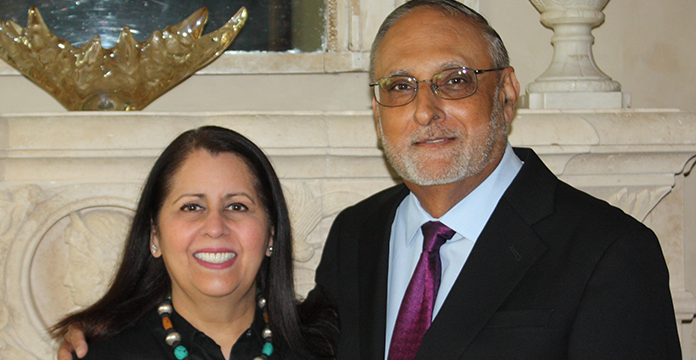 Paul Likhari has a key piece of advice for UH students: "Take every challenge that comes your way." That is certainly what he has done in his own life. He is inspired by trajectory and it is the momentum — of the students, the faculty and the capital campaigns — at the University of Houston that encourages Likhari to give of his resources, time and again. With the help of Paul and his wife, Manmeet, UH just is poised to clear the myriad health care hurdles that our nation faces with stealth and grace.
After earning his B.S.in Pharmacy and M.S. in Pharmaceutical Chemistry at Punjab University in India and immigrating to the United States, Likhari began his own pharmaceutical contract research laboratory in 1990. This company helped pharmaceutical companies get approval for their drugs from the FDA more expediently. His life work has been to help consumers get the medicine they need in a more efficient and inexpensive way. Soon after realizing the potential of his expertise, he lent it to the University of Houston by joining the UH College of Pharmacy's Dean's Advisory Council. His main goal: to help UH make money by doing clinical research.
When you ask him what the greatest problem facing health care today is, he will answer you: "Today's health care comes piecemeal. Some get it from employers, some get it from Obamacare — but there is really no guarantee that everyone is getting it." But he has some solutions: affordable prescription drugs, more community — based care centers, and primary health care for all under a universal health care system.
He began inviting Ph.D. students from UH to do drug discovery research and other clinical research in his specialized facilities in the 1990s using Mass Spectrometers. He always felt that the UHCOP needed a well-equipped laboratory to conduct cutting edge research.
The Likharis are supporting the new Health and Biomedical Sciences Building 2, the future home of the UH College of Pharmacy, with a $1 million leadership gift to create the Likhari Pharmaceutical Building Research Core Laboratory. Here, students will participate in discovering cutting-edge drugs that will treat HIV, cancer and Alzheimer's Disease, as well as conduct clinical research and partner with the Texas Medical Center.
It was important for Likhari and his wife to give philanthropically to the University, despite the fact that neither are alumni. On the Dean's Advisory Council, he was able to introduce Dean Pritchard to state legislators who were concerned with the disparity in funding for the UHCOP. He is delighted by the high scores of UH pharmacy school students, as well as how they excel in giving personal care to patients — some of whom are homebound, under-insured or not insured at all.
But the initiative to discover new medications and get them to those who need them most needs to expand, in their opinion. The best way to produce these medications cheaply and quickly, the Likharis believe, is by investing in the facilities that will allow UH students to access their true potential. Paul Likhari also speaks excitedly about the need for UH to have a medical school. He is passionate about the expansion of any program at UH that he sees growth potential in, and a medical school is one of those initiatives that will take UH to new heights.
Right around the same time as the groundbreaking ceremony for the HBSB 2, the Likharis embarked on a new adventure in their lives, as they became first-time grandparents. Their joy and generosity is palpable, as they discuss the future of UH, the health care field and the nation.
By Sarah F. Hill