Singing Her Way to the Spotlight Alum Barbara Padilla faced trials and triumphs on her way to the top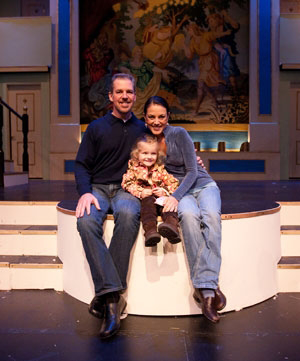 Though she couldn't understand the language at the time, Barbara Padilla remembers being touched by opera at a young age. She loved the music so much that during family vacations to the beach she would mimic the voices coming from her mother's car radio.
"When we were driving to the beach and my mom was playing opera, I used to reproduce the sounds," Padilla said. "I just knew that I could, so I did it. And my mom was very tickled."
Now an opera sensation herself, and runner-up in the 2009 season of "America's Got Talent," Padilla, a UH alum, hopes that others are able to get as much out of her music.
"I just remember the happiest moments of my life and I relate that to music," she said.
Padilla's journey to the national spotlight was a long one, filled with moments of personal tragedy and triumph.
Born in Guadalajara, Mexico, Padilla was studying music and singing with the state choir in her hometown, when she was diagnosed in 1996 with Hodgkin's lymphoma. The treatment called for chemotherapy and radiotherapy performed near her vocal chords.
"They were sure I wasn't going to be able to sing again – my neck was totally burned," she said. "But I never even had a scratch in my voice. I just kept singing."
Padilla fought the disease for five years, and eventually she made her way to Houston for a second opinion at M.D. Anderson Cancer Center. While in Houston, one of the sponsors of her trip made a phone call to Peter Jacoby, music director at the University of Houston's Edythe Bates Old Moores Opera Center.
"He is going to tell you, 'I don't know why I took the phone call. I don't know why I said yes, but I said yes,'" Padilla said. "He saw me the next day, and I sang for him one of the pieces I knew … he said, 'You know, I am going to give you a full scholarship.'"
She went home to Mexico to go through another round of radiation. When she again defied doctors' predictions and didn't lose her voice, she came to Houston in January 2000 to begin her career at the University of Houston. That summer, she had another relapse. She went back to Mexico for a bone marrow transplant – a procedure doctors weren't sure would help.
"I was like, I'm not going to do this anymore. This is just too painful. But [friends and family] told me, 'No, we believe in you,'" she said. "When you have people around you that believe in you so much, you go, 'Well, I owe them.' So I did it."
Against all odds, Padilla again came through the surgery. Within a month, she was ready to travel again. She came back to Houston in January 2001, and has been well ever since.
At the university, Padilla lived her first year on the 16th floor of the Moody Towers. She spent her time in the practice rooms at the Moores School of Music, at the library and on the stage at the opera house, performing roles in several productions, including the lead in Mozart's "La finta giardiniera."
"I enjoyed every minute of it," she said. "I just wanted to suck everything in … like a sponge. Whatever you learn, you learn for life, and I really wanted to seize the moment and learn from all of these people."
She describes the UH faculty as second-to-none, and credits professors such as Jacoby and Buck Ross with helping her succeed.
"It's like working with the greatest opera company," she said of her time on the stage at UH. "Once you have that professional experience, when you go out to the real world, it is very smooth."
While still a student, Padilla had multiple opportunities to shine in the "real world." In 2001, she earned top honors at the National Association of Teachers Singing competition in the advanced adult category. She also performed both the Mexican and American national anthems before a sold-out crowd at a U.S.-Mexico soccer game in Reliant Stadium.
"I was singing in front of 70,000 people, so it was an experience," she said of the soccer game. "It was fantastic."
After graduating with a master's degree in vocal performance in 2004, Padilla took some time off to be a stay-at-home mom with her newly adopted daughter. But in 2009, when auditions for "America's Got Talent" came to Houston, she took the opportunity to try out.
With an emotional rendition of "O mio babbino caro" from the opera "Gianni Schichi" by Puccini, she wowed the judges, who sent her on to Las Vegas. She continued competing each week, until she was finally named in second place.
"At this point, I still can't believe I made it to the top 40, let alone runner-up," Padilla said. "Keep in mind that it's the biggest talent show in the world. Last season more than 100,000 acts auditioned for the show. So, yeah, being runner-up is kind of awesome."
These days, she is performing with other "America's Got Talent" finalists in a show in Las Vegas. But she always looks forward to coming back to Houston and UH.
"What Houston means to me? Oh, imagine a second opportunity at life," she said. "It's like going back to your mother's house. It is home. You never stop being a part of it."