Salute! A Toast to the University of Houston with John and Elena Zaccaria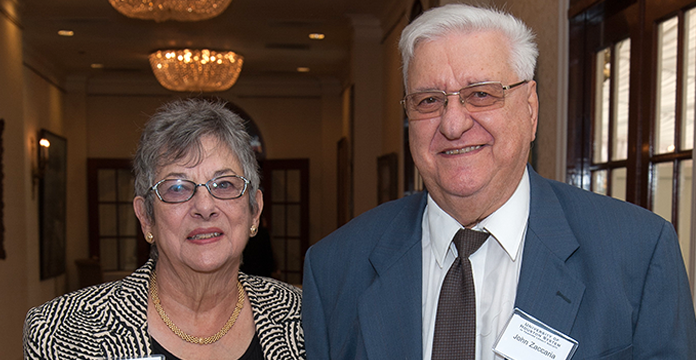 The couple is proud of their Italian heritage, it is very clear. "The chef here at the restaurant is actually from Amalfi!" says John Zaccaria, his voice booming. Elena speaks of being named for the queen of Italy, Elena Margaretta, and of the Italian dialect that was spoken in her house as she grew up. While ordering, John pronounces "gnocchi" with a certain flair. "Salute!" he toasts as the food is served.
John has a lot to be happy about these days. His portfolio is doing well and a recent federal law creating a permanent tax break gave him the ability to plan a very special gift for the University of Houston (UH). His advice for those just starting their careers? "Invest wisely during your 40- year working career, and you, too, can establish scholarship foundations to assist young students in their chosen path of study." For those who have been saving for retirement and are ready to give back, John advises, "Educate your broker about the IRA Charitable Rollover as a way to give." This unique opportunity gives an IRA owner who is age 70 ½ or older the right to transfer up to $100,000 yearly, free of tax, to the charitable 501(c)(3) organization of their choice. This transfer also counts toward their yearly Required Minimum Distribution.
Since 2006, it has been a painstaking ordeal for John and other donors to watch and wait to see if Congress would approve the IRA Charitable Rollover each year. In December 2015, just before the end-of-year tax documents were due, the permanent IRA Charitable Rollover was signed into law. "You've followed the IRA Charitable Rollover law and its progress since the beginning," says an appreciative Robert E. King, J.D., Director of Gift Planning at the University of Houston. "This is a wonderful way to give a non-taxable amount to the causes you want to support the most."
"Why take out the IRA money and be taxed at a higher rate, when I can transfer the full amount to the University of Houston?" Zaccaria asks. UH is the Zaccarias' "university-away-from-home." Tending to see UH as the cultural center of Houston, they both love to take in theater, dance and opera at the University. They give generously to Houston Public Media and the Moores School of Music, but their deferred gift to a permanent endowment is the one they are the most excited about. "Managed properly, the University will get more out of this gift in years to come," John says. In his view, the possibilities are endless.
The Zaccarias grew up across the street from each other as children and went to the University of Pittsburgh together. They began their family and began careers: he, as a marketing and salesperson for engineering and construction services, although his degree was in Chemical Engineering, and she, as a Microbiologist. In fact, Elena worked as the Director of Infection Control for a Houston-area private hospital when she identified three cholera specimens back in the eighties. She reported her findings to the local health department and saved Houston from a cholera outbreak — caused, it turns out, by tainted oysters. The result was that she ultimately changed the oyster industry's method of harvesting and handling oysters, thereby delivering a safer product to the dining public.
Houston has been their home for such a long time. "What I love about Houston and Texas is the can-do attitude of its people!" says Elena enthusiastically. "And the arts in the city really fit our needs," adds John. Their love of opera was a natural lead-off to their love of puppetry. They fell in love with the art while traveling in Europe, where they witnessed a portrayal of "The Magic Flute" with marionettes. "Pittsburgh also had some of the best puppetry. It had The Lovelace Marionette Theatre," he reminisces. "The children watch in the store fronts and there's not a sound, they are hypnotized," says Elena. The Zaccarias are delighted whenever Houston hosts a puppetry show that they can attend.
They have spent a considerable amount of time traveling the world, too. Their days are filled with many hobbies. Elena enjoys crafting, painting, pottery and making stained glass — and, she says, she has the smartest cat in the world. Singha, which means "lion" in Thai, fetches and carries objects for her!
Despite being retired, John is happiest when he is working on brokerage projects for friends and family. He is confident that his stock portfolio is working for him, whether he follows it closely or not. "People who watch things tend not to act!" he warns. And John is a man of action.
This new way of giving excites them both, but what really motivates them to give, as well, is the University of Houston's Chancellor and President, Renu Khator. "She is wonderful!" says John. Elena agrees: "It doesn't take someone being in the field, like I was for many years, to understand that our medical system needs a lot of help. Renu Khator is moving forward with a medical school, and that is just fantastic," she shares.
Grateful that John did watch for the federal law that made the IRA Charitable Rollover a possibility, the University can thank the Zaccarias for acting immediately and making their charitable gift without losing any time. Neither one of them are alumni, yet their charitable giving to the University of Houston, the university of their city, is compelling in every way. A toast of "Salute!" is in order for the Zaccarias, for their generous natures and dedication to excellence in the city of Houston.
-Sarah F. Hill