Reaching Great Heights UH Alum Danny Olivas Followed His Passion to NASA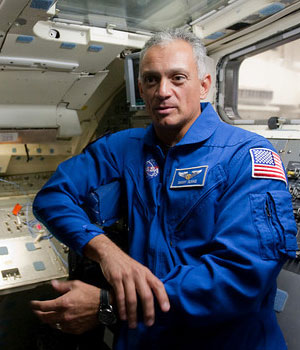 As a child growing up in El Paso, Danny Olivas spent many nights on the roof of his house with his dad, gazing at the stars and looking for craters on the moon. But it wasn't until a trip to the Johnson Space Center in Houston that Olivas says he was truly "bitten by the space bug."
Looking back, Olivas, an astronaut and University of Houston alum, says it was that early visit, looking at artifacts from the Apollo era, that made him realize he might be able to play a role at NASA.
"My father, years before, had worked at a machine shop in Los Angeles, and he began explaining some of the parts he built on rockets," Olivas said. "I was just really fascinated by the thought that my father helped contribute to what I just finished seeing at this museum."
Now, the veteran of two spaceflights, Olivas says it was his passion for engineering -nurtured while a graduate student at the University of Houston – that made his career at NASA possible.
"It was that pursuit of a passion that … NASA saw," he said. "That is really what they were looking for – not so much people who wanted to become astronauts as people who were passionate about whatever they were doing."
Olivas developed his interest in mechanical engineering as a child, watching his father take apart machines and put them back together.
"There was not a single machine that he was afraid of tearing apart," he said. "That, as a kid, was very influential for me, and ultimately helped me develop my love and passion for machines and mechanisms."
Olivas followed that passion to the University of Texas at El Paso, where he earned his undergraduate degree in mechanical engineering. His next stop was a job at a chemical plant in Freeport – a job chosen because of its nearness to Houston and NASA.
While there, Olivas and his wife Marie decided to pursue graduate degrees. Both found the University of Houston a good fit, particularly for working students.
"We had wonderful experiences while we were there," he said. "What I liked most about it is they were able to accommodate my working schedule, and my wife's working schedule. They were very flexible in helping us achieve our educational goals and ultimately our career goals."
Though they were commuter students and spent much of their time on campus during off hours, both Olivas and his wife made sure to take part in the active campus life – she on a dance team, and he on an intramural basketball team.
"You never really think of book-worm type graduate students having this sports competitive edge to them, but sure enough we did," he said. "We'd go there and mix it up and have a great time doing it. There was a lot of camaraderie at [UH], and we enjoyed that."
Olivas remembers being impressed by the caliber of graduate students on campus – many of whom, like himself, were pursuing graduate degrees while working full-time.
"They were all from different companies, and they were all basically doing what I was doing – this pursuit of higher education and trying to better themselves through education," he said. "The professors really went out of their way to really try and work with the students."
One of the professors who went out of his way to help Olivas was Charles Dalton, a professor of mechanical engineering. Olivas remembers showing his thesis to Dalton.
"He took that document, and he just ripped it to shreds, and justifiably so," he said. "In doing so, he made me a better engineer."
After graduating from UH in 1993 after just two years, Olivas earned a doctorate from Rice University, and took a job at the Jet Propulsion Laboratory in California. In 1998, he was accepted into the astronaut training program at NASA.
Olivas made his first spaceflight in 2007 on Space Shuttle Atlantis, during which he worked on the International Space Station. He made his second spaceflight on Space Shuttle Discovery in August 2009, also working on the space station.
"The view from space is so breathtaking that words alone cannot do justice to how wonderful it is," Olivas said of his trip. "And you can't help but feel a sense o f disappointment in not being able to carve some of that out and be able to share that with people."
Though it's impossible to share that feeling of seeing Earth from space for the first time, Olivas tries to share his experience with others, including UH students, in many ways. He has made several visits back to campus, meeting with faculty and grad students. He also regularly attends Cougar football games.
To students, Olivas advises that they find their passion and continue to challenge themselves.
"If there is no challenge, then there is no learning, there is no opportunity to grow," Olivas said. "You should push yourself to failure. You should know what your personal limits, what your personal boundaries are. If you don't give up, that is when you learn. That is when you succeed."