Local musician supports the Moores School of Music at UH.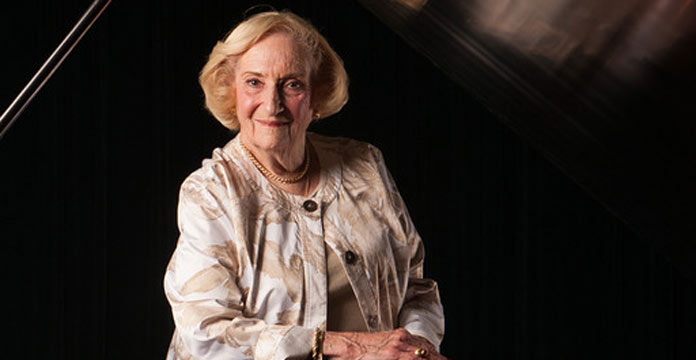 Sybil Roos has always been a musician at heart, so it was natural for her to help make it possible for numerous students to attend the Moores School of Music through her gift of need-based scholarships. From vocalists who have gone on to perform with the Houston Grand Opera, to instrumentalists who now play with the Houston Symphony, Roos has encouraged and supported their endeavors with much-needed financial backing. Roos has served on the Moores School's board of trustees and is involved currently with the Moores Society, a group that allows contributors like Roos to enjoy priority access to Moores School events while also providing recurring financial support to the UH music school through their annual membership gifts.
Roos's mother was a talented musician who started her daughter in piano lessons at an early age. As a high school student in 1940s-era Beverly Hills, Roos joined a group of classmates to launch a small music and theater company, where she composed piano pieces to complement lyrics penned by other group members. Her creative collaborators – many the sons and daughters of iconic movie stars and Hollywood heavyweights – often gathered and invented songs with names like "Anything Your Little Heart Desires" and "Chin Up." "The Young Footlighters Guild," as they called themselves, was often invited to perform for audiences such as the British War Relief Society and the American Red Cross. Their burgeoning popularity allowed them to shop their songs out to Warner Brothers Studios and Irving Berlin, who described their uniquely catchy ditties as "pleasant and tinkling."
Despite her heartfelt love for music, she ultimately decided to pursue another passion – education. Upon completion of her undergraduate degree, Roos relocated to Texas and promptly registered for the state's teacher certification exam. The test was administered at the University of Houston; this was Roos's first introduction to UH. [Over the coming years, her musical interests were largely relegated to watching her three daughters take piano lessons and listening to her husband – an amateur vocalist – delight crowds at the couple's favorite local hangout with his rendition of "When Irish Eyes Are Smiling." Soon the Moores School of Music beckoned, and Roos found herself becoming reacquainted with her old love – music – and, once again, back at the University of Houston.]
Nowadays, Roos is a prominent figure at Moores School of Music events, including the Texas Music Festival. "It's a wonderful experience," she said, "to see such talented young people from around the world come together to perform on the same stage." Dr. David Ashley White, Director of the Moores School, calls Roos "an enthusiastic supporter of the program" who never misses a Dinner Concert Gala or the opportunity to provide scholarship support for deserving students who might otherwise be unable to study at the University. Roos's generosity, compassion and steadfast friendship to the Moores School embody the very spirit of UH pride – and that, Coogs, is why Sybil Roos is music to our ears!