From UH to Energy Company Leadership Dynegy CEO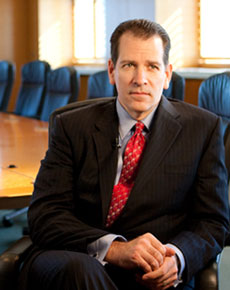 In his office, looking out from the 67th floor of the Wells Fargo building at a view that stretches for miles from downtown Houston, it's hard to imagine that Dynegy CEO Bruce Williamson ever gave a second thought to moving to the nation's energy capital.
For Williamson, who grew up within sight of the Rocky Mountains in Great Falls, Mont., Texas was a long way from home. A job offer from Royal Dutch/Shell Group gave him an opportunity to move to Houston and begin a career in the energy business.
Now, Williamson, a graduate of the University of Houston's Executive MBA program, is known as the man who led Dynegy, a wholesale power provider, through a complex restructuring effort with a current focus on viable operations.
Williamson's first stop in Houston, in June 1981, lasted just long enough for him to take his first graduate marketing class at UH before being transferred to California. When he was eventually transferred back to Houston in the late '80s, Houston's energy landscape had evolved and grown, and Williamson decided it was time to focus on his education and complete his MBA.
"The EMBA program at the University of Houston fit the best," he said. "The program is very rigorous. You commit to it, you are admitted to it and you are in a lockstep program straight through with a group of people. The added discipline of being in a program like that is what I needed."
The MBA program taught him to think about business, and his career, in a more strategic way, Williamson said.
"When you first get out of school [as an undergraduate], the focus is on getting your job done, getting your assignments done," he said. "But I think getting the MBA is about lifting yourself up. Now, I can think about things in broader terms, maybe more strategically. That was a big plus for me in terms of a career standpoint."
The program had an even greater impact on him, because he already had nearly a dozen years of experience in the work force before going back to school.
"If I had gone straight through, I would have probably gotten an MBA by age 25 or 26, and I don't know that I would have gotten as much out of it as I did by having gone later," he said. "It was a time to go back to school, rethink things, to refresh yourself and come back re-energized in terms of pursuing your career."
After graduating in 1995, Williamson's career was already on the upswing. He had moved from Shell to PanEnergy, where he had served as vice president of finance. In 1997, PanEnergy merged with Duke Energy International, and Williamson was appointed president and chief executive officer of the resulting company, Duke Energy International.
In 2002, Williamson was lured away to Dynegy. "I did a lot of diligence on the company in terms of whether we could restructure it, and determined that I thought we could. We put a good team together, and we did."
The problem, he said, was that the company had drifted from its main business line into too many different facets of energy, including jumping into energy trading and broadband initiatives.
"It had, simply put, too much debt. We had to come in and for the last five or six years, really restructure the balance sheet," Williamson said. In terms of improving the company's balance sheet, debt was reduced from almost $10 billion to approximately half that today.
"We had to take a longer-term view of our strategy, and where we thought we were best positioned. That [best position] was really focusing the company to a single line of business – in this case power generation – and driving the company around that single line of business," Williamson added.
The restructuring effort proved successful, and Dynegy remains a major player in its key markets of the Midwest, the West and Northeast power markets. Now, Williamson is focusing on ensuring that the company remains relevant as the energy industry continues evolve.
Williamson said he sees natural gas as the bridge between heavy reliance on fossil fuels and the renewable energy of the future.
"We still have coal-fired power plants, and they are very important," he said. "But we have diversified to add natural gas combined-cycle power plants to our mix. We see that as an effective bridge to a less carbon-intensive energy future."
As he prepares his company for the future, Williamson also concerns himself with ensuring that the next generation of graduates at UH is ready to join the energy work force. As an alum, and the chief executive of a company that recruits heavily from UH, he said it is important for him to give back, and support the university's efforts to become the "Energy University."
"The work force for the energy business in Houston comes not just from developing the next generation of petroleum engineers and scientists," he said. "The energy business is also about developing the next generation of people who are going to be the accountants, the public affairs officers, and the human resources officers. … It takes a lot of people with diverse specializations to run an energy company."
Williamson, who serves on the Dean's Advisory Board for the C.T. Bauer College of Business and the President's Energy Advisory Board, said he likes the cross-disciplinary approach UH is employing in energy education.
"I think that is a big advantage," he said.
The University of Houston is a great asset for the city and the energy industry, Williamson said, adding that he recommends that people keep the University of Houston in mind when they are considering pursuing an advanced degree.
"Given today's business climate, energy professionals understand the importance of hanging on to their existing jobs. But you don't need to set aside the ideal of pursuing an advanced degree," he said. "It's awfully easy to just pop out of downtown, head out on the Gulf Freeway a couple of exits, and you are there, and you are at a world-class institution."