Engineer Finds Humor in His Own Life Experiences UH alumnus Saidas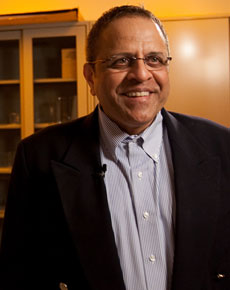 When joking about thermodynamics or the expanding universe, comedian Saidas M. "Sai" Ranade offers a glimpse into another part of his life.
Ranade, who earned his master's and Ph.D. in chemical engineering from the University of Houston, has found that his experiences as an engineering consultant and his knowledge of physics and mathematics provides the perfect fodder for his personal brand of comedy.
"Comedy is about perspective. It's about what makes your life unique, and how you get your audience involved," he said. "For me, coming from India, an engineer, and being a Ph.D., it was like three strikes and you're in!"
Ranade fell into comedy when a friend told him about a stand-up class being held at a local comedy club.
"I got into comedy because I was always interested in the idea of humor," he said. "I really took the class to meet some interesting people."
But even before those classes, Ranade was practicing early versions of his jokes while a student at UH. During his time there, he held leadership positions in the university's program board, the India Students' Association and the International Students' Association.
"It allowed me to practice a lot of things, including some of my jokes," he said. "So I want to apologize to a lot of those people who suffered from those initial versions of my jokes."
Ranade, who grew up in Mumbai, India, earned the opportunity to continue his studies in the U.S. as the top chemical engineering student in his class. He wound up at UH after his professor met a UH professor at a conference in England and was urged by him to send good students to Houston.
"It was kind of an amazing thing in terms of being first in class – I was first by one point out of 1,200," Ranade said. "Sometimes you look back and wonder, is it effort? Is it destiny? What is it?"
While he didn't know what to expect in the U.S., Ranade said he soon discovered a world of opportunity.
"When I came [to UH] I didn't really have any expectations. I was just coping with the circumstances as they unfolded," he said. "There were world-class programs and the opportunity to meet students from all over the world."
The chemical engineering department offered him the challenges and opportunities he was seeking, as well as high-caliber professors, such as John Lienhard, a member of the National Academy of Engineering, who taught one of his classes.
"The expectations were very high," he said. "The standards were very rigorous at the chemical engineering department … but at the same time, the University of Houston allowed me to practice skills, not just academic, but comedic and leadership skills as well."
At the time, Ranade said he also remembers being inspired by other things happening on campus.
"Carl Lewis was a student then, and we had the Phi Slama Jama going on, so inspiration was all around," he said. "But to me, it was an excellent opportunity to learn, to practice and to broaden my horizons."
Ranade, who earned his master's degree in 1982 and his Ph.D. in 1985, said the university was crucial to his success.
"I would say it gave me an amazing start to my life in the United States," he said. "It was just the perfect launching pad for my career as an engineer, as a consultant, as well as, if you can believe it, a comedian."
In his day job, Ranade is an engineering consultant. He travels the world – he makes regular trips to Colombia in South America – teaching different topics such as process control, mathematical modeling and competency mapping.
When possible, at night, he makes appearances at comedy clubs in the U.S., where he has become popular with audiences. In 2000, he won the comedy category of the late Ed McMahon's "Next Big Star" program, and he's been a finalist in Houston's Funniest Person Competition twice. In addition, his comedy routines air almost daily on comedy channels on Sirius and XM Satellite Radio.
"Comedy to me is really about engagement and connection," he said. "I'm there to make people feel better even if it is for a short time while they are there. My job is to entertain them, and I'm going to use every trick in the book to do that."
Ranade draws from his own life when coming up with jokes.
"I talk about cultural issues, the language issues that one confronts, as well as professional matters that set me apart," he said. "Like when we had a lot of layoffs, I made humor about layoffs. Or coming from India, and having an awareness of security concerns in the United States also gave me an opportunity to dwell on that topic."
He's always writing new material, and searching for interesting ideas or concepts to be used in his next joke.
"To me, the real part is the simplicity of comedy. It's you and the microphone and immediate feedback," he said. "You don't get that in many jobs."
Ranade said he finds he is most successful with his comedy when he is doing well with his consulting job, and vice versa.
"For me, these days, I only do what I love to do. I love comedy. I love physics, mathematics and engineering. I'm at my best when I do both," he said. "If I'm doing good work in chemical engineering and mathematics and physics, it appears that my jokes are also better."
As he sees more professional and personal success, Ranade said he always remembers the role the University of Houston has played in his life.
"Whatever opportunities I have had … one factor of my success is the University of Houston," he said.
Ranade said he is pleased with the progress that is being made at UH, and particularly its efforts to achieve Tier-One status.
"Over the last 25-30 years, it has grown in amazing ways in the right direction," he said. "I am seeing progress, I am seeing excitement … We have a world-class university in a world-class city that is very dynamic, very international. I think that combination is simply unbeatable."