Engaging Communities Across the Globe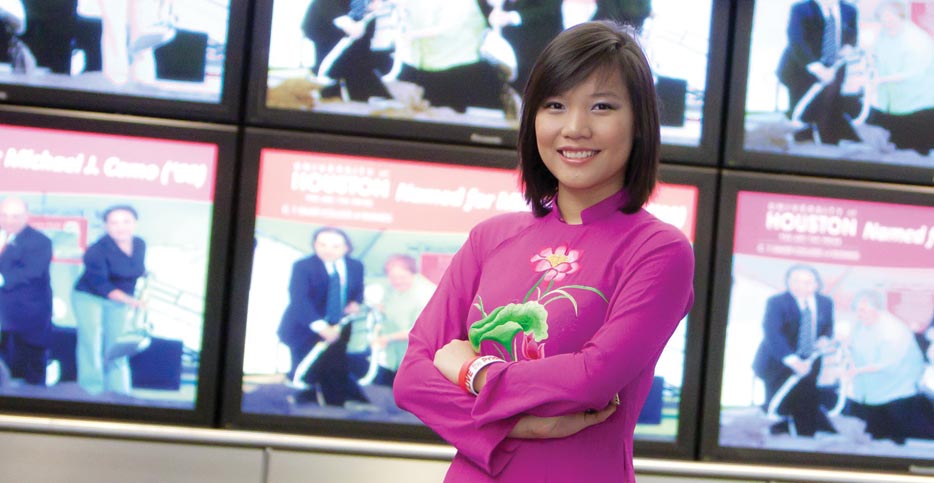 Starting your own business is no easy task. But one Bauer graduate wants to make it easier for those across the globe to start and succeed in business.
C. T. Bauer College of Business alumna Huyen Bui's ('10) passion for volunteerism in Houston and beyond is taking her across the globe to Vietnam in a fellowship with the non-profit Kiva.
Bui's Bauer College concentrations in marketing and international business lead her to the application for the Kiva Fellowship Program in Vietnam, where she will be a liaison between Kiva and their microfinance institution partners. She will work directly with borrowers to post their stories online and facilitate in the lending process.
Kiva takes loans through the internet from all corners of the world and lends the money to borrowers in developing countries who have been selected by lenders through their online profiles. Borrowers use their loans to buy supplies to sustain businesses, start new a new business, or continue their education.
"The work inspires me, and I want to actually be involved in the process more," Bui said.
Bui was a participant of Discover Leadership Training, a program previously offered in partnership with the Bauer College, and will be utilizing her leadership skills learned there during her time in Vietnam.
"This scholarship was given exclusively to Bauer students to develop their leadership skills. Not only did I learn from the classroom, but I also learned from my peers, projects and other student activities."
Bui's time at Bauer College also prepared her for the fellowship through participating in leadership programs and her international business courses.
"The Bauer College of Business creates opportunities for students to shine, it's just a matter of whether you grab that chance or not."