Dedicated to 'making this great university greater'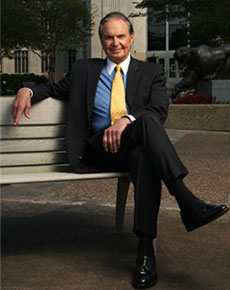 When considering where he wanted his sons to attend college, Welcome Wilson Sr.'s father, E. E. Jack Wilson of Brownsville, Texas, never hesitated when he suggested the University of Houston.
Though the fledgling college was only 19 years old and only had three permanent buildings, he decided Houston was the best place for his two boys.
"My father thought Houston was going to be the center of the universe," Wilson said. "There were half a million people, it was the largest city in Texas, but his vision was that it – Houston – would become one of the greatest cities of the world. … I have no complaints about his judgment."
As his father predicted, Houston would become integral to Wilson's success. Houston is where he got his start in the real estate development business, and it's where he now serves as chairman of the University of Houston System Board of Regents.
But before he met with success, Wilson was just one of an influx of 10,500 students – many of them veterans of World War II – who flooded the university's campus in 1946.
That year, his father dropped Wilson and his brother, Jack Wilson, off at UH, paid the rent on an Army house trailer in the campus veteran's village for one month, paid their tuition for the first semester, and gave them each $50.
"We never heard from him financially again, as long as we lived," Wilson said. "Now, that was not unexpected. In those days, people didn't expect their parents to pay the bills … we knew we had to fend for ourselves. After all, I was 18 years old and grown."
The brothers lived on Jack Wilson's GI Bill money, as well as whatever else they could bring in through various odd jobs, ranging from working as campus representatives for cigarette companies, performing in night clubs, to selling polio insurance door to door.
"The whole thing was survival – how do you get enough money to eat the next month," he said. "And so, my experience at the University of Houston was not only the learning experience, but it was the entrepreneurial experience."
After growing up working as a newscaster at his father's radio station in Brownsville, during World War II, Wilson decided to see if he could find some work in advertising – a line of business recommended by his father.
"My father wanted me to sell advertising, because he felt like anybody who could sell would always have a job in any economy in any circumstances," he said. "He thought that the most important ingredient in selling was guts. You had to have the guts to go see somebody that didn't want to see you and sell something they didn't need or didn't want."
At UH, the best opportunity to get into advertising was at the campus newspaper.
"I walked in, and Johnny Goyen, he was president of the student body, he was so startled, because nobody had ever volunteered to sell advertising," Wilson said. "He said they usually had to go out and brow beat somebody to do it."
Wilson earned his first commission on a $3 advertisement selling used cars. Later, when Goyen graduated, Wilson took over as business manager at the Daily Cougar. Goyen was later Mayor Pro-Tem of Houston for twenty two years.
"It was the highest-paid job on campus," he said. "It paid $1 an hour, which was way higher than other student employees were making."
In addition to bringing in much-needed money, the experience taught Wilson early lessons on how to run a business.
"The Cougar was a great background for me," he said. "I was running a small business enterprise … meeting the payroll was my responsibility, making the budget balance was my responsibility, selling the advertising was my responsibility. It was a tremendous experience."
While helping him develop his business skills, the University of Houston also improved Wilson's social life. He met his wife, Joanne, at a Sadie Hawkins dance.
"I was sitting across the table in the old gymnasium from this gorgeous girl," he said. "The candlelight was flickering, so I couldn't really get a good look at her, but I could tell she was beautiful."
The two did not talk that night, but Wilson was so struck by her, that he spent the next six months keeping his eye out for her on campus.
"One day, I was walking down the hall, and there she came," he said. "I grabbed her up, and I absolutely was not going to let her get away again."
The two married in 1949, on the same day Wilson graduated from the University of Houston. She was 18 and he was 21.
After graduation, Wilson spent the next 12 years working for the government, working at UH, and as a Naval Reserve officer. He was an assistant to Mayor Roy Hofhienz at city hall. He also worked in civil service during the Eisenhower administration, attaining a position with the rank of a three-star general at 27 years old.
When it came time to move on to the next stage in his career in real estate development, he sought out other UH graduates. For one of his first major development projects – a 300-acre tract of land in Galveston called Jamaica Beach – Wilson partnered with UH alums Jack Valenti, Johnny Goyen, Bill Sherrill, and his brother, Jack Wilson. Valenti was later president of the Motion Picture Association of America for 40 years, and Sherrill was later a member of the Federal Reserve Board in Washington.
Now, he continues to work at his own business – the GSL Welcome Group LLC, a family-owned group of companies that own and lease single-tenant office, lab, industrial and manufacturing facilities in Texas. He still serves as the company chairman.
Throughout his career, Wilson has stayed close to the University of Houston, giving back whenever possible. He was thrilled when Governor Rick Perry appointed him to serve on the UH System Board of Regents in 2006, but it was literally a dream come true when he was elected as its chairman in 2007.
Wilson remembers in 1947 running into and chatting with the legendary H.R. Cullen, then chairman of the Board of Regents, when Cullen was making the rounds of campus.
"That night, I went home to our army surplus house trailer and told my brother – he was eating beans – that was the staple of the trailer," Wilson said. "I said, 'You know, I could be chairman of the Board of Regents one day.' Jack didn't even look up, he kept eating his beans. He thought it was so ridiculous."
Now, as chairman, Wilson said he is working hard to help UH achieve Tier-One status.
"I want the University of Houston to be thought of like the great universities of America," he said. "In order to do that, we have got to have top-notch faculty, we have to have qualified students, and we have to have a major research initiative going on."
Wilson said he sees an excitement on campus now that is similar to the excitement on campus when he was in school, adding that UH's new President has electrified the campus and electrified metropolitan Houston.
"I would say it has a lot to do with creating something. We as students felt like we were building a university," he said. "As students, we felt like we were an integral part of making this great university greater, and the reason that I have kept so close to the university over all these years is that it was such an important part of my life."