Dean Earl Smith and Dr. Glenn Ellisor Named Among OM's Most Influential Optometrists in the Country
By Sarah F. Hill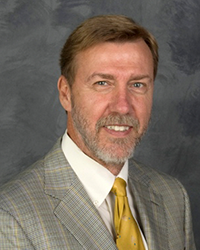 Dean Earl Smith
The University of Houston College of Optometry's (UHCO) dean, Earl Smith, O.D., Ph.D., F.A.A.O. ('72, O.D. '72), is no stranger to honors and accolades. In 2010, he won the most prestigious award the American Academy of Optometry bestows — the Charles F. Prentice Medal. This past year, Dean Smith received a congratulatory email from one of his friends letting him know that he had also been named one of the forty-five most influential optometrists in the country by Optometric Management magazine. This recognition came from Optometric Management's 50th anniversary celebration. The magazine, known as the leading practice management resource for optometry, also listed UH alumnus Glenn Ellisor ('82, O.D. '84), the founder of Vision Source, as one of the most influential personalities in the field of eye care. Brien Holden, Ph.D. — an influential donor to the UHCO who named two large, state-of-the-art classrooms on the second floor within the Molly and Doug Barnes Vision Institute — was also recognized. Sadly, Holden passed away before the list was published.
Optometric Management's methodology for compiling the list consisted of contacting key opinion leaders (KOLs) and asking for nominations for eye care professionals who "have contributed, are contributing or are likely to contribute to the betterment and/or advancement of eye care." With more than 400 nominations, narrowing down the list to a mere 45 was no easy feat — and a minimum of three nominations were needed in order to appear on the list.
It is interesting to note that the UHCO has one of the highest "capture" rates in the UH System, with more than 75 percent of those receiving letters of acceptance deciding to attend UH. This can be attributed, in part, to the exceptional leadership of Dean Smith. When asked how he felt about receiving the OM nomination, Smith recounted: "Of course it is a great honor to be among this diverse group of eye care professionals. It's also very good to see that OM recognizes contributions from all parts of the profession — many academics were named to the list, in addition to those in private practice."
Dean Smith currently holds the Greeman-Petty Professorship in Vision Development, in addition to acting as the dean of the UHCO. He has spent his career focusing on how peripheral vision plays a part in central refractive development of the eye. This research has contributed to strategies that have slowed myopia, or nearsightedness, progression in children. At the Brien Holden Lecture Series in 2010, Smith discussed his experiments that included peripheral vision as well as central-based vision techniques to combat myopia.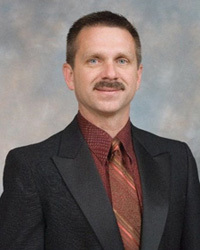 Dr. Glenn Ellisor
Glenn Ellisor founded Vision Source in 1991 to encourage independent private practices to compete and thrive. Today, Vision Source cites 3,200 locations and nearly 4,000 optometrists. His model has inspired other independent optometrists to form alliances and strengthen their forces, as well. Vision Source has achieved the second highest ranking in Vision Monday's exclusive listing of the Top 50 U.S Optical Retailers, published in May, 2015. The Vision Monday annual report highlights the industry's leading organizations, and Vision Source appeared for the second year in a row on this list with a collective $2.21 billion in members' revenues spanning its more than 3,000 locations in the 2014 calendar year. In addition, Dr. Ellisor has served on numerous advisory panels, industry and charity boards. Currently, he serves as Executive Chairman on the Vision Source and Smile Source boards, is a member of Global Optometry Giving Sight and Sight Ministries International boards, and a member of the optometric advisory board for United Healthcare.
Dean Smith and Dr. Ellisor have much more in common than just the illustrious award they were given this past year. For instance, they both work with their family members. Dean Smith's wife, Dr. Janice Wensveen, is also a professor in the UHCO. Dean Smith says it is "fantastic" to work with his spouse, and that they often get to travel to conferences together and speak the same "language" since their research often coincides. Dr. Ellisor recently "hooded" his son, Wade (O.D.'15), at his UH graduation ceremony May. Now he works alongside his son and says it's amazing to see how much Wade cares for his patients. His youngest daughter is a second year optometry student and his eldest daughter works in health care, as well. Vision Source essentially began as a family empire that Ellisor founded in 1991, with his wife helping with various aspects of both the Vison Source network, as well as the practice. The similarities between the two men don't stop there: Dean Smith and Dr. Ellisor also give back to their alma mater. Both are substantial donors who, in their free time, love to scuba dive.
Despite advances in optometric research, there is still plenty of work to be done. Dean Smith says that between 1970 and the year 2000, myopic disorders in Americans increased by 60 percent. We are well on our way to being in contest with East Asia, where 90 percent of high schoolers identify as nearsighted. Trials are being conducted currently in Australia and China with lenses that Dean Smith has developed and he has hopes that this trend of worsening eyesight in the U.S. will not continue. Interestingly, one of the things we can do to slow the myopia in children is have them be outside in nature. "Not being outdoors enough is contributing to poor eyesight in children," said Dean Smith. He urges parents to get those young people outside more often!
As far as helping the younger generation, Ellisor has some advice for UHCO students, who work a rigorous schedule to become doctors of optometry: "Keep your head down and work hard. I promise it's worth it. You will be the best trained optometrists once you've graduated." Both Dr. Ellisor's and Dean Smith's careers in optometry are evidence of that fact.